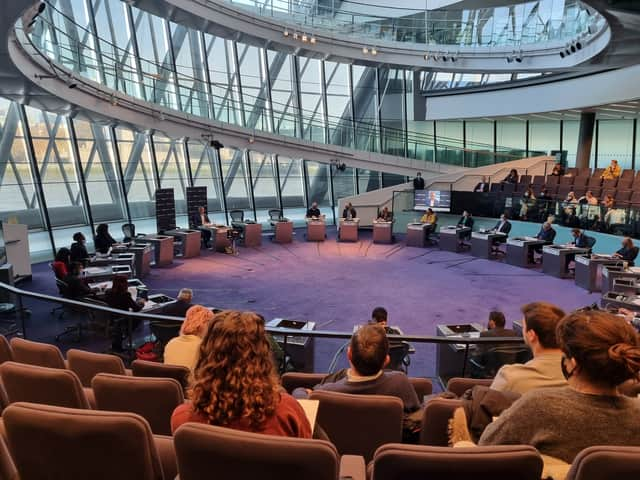 Sadiq Khan at Mayor's Questions. Credit: Jessica Frank-Keyes
Transport services in the capital are facing a "scary" £1.9bn funding gap "at a time when the country needs London firing on all cylinders", Sadiq Khan has warned.
Tube and bus services are facing cuts, while vehicles risk becoming more run down, unless the government provides TfL with more cash, it has emerged.
Mayor Sadiq Khan asked London's transport authority, TfL, to continue to require riders to wear masks after England's nationwide mask mandate ended. Credit: Dan Kitwood/Getty Images
Mr Khan claimed bus services could be cut by a fifth while the Tube faces 10% cuts without further funding, while a City Hall finance report says the crisis is due to the pandemic.
During the final Mayor's question time at City Hall today, Khan told the London Assembly: "The frequency of transport services will be reduced at a time we're trying to encourage people back to the office and at a time when the country needs London firing on all cylinders.
"Londoners doing the right thing and not using public transport as they were asked - dare I say told - by the government… has meant fare revenues have plummeted.
"They're not giving us the support and certainty we need. We've got to balance the books. If there's no money, one way of balancing the books is to cut services."
It comes just three weeks before TfL's emergency funding deal expires in early December, while the transport operator made the plea ahead of a financial meeting slated for next week.
On social inclusion, Khan accepted that "low-income, working class Londoners, women, BAME people and our youngest and oldest Londoners are much more likely to use the bus".
He added: "The poorest people and families will suffer the most because of the cuts we have to make because of a lack of support from central government.
"We agreed with the government from 2023 to be completely financially self-sustaining. The issue is what happens between now and 2023."
Asked about women and girls safety on the transport network, the mayor told the assembly: "We know many Londoners including women and girls don't feel safe using these services."
He said one of the first decisions he took as mayor was reversing cuts to TfL staff, and said: "They're not simply there to provide reassurance."
"The economy has taken a real kicking over the last 18 months.
"We as a city need this recovery and I ask everyone to pull together so that the NT does open with a full service."