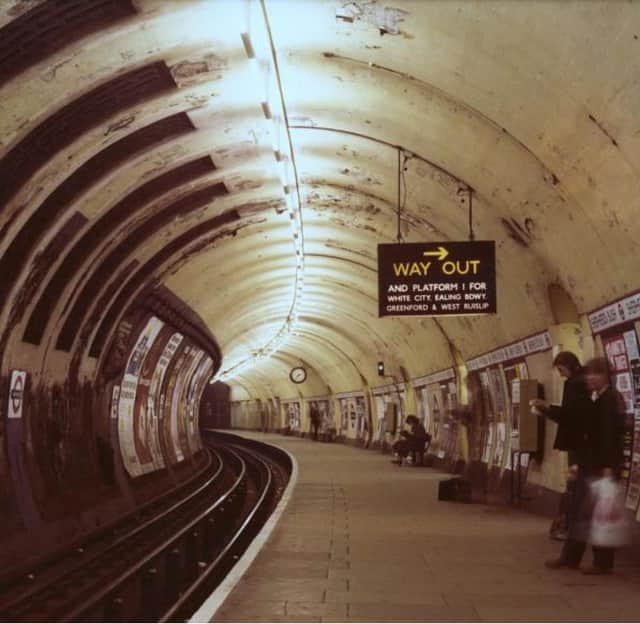 Shepherd's Bush in the 1980s. Credit: TfL
Tube services could be cut by 9% and bus services by 18% if the government doesn't offer support to plug TfL's £1.9 billion funding gap, Sadiq Khan has said.
A new report published by Transport for London's finance committee has outlined that the pandemic has had a worse-than-expected impact on the city's transport income.
Tube use is currently around two-thirds of normal levels, while bus numbers are at 71% of pre-pandemic use.
Despite that, Sadiq Khan says he still cannot balance the budget for any of the upcoming financial years to 2024/25 without further investment.
The Mayor has said that services will have to be cut and worn-out Tube trains will not be replaced until the 2040s.
Mayor Sadiq Khan asked London's transport authority, TfL, to continue to require riders to wear masks after England's nationwide mask mandate ended. Credit: Dan Kitwood/Getty Images
City Hall has said the financial cuts could push transport services back to what they were like in the 70s and 80s.
Mr Khan said: "Transport for London is dealing with an unprecedented financial crisis caused by the pandemic.
"We are now less than a month away from TfL's emergency funding deal expiring on 11 December.
"Unless the government provides the long-term funding needed to maintain our public transport network, there will be no choice but to make significant cuts to services just as demand is growing again.
"This would mean fewer, less frequent and more run-down bus and tube services for Londoners, making it more difficult to travel around the city.
"It would also mean more road and tunnel closures due to a lack of funding to maintain key transport infrastructure.
King's Cross in 1987. Credit: TfL
"The widespread disruption and gridlock all these changes would cause would not only unfairly punish millions of Londoners for the impact of the pandemic on TfL's finances, but would put the national economic recovery at risk.
"I support greater transport investment in regions across the country, but levelling up Britain must not come at the expense of levelling down London.
"There can be no London recovery without a properly funded public transport network in the capital, and there can be no national recovery without a London recovery.
"Our city contributes £36.1bn net to the Treasury each year.
"TfL contracts contribute around £7bn to the UK economy, and its supply chain supports 43,000 jobs around the country, which could be at risk.
"If the government fails to work with us to protect London's transport network, the capital and the whole country will pay the price for decades to come."
The paper also outlines the consequences of failure to invest in renewing infrastructure, and indicates that road assets at risk of closure without investment include the Rotherhithe tunnel and Gallows Corner Flyover.
Tottenham Court Road Central line 1990. Credit: TfL
Other required measures would include a halt on all new step-free access schemes, a halt to the Piccadilly Line signal upgrade, the cancellation of all planned additional cycleways beyond those under construction.
Andy Byford, London's transport commissioner, said: "There is no UK recovery from the pandemic without a London recovery and there is no London recovery without a properly funded transport network in the capital.
"During the pandemic our staff have worked tirelessly to keep services running and demand for public transport in London continues to recover and grow, with demand now regularly hitting 70% of pre-pandemic levels.
"The government is investing in better transport around the country, which we welcome, and TfL is ready to help the government address challenges beyond the capital.
"But a failure to provide stability and certainty for TfL means that we are now on the brink of entering a period of the managed decline of transport in London.
"I know first-hand the damage that under investment can wreak on a city's transport system as I had to wrestle with outdated signalling systems, worn out infrastructure and inadequate capacity while serving as president of New York City Transit.
"I have repeatedly warned that a similar situation could easily befall London if TfL is starved of funding.
"Without meaningful sustained investment we will see a damaging vicious circle of underinvestment and service cuts, dragging London back to the 1970s and 80s era of an ageing, infrequent and unreliable transport network.
"The combination of falling public transport services, worsening roads and road asset closures would cause wide-spread disruption and choke the city in gridlock, damaging the London and UK economies and putting London at a disadvantage against its global competitors.
"TfL and the Mayor stand ready and willing to work with the Government for the benefit of London and the UK, but the Government must act now to save the recovery."
A government spokesperson said: "We have repeatedly shown our commitment to supporting London's transport network through the pandemic, providing more than £4bn in emergency funding to Transport for London.
"We will continue to discuss any further funding requirements with TfL and the mayor, and any support provided will focus on getting TfL back onto a sustainable financial footing in a way that is fair to taxpayers across the country."