Holborn, King's Cross, and the Shoreditch Triangle have been named as the most dangerous cycling junctions in London.
Across the junctions, 47 people have been killed in the past 10 years and another 198 seriously injured.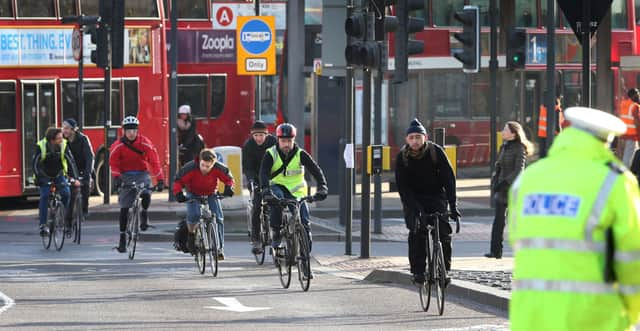 One victim of the junction was Dr Marta Krawiec, who was killed 2021 in a crash with an HGV.
Dr Krawiec was a children's doctor who had started cycling to try and ensure she could safely visit her patients during the pandemic.
Three people have died and 15 others have been seriously injured at the King's Cross gyratory during the same period.
At the Shoreditch triangle, by Old Street, Curtain Road and Great Eastern Street, one cyclist has been killed and 27 seriously injured.
Other junctions on the list include Hyde Park Corner, Trafalgar Square Roundabout. Victoria Station, Deptford Bridge and the area in front of Clapham Common station.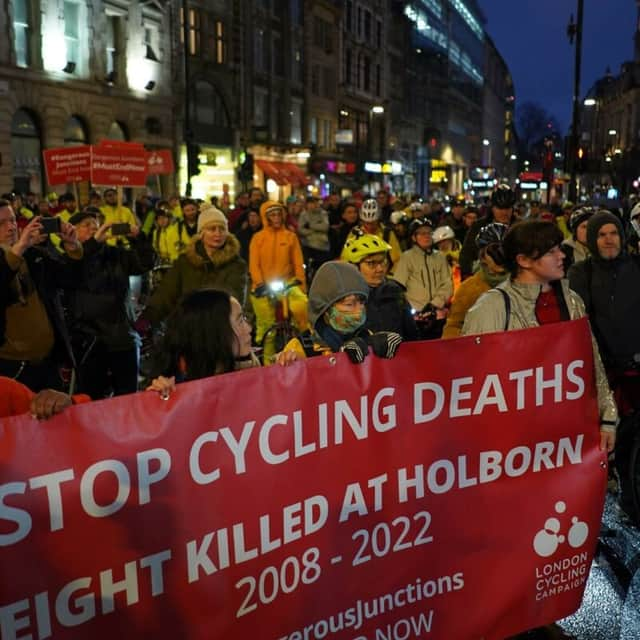 Simon Munk, campaigns manager at London Cycling Campaign, said: "We're asking for urgent action right now, at three major junction clusters: King's Cross, Shoreditch Triangle and Holborn.
"We're also tracking a much longer list of junctions that are dangerous and known to be for years, decades even, to ensure politicians and officers act to fix them quickly.
"We need local businesses and stakeholders to take an active role in improving their local areas for staff, visitors and residents."
Dr Ashok Sinha, CEO of the group added: "This is not just a safety issue. Dangerous junctions sever routes for active travel resulting in far fewer people walking or cycling.
"We must fix these junctions not just to save lives, but to also help people be more active by cycling and walking more, reducing air pollution and carbon emissions."
The campaign group has met with TfL and the London mayor about how to further improve the layout.
Last month Camden Council held a consultation into the Holborn gyratory to make the area safer for cyclists.
Penny Rees, TfL's head of healthy streets investment, said: "We're determined to make London's roads safer for everyone, which is why we are working with the boroughs to deliver new walking and cycling schemes across the capital.
"Making junctions safer is a vital part of this work and we have already transformed 43 junctions as part of our Safer Junctions programme, with work on two others to start early next year.
"We welcome feedback from the London Cycling Campaign and will work with them and the boroughs on our plans to reduce danger to people cycling, including schemes to make junctions safer at Holborn, Shoreditch Triangle and King's Cross."
Latest figures from TfL reveal six people have been killed cycling in London so far this year.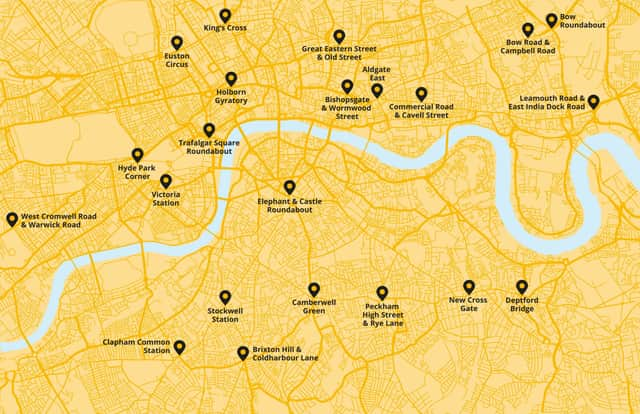 Full list of most dangerous cycling junctions
Aldgate East
Bishopsgate & Wormwood Street
Bow Roundabout
Bow Road & Campbell Road
Brixton Hill & Coldharbour Lane
Camberwell Green
Clapham Common Station
Commercial Road & Cavill Street
Deptford Bridge
Elephant & Castle Roundabout
Euston Circus
Great Eastern Street and Old Street
Holborn Gyratory
Hyde Park Corner
King's Cross
Leamouth Road & East India Dock Road
New Cross Gate
Peckham High Street & Rye Lane
Stockwell Station
Trafalgar Square Roundabout
Victoria Station
West Cromwell Road & Warwick Road