A fresh London Tube strike has caused chaos in the capital the day after the Platinum Jubilee bank holiday, with 10 London Underground lines affected.
Around 4,000 RMT Union station staff have walked out due to an alleged dispute over job cuts.
There are 10 Tube lines affected, and the Victoria, Circle and Waterloo & City lines are completely shut.
The Metropolitan line is the only Tube line running a good service at the moment, according to Transport for London.
The London Overground, Elizabeth line, DLR and Trams are also running.
TfL warned in advance that commuters should "avoid travelling" on the London Underground network if possible, and also avoid travelling before 8am on Tuesday.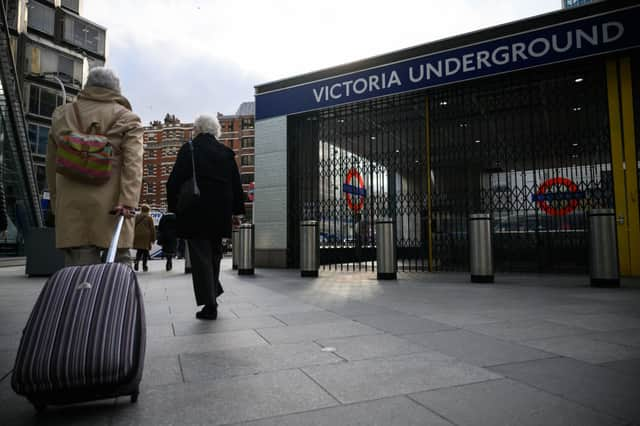 It said: "Severe disruption across the network is expected from start of service until 8am on Tuesday morning, with many stations closed, especially those in central and south London.
"This is due to RMT strike action in London Underground stations.
"Train services will still run but will only be stopping at stations that are open, which could change throughout the day due to staffing levels."
This will be updated throughout the day, but as of 12noon on June 6 - these are the stations that are currently shut, according to TfL.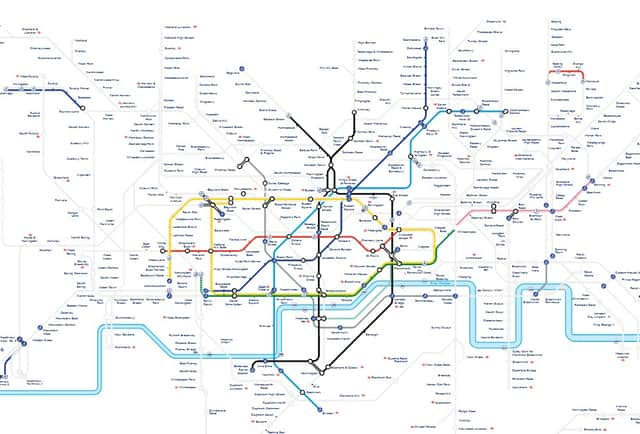 Which Tube stations are closed?
Bakerloo line: All stations are closed between Elephant and Castle and Queen's Park. A service is operating between Queen's Park and Harrow & Wealdstone every 10 minutes.
Central line: All central London stations between White City and Liverpool Street are closed, as well as Roding Valley, Chigwell and Grange Hill. A service is running every 20 minutes between West Ruislip/Ealing Broadway and between Liverpool Street to Epping and Hainault every 15 minutes.
Circle line: All stations are closed.
District line: All stations between Earl's Court and Whitechapel through central London are closed. There is a service operating between Whitechapel and Upminster approximately every 10 minutes, between Edgware Road and Wimbledon approximately every 10 minutes and High St Kensington and Ealing Broadway/Richmond approximately every 15 minutes.
Hammersmith & City line: All stations between Whitechapel and Barking are closed. There is a service running every 10 minutes between Hammersmith and Whitechapel.
Jubilee line: There is no service between Finchley Road and Canning Town - so almost every station is closed. There is a service every five minutes between Finchley Road and Stanmore and every five minutes between Canning Town and Stratford.
Northern line: Both Northern line branches are closed from Kennington up to Golders Green and Archway. Battersea Power Station is also closed. There are trains between Golders Green and Edgeware and Archway and High Barnet every seven minutes. Trains south of Kennington are only stopping at Balham, Clapham Common, Tooting Broadway and Morden.
Piccadilly line: All stations are closed between Earl's Court and Cockfosters, as well as Heathrow Terminal 5. Stations between Uxbridge and Rayners Lane are also closed. There is a service operating between Earl's Court and Heathrow Terminals 2 & 3 and between Acton Town and Rayners Lane every 20 minutes, however some stations on this route will be closed.
Victoria line: All stations are closed.
Waterloo & City line: All stations are closed.
Why has the RMT Union gone on strike?
The RMT claims that TfL is trying to cut 600 jobs.
General secretary Mick Lynch said: "I congratulate our station grade and revenue control staff members on London Underground for taking strike action in defence of their pensions and jobs.
"The effectiveness and industrial power of these members cannot be underestimated.
"TfL, London Underground Limited (LUL) and the mayor of London have had ample opportunity to negotiate with the union properly to avert this strike action today.
"Their intransigence and stubbornness have left RMT members no choice but to act decisively.
"We will not rest until we have a just settlement to this dispute and we urge the mayor to stand up to the Tory government who are cutting funding to TfL rather than try to pick a fight with Tube workers."
What has TfL said about the strike?
While TfL has said that no jobs will be lost.
Andy Lord, TfL's chief operating officer, said: "It is particularly surprising that the RMT has threatened to spoil this moment when the nation is coming together as nobody has or will lose their jobs as a result of the proposals we have set out and there have been no proposals on pension changes.
"The devastating impact of the pandemic on TfL finances has made a programme of change urgently necessary but this change is being delivered in a way that ensures nobody loses their jobs so we're calling on the RMT to work with us, rather than disrupting London's recovery and our customers, who deserve better.
"We've been in regular talks with the RMT and are hoping to find an urgent resolution to this dispute to ensure they can call off this unnecessary action."