From Thursday June 2 to Sunday June 5, the city will be abuzz with activity to celebrate Queen Elizabeth's 70th year as monarch.
However there are several London Underground station closures and disruption due to the bank holiday, so people are advised to plan ahead where possible.
From Friday June 3 until Sunday July 10, the RMT has planned action short of strike, meaning station staff might not work overtime or rest days.
TfL has said the network will be running over the Jubilee weekend, although customers should check before they travel in case of short notice changes.
It advised that the busiest times will be on Saturday night following the end of the BBC concert and other events, and Sunday daytime so travellers can expect large crowds at stations, especially at the likes of Bond Street, Green Park and King's Cross St Pancras.
London Underground Tube station closures
On Saturday, Charing Cross and St James' Park station will be closed after 3pm.
Hyde Park station will only allow exits after 4pm and is planned to close after 9pm.
On Sunday, St James' Park will close earlier from 1pm.
Westminster will close entry and exit points from 10am on Sunday, only allowing changes between Circle, District and Jubilee lines.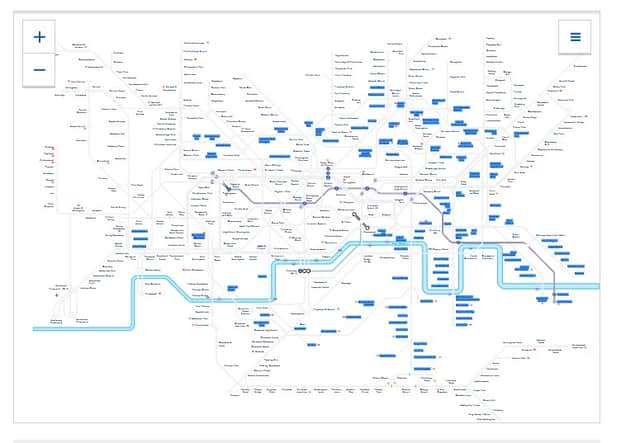 Central, Victoria and Jubilee Lines
There is planned strike action every Friday and Saturday night on the Central, Jubilee and Victoria lines between 8.30pm and 4.29am the following morning until Sunday June 19.
While Night Tube services are still running regularly, if you are using these lines on a Friday or Saturday between 7pm and 6am the next morning, you should check before you travel.
Bus travel over the Platinum Jubilee bank holiday
Most TfL buses in London will be running normally throughout the bank holiday weekend.
Similarly, most other bus companies will run, though some may be operating reduced services.
FirstGroup routes will operate a Sunday service on Thursday 2 and Friday 3 June.
Arriva advises customers to check their specific regions and routes, as any changes to routes can differ by location.
Road closures
Thursday June 2
There will be road closures in place in the Westminster area from 7am to 3pm for the event.
Motorists are being asked to use other routes.
Friday June 3
Queen's Platinum Jubilee City of London service
Road closures will be in place in the St Paul's and Guildhall areas from 6am to 6pm. Use other routes.
Brockwell Park will be hosting t​​​​​​he Summer Event Series 2022 from 10am to 10.30pm every day. Increased traffic and large crowds are expected.
Saturday June 4
Queen's Platinum Jubilee concert
The Queen's Platinum Jubilee will be taking place at the Queen Victoria Memorial from 5pm to 10.30pm. Increased traffic and large crowds are expected.
The GALA festival will be taking place on Peckham Rye Common between 11:30am and 10.30pm. Increased traffic and large crowds are expected.
The Killers will be playing at the Emirates Stadium from 5:30pm to 11:30pm. Increased traffic and large crowds are expected.
Saturday 4 and Sunday June 5
The England vs New Zealand cricket match will be taking place from 10am to 9pm this weekend. Increased traffic and large crowds are expected.
Sunday June 5
Oval Cricket Ground will be hosting the Queen's Platinum Jubilee Big Lunch. Increased traffic and large crowds are expected.
Queen's Platinum Jubilee Pageant
Road closures will be in place in the Westminster area for the Queen's Platinum Jubilee Pageant. Victoria Embankment will be closed from midnight on Saturday 4 until midnight on Sunday 5 June.
The rest of the closures will start from 04:30am on Sunday and most will be removed by 8pm on Sunday. Use other routes.
What is TfL saying?
Andy Lord, TfL's chief operating officer, said: "We are doing our utmost to make the Platinum Jubilee weekend one to remember and I can assure our customers we are working hard to minimise the impact of the RMT's frustrating strike action.
"Our advice to Londoners and visitors is to check before they make their journeys in case of any short-notice closures.
"On Monday June 6, we advise anyone who needs to use the Tube to consider whether they are able to work from home and only travel if necessary on this day.
"We are expecting severe disruption which will continue into the morning of Tuesday June 7 too.
"I apologise to customers for this and understand they will be frustrated by this strike action but urge them not to take it out on those who are trying to help.
"We haven't proposed any changes to pensions, and nobody has or will lose their jobs because of the proposals we have set out.
"We know our customers deserve better than this and that is why we're urging the RMT to call off this action and work with us to find a resolution to this dispute, which is threatening London's recovery from the pandemic."