Today, Transport for London (TfL) prides itself on diversity and inclusion and this is one of the key priorities listed in the mayor of London's transport strategy.
This wasn't always the case and there have been some forgotten heroes throughout history who have fought for representation.
Amar Singh is one of them. Hailing from India, he started working as a train guard on board Central line trains in 1962.
At the time, he lived in Hambrough Road, just off Southall Broadway at a time the Ealing town was becoming known as "Little India".
Train guards used to operate doors, patrol trains and could be called on in case the driver fell ill or could not continue his route.
A clean-shaven Amar Singh wore his flat-peaked cap to work from the Acton depot for two years.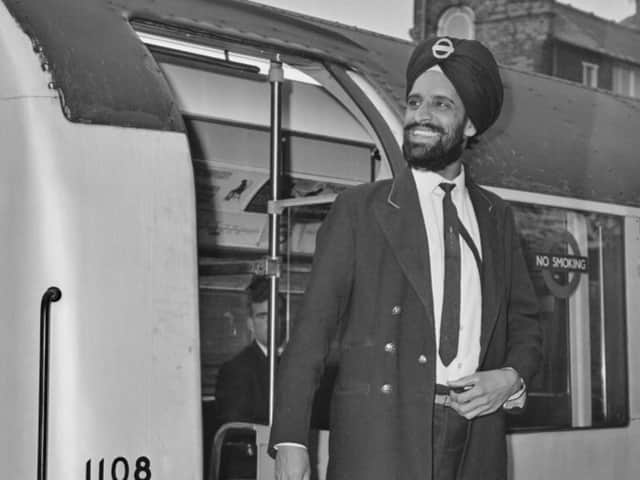 But when Amar decided he wanted to be more in touch with his religion, transport officials suspended him without pay.
While working as a train guard, Amar at the age of 28, decided to grow out his hair and beard.
During the swinging '60s in London, this was hardly a rarity but when Amar decided to swap his guard's cap for a turban he was told not to come into work.
His black turban was chosen to coordinate with the uniform and he took the London Transport (now TfL) badge from his cap and pinned it to the center of his turban.
"I was surprised at this religious discrimination," Singh told the national papers at the time, although London Transport said the turban ban was due to uniform regulations, rather than religious or ethnic grounds.
"London Transport seems to be starving me into submission because they haven't sacked me, and will not release me."
Amar turned up for work every day for three weeks but was sent home and marked absent every single time.
It resulted in him losing £30 in wages, equivalent to about £500 in today's money.
Across England, prayers were held in Sikh communities for Amar to get his job back.
The story made the national and local newspapers at the time, bringing awareness of the issue to more communities than ever before.
And on September 3 1964, a spokesman announced an about-turn on the policy — and Amar was welcomed back into the fold.
He was photographed, proudly wearing his turban, complete with London Transport roundel pin badge.
Today, Amar's heroic story is among the stories being celebrated across multiple Tube stations in a TfL campaign to celebrate Asian heritage.
Portraits of South Asian staff have been installed in Victoria, Hounslow West, Limehouse DLR and West Croydon stations.