TfL: Shocking road injury figures revealed as Campaigners call for pedestrians and cyclist protection
A TfL report details how, in 2021, 80% of those injured or killed in road collisions in London were pedestrians, cyclists and motorcyclists.
Watch more of our videos on Shots!
and live on Freeview channel 276
Visit Shots! now
Healthy streets campaigners are calling for better protections for pedestrians and cyclists in London, amid shocking figures showing they are most at risk of injury and death on the capital's roads.
Data published in a Transport for London (TfL) report, covering the four years from 2017-2021, highlighted a range of inequalities regarding those most-likely to be injured or killed in road traffic collisions.
The report noted that 80% of those killed or seriously injured were pedestrians, cyclists or motorcyclists, most frequently in collisions with cars, HGVs or motorcycles.
"Tackling road danger is key to enabling confidence to walk and cycle thereby unlocking fewer car journeys," it said, "creating less carbon and better air quality."
Living Streets
Following the report's publication, Stephen Edwards, chief executive at campaign group Living Streets, told LondonWorld that despite pedestrians causing the least amount of road danger and air pollution, they "are often left paying the price on our streets".
Mr Edwards continued: "This report highlights something that Living Streets has campaigned on for many years – that deprivation, sex and age have a disproportionate impact on road danger and casualties across London.
"We need to see more measures to protect pedestrians and reduce traffic. Better crossings, safer junctions and lower speeds keep people safe and enable cleaner and healthier ways to get around London."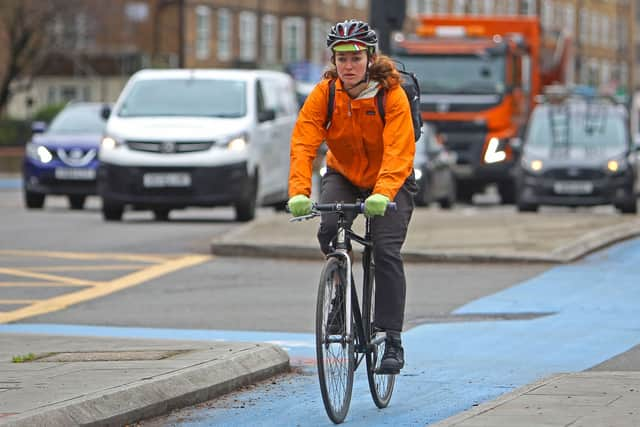 TfL commissioner
London's walking and cycling commissioner, Will Norman, said: "Even one death on our roads caused by a collision is too many, but the fact that these collisions disproportionately affect people in deprived areas is simply unjust.
"Lowering speeds is key to reducing danger and increasing the number of 20mph zones in London is a key part of the mayor's Vision Zero mission to eliminate death and serious injury from the transport network.
"We'll continue to work with TfL, the Met Police and London's boroughs to improve safety on our roads and create a safer, fairer London for everyone."
What is TfL doing to make London's roads safer for cyclists and pedestrians?
In the report, TfL says it is working with boroughs, the police and other stakeholders "to directly tackle road danger", in addition to continuing with a number of initiatives designed to make London's roads safer.
London Cycling Campaign
Simon Munk, campaigns manager at London Cycling Campaign, has however said that while the work on cycleways is "vital" to encouraging more people to get on their bike rather than drive, there are still too many areas without sufficient cycling infrastructure.
He said: "There are still far too many areas without any protected cycle tracks on main roads, too many gaps between routes and too many local politicians still failing to deliver on cycling as a key way of helping Londoners ditch cars whenever possible for climate, inactivity, road danger, pollution, congestion and many other reasons.
"We need every London borough to start delivering more for walking, cycling and public transport to help residents ditch cars when possible."