TfL data reveals London's most-deprived more likely to be injured or killed on the roads
The TfL report also demonstrates how age, gender and mode of transport impact resident's chance of casualty.
Watch more of our videos on Shots!
and live on Freeview channel 276
Visit Shots! now
Londoners living in deprived areas are disproportionately injured and killed in road collisions, new Transport for London (TfL) data has revealed, a disparity the walking and cycling commissioner has described as "simply unjust".
In 2021, the last year covered in TfL's report, 75 people were killed, 3,505 people were seriously injured, and 23,092 slightly injured in collisions on the capital's roads.
According to the research, the 30% most-deprived postcodes in the capital have more than double the number of casualties per kilometre, when compared against the least-deprived 30%.
In terms of form of travel, those walking, cycling or riding a motorcycle are at greatest risk of injury, consisting of 80% of those killed or seriously injured, typically in collision with cars, HGVs or motorcyclists.
There are also clear indicators of risk depending on age and gender, with those between 16 and 30 having the highest chance of casualty. Men and boys meanwhile were found to have a higher risk of death and serious injury than women and girls, at 0.53 per 1,000 people, against 0.22.
TfL said it is working with partners including boroughs and police to tackle road danger, noting initiatives including the growth of its cycleways and work improving junctions across the city.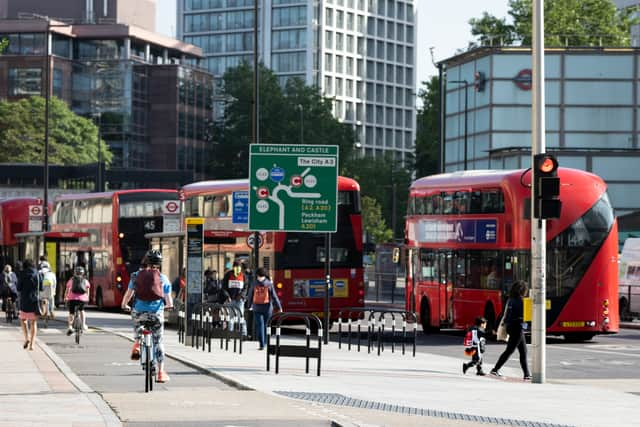 However, there have also been warnings that more needs to be done, with Simon Munk, campaigns manager at London Cycling Campaign, previously telling LondonWorld how there remain "far too many areas with cycle tracks on main roads, too many gaps between routes and too many local politicians still failing to deliver on cycling as a key way of helping Londoners ditch cars whenever possible".
London's walking and cycling commissioner, Will Norman, said: "Even one death on our roads caused by a collision is too many, but the fact that these collisions disproportionately affect people in deprived areas is simply unjust.
"Lowering speeds is key to reducing danger and increasing the number of 20mph zones in London is a key part of the mayor's Vision Zero mission to eliminate death and serious injury from the transport network.
"We'll continue to work with TfL, the Met Police and London's boroughs to improve safety on our roads and create a safer, fairer London for everyone."
Lilli Matson, TfL's chief safety, health and environment officer, added the data shows it is "more important than ever to double down on our Vision Zero goal of eliminating deaths and serious injury from London's roads".
"Without safe streets we know that people won't choose the most healthy and sustainable modes of transport and there is still much more to do to eradicate road deaths and serious injuries," she said. "We are determined to make London a greener, more sustainable and safer city for everyone."