Average London rent £2.5K: Tenants' stories of long searches, hidden costs, leaks and broken furniture
As average rent in London reaches a record high, we asked local renters what their experience has been over the last year.
Watch more of our videos on Shots!
and live on Freeview channel 276
Visit Shots! now
Skyrocketing London rental prices have now passed an average of £2,501 - far surpassing the £1,190 UK figure.
According to figures from the website Rightmove, average rent in the capital has been increasing every quarter since 2019.
For young professionals, families and students it has become increasingly more difficult to find somewhere to live.
We spoke to some London renters about their experiences.
Emily, Forest Gate
It took four months of searching for Forest Gate resident Emily to find somewhere.
"I was looking for just myself on Spare Room for two months which was a weird experience. I would barely ever meet the other flatmates and one of the rooms I was shown in Stamford Hill was literally completely taken up by the bed. And they were asking for £800 per calendar month."
After finding her current rental, two floors of a terraced house, which she shares with three others, she said: "It was a lot of hard work to find. There were days where we went to multiple viewings in a day, and we had been putting offers in but getting rejected. This place is great, but when we moved in, most of the furniture, including two of the beds and a wardrobe, was broken. Luckily, our landlords were quick to respond once the issue was pushed, but it wasn't ideal."
With a rent of £2,000, not including bills, the shared living space falls just under the London average, but still requires four adults to sustain the cost.
Emily said: "One thing to be careful of is hidden costs. Sometimes, landlords or estate agents will slip in an extra fee towards the end, and you have got to be wary of it. For example, an estate agent wanted £250 from each of us for the cost of showing us the place and completing the paperwork."
Anon, Nine Elms
One renter we spoke to was moving from Shropshire and had to rely on videos of properties.
They said the only reason they found their flat was "because the landlord hiked the prices up by £100 and the girl who was living there before couldn't afford it".
With a price point of £830 pcm including bills - taking up 60% of the young professional's salary - this resident shares with four others in a small flat which has had problems since they moved in.
They said: "The landlord didn't tell me that there had been issues with water coming into the built-in wardrobe in my room. One day I came home to find all my hanging clothes soaked and it took them ages to fix. At one point, they brought someone in to drill a hole in my wall to 'release water', and that hole remained there for six weeks before it was repaired. I now live with two dehumidifiers going in my room because it's such a humid space."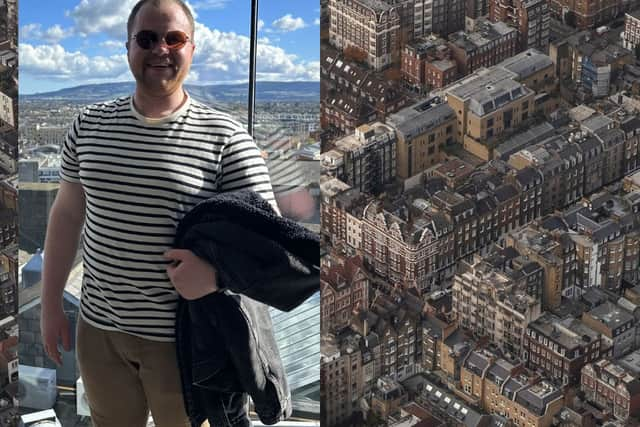 Kyle, Nine Elms
Kyle shares a flat with three people, also in Nine Elms, and had a similar experience on Spare Room.
Kyle said: "It was an absolute nightmare. I had been properly looking for about six weeks and nothing had come. Even when it did, there was so much admin to go through that it only went through on the Tuesday, and I was moving in on the Friday. Also, I was moving from the other side of the country, so I only had a few videos off of Spare Room."
Since living in the flat, Kyle said: "Sure there have been a few issues with the flat, but the landlords have been quite responsive. The room is £700, not including bills, which for Zone 1, isn't too shabby."
Kyle said the key is to "look early and look often".
"Make sure to cast the net as wide as you can. You can't be too selective. And expect disappointment, because it's nasty out there."
Anon, Hampstead
This young professional is currently lodging in Hampstead, meaning they live with their landlords and are offered a reduction in rent as a result.
They said: "My dad used to lodge with this couple when he was a teacher staying in London Monday through Friday and then coming home on the weekends. Even though he's retired, they stayed in touch, so when I needed somewhere to stay, they were able to help."
With a rent of £450 in an area like Hampstead, you'd think they had cracked the system, but there are downsides.
"I really don't use the kitchen much at all because it very much feels like their space and a lot of their stuff is in my room so I can't really settle in. They're really nice people and very amenable but it's still different to living in a shared space with flatmates. It's not like having your own space."
They said they had looked at the rental market before considering this option.
"Of course I had looked online before, but I soon realised there was no way I could afford £800+ a month in my situation. I know there are other people who lodge because it's cheaper. It may not be a perfect situation, but it's good for what I can afford right now, although I wouldn't want to be here indefinitely."