Extra emergency accommodation for London's rough sleepers will open tonight as temperatures are set to drop below 0°C.
The Met warns that the weather could increase the health risks to vulnerable patients and disrupt the delivery of services.
The mayor of London, Sadiq Khan has asked councils across the capital to provide extra shelter for the homeless when the temperature falls below freezing.
It will be the first time since last winter that the severe weather emergency protocol has been activated.
City Hall says all boroughs in London have committed to a pledge which means no one will be asked to leave accommodation until a support plan is in place to end their rough sleeping.
The latest quarterly figures from the Combined Homelessness and Information Network (CHAIN) show the number of people sleeping rough in London has jumped 24% in the past year, meaning more than 3,600 people slept on the capital's streets between June and September.
The mayor has warned that rising bills and housing costs are forcing growing numbers of people to sleep rough on London's streets.
This week he launched his annual winter rough sleeping fundraising campaign to raise money for several charities helping homeless Londoners.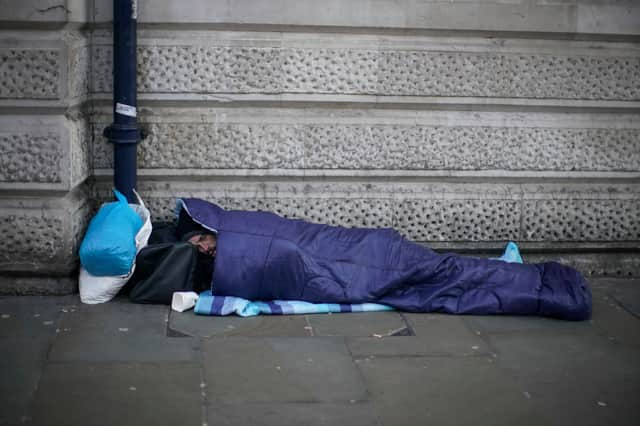 Mayor Khan said: "Since 2016, we've quadrupled funding and support to tackle homelessness, helping over 13,500 rough sleepers off the streets, but there's much more to do.
"Too many people are facing a freezing winter on the streets of the capital without the safe, secure accommodation they need.
"Across the capital, we are doing everything we can to prevent anyone sleeping rough in these freezing conditions as we work to build a fairer and safer London for everyone.
"I am also encouraging Londoners to download the Streetlink app or use the Streetlink website to connect people they see sleeping rough with local support services.
"London's councils and charities will be working even harder this week to support some of the most vulnerable people in our city. On behalf of all Londoners I thank them for their tireless efforts."
Online donations to the Mayor's fundraising campaign can be made here: https://www.taplondon.org/donate