Sarah Everard: 888 number for women's safety criticised as 'sticking plaster' solution
Women's Aid said the 888 number does 'little to alleviate the misogynistic culture underpinning violence against women and girls'.
Watch more of our videos on Shots!
and live on Freeview channel 276
Visit Shots! now
A phone service that aims to offer protection to women as they walk home has been described as a "sticking plaster" solution by campaign groups.
The proposed service set out by BT would allow women to use an app or dial or text 888 to trigger GPS tracking.
An alert would be triggered if they did not reach their destination on time.
The 888 service has been backed by Home Secretary Priti Patel who called it "exactly the kind of innovative scheme that would be good to get going as soon as we can".
However critics have said that this approach puts the burden on women and girls to protect themselves.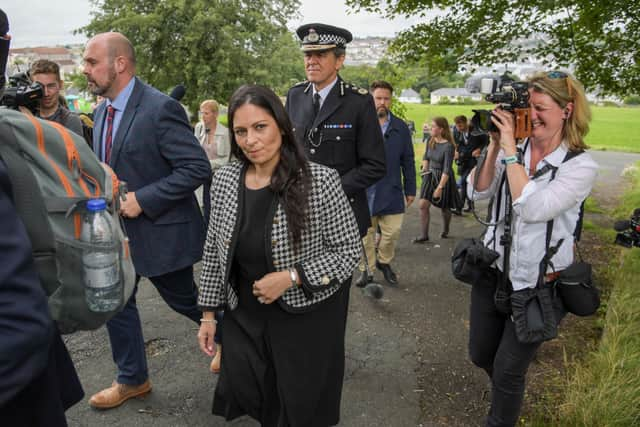 Farah Nazeer, chief executive of Women's Aid, said: "Whilst we appreciate the urgency of BT's 888 line, an app does little to alleviate the misogynistic culture underpinning violence against women and girls or end the funding crisis our sector is currently facing.
"The approach, once again, puts the burden on women and girls to protect themselves.
"It does nothing to address the issues of central male violence, sexism or misogyny.
"Rather than sticking plaster resolutions, we need urgent action from the government and the criminal justice system to ensure that violence against women and girls is treated with the gravity and importance it deserves.
"It should be of the highest priority that perpetrators of violence are taken seriously as a danger to women."
London's Independent Victims' Commissioner, Claire Waxman, said: "The proposed 888 text service is just another sticking plaster which places the onus on women to keep themselves safe.
"This is not a solution to the epidemic of violence against women and girls, and is nothing new as there are other apps already available which do the same thing.
"We need to see investment in tackling violence against women, with a commitment to educating men and boys about the sexism and misogyny which leads to abuse and violence towards women and girls.
"We also need to see sustained investment in our whole criminal justice system in order to restore the trust and confidence of women and girls, so they know if they report a crime it will be handled sensitively and robustly– while sending a clear signal to perpetrators that this violence ends now."
BT chief executive Philip Jansen said he was prompted to take action following the deaths of Sarah Everard and Sabina Nessa which filled him with "outrage and disgust."
Writing in the Daily Mail, he said: "Male violence is causing so many people, especially women to live in fear.
"BT already handles 999 emergency calls, and we are currently building the next-generation 999 network.
"We are proposing to build into it a new emergency service that would complement 999.
"This new service is provisionally called 888 or Walk Me Home, but it could also be used on taxi rides, public transport or any journey."
If approved the service could be up and running by Christmas.