Sadiq Khan: Climate change action 'cannot wait any longer', mayor says on US trip following ULEZ expansion
Mr Khan said key to any climate-related success is giving people "hope", with the "doom and gloom" helping nobody.
Watch more of our videos on Shots!
and live on Freeview channel 276
Visit Shots! now
Sadiq Khan has warned the global north "cannot wait any longer" to tackle climate change while in the midst of a trip to the US, just weeks after the Ultra Low Emission Zone (ULEZ) expansion.
The mayor flew to the States on Sunday (September 17) to "bang the drum" for the capital as a tourist and business destination for Americans, with a packed schedule featuring high-level meetings with companies including Google, Microsoft and PepsiCo.
Mr Khan is also in New York in his capacity as chair of C40 Cities, having been invited by the UN General Secretary to take part in the UN Climate Ambition Summit.
The trip comes just weeks after he expanded the ULEZ to cover the whole of greater London, in what Mr Khan says is a bid to tackle the impacts of air pollution.
During an appearance on ABCTV's Good Morning America, the mayor was asked what he is looking to "get out of the UN" during his trip.
"We've got to recognise, those of us that live in the global north, that climate change is here. Just think about the temperatures in some of the cities across the United States and across Europe, the wildfires. We can't afford to wait any longer," he said.
Mr Khan csaid while the summit would include "some of the world's finest leaders [and] business people in New York", it is the city mayors in-attendance who represent "where the action is".
He said such leaders will be showing colleagues around the globe ways in which cities are responding to climate change, "whether it's policies to be more resilient to extreme weathers, policies to adapt our cities, more public transport, dealing with the issue of poor air quality, sharing best practice".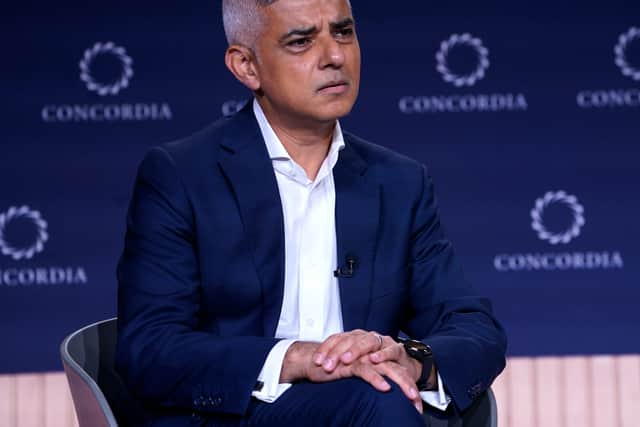 On what his message is when it comes to tackling climate change, Mr Khan said it has to be focussed on giving people "hope", with the "doom and gloom" approach helping nobody.
"So, I'll be showcasing some of the first movers, some of the first doers, and cities across the globe are doing just that, from Seoul to Mumbai, from London to Paris. We've got to show our national leaders and the public that we can bring about change."
During the interview, the mayor said he is walking around New York rather than being driven while on the trip to avoid congestion, adding it is "one of the great things about cities" that there are various options available when needing to travel.
"We are trying to encourage people to get out of their cars, to walk or cycle, to take public transport," he said.
Mr Khan has received criticism for flying thousands of miles to New York to discuss climate change, having just brought in the ULEZ which charges drivers of non-compliant vehicles in an effort to improve London's air.
Conservative London Assembly Member (AM) Neil Garratt posted on X: "I see the Mayor is flying out to America to lecture us all about climate change. It's a real shame they don't have the Internet or Zoom or Google or any of those things over there, or he could have avoided 1000s of air miles."
Prior to his trip stateside, Mr Khan said: "I am looking forward to visiting New York where I will be banging the drum for London, showcasing our capital as the perfect destination for businesses to invest in and tourists to visit as I continue working to build a more prosperous London for everyone. I'll be meeting many leading businesses and investors during my stay and reminding them that there is nowhere better than London on the planet to set up, or grow your business.
"I am also honoured to have been invited to participate in this key summit taking place during the United Nations General Assembly about climate change, the biggest global threat we face today.
"I am determined for London to continue being a world leader in tackling the twin dangers of air pollution and the climate emergency so that we can deliver a brighter future. My visit to the UN is an opportunity to learn from other cities and nations and ensure London remains at the forefront of global action."