Rishi Sunak has been mocked for making an embarrassing contactless card blunder at the Sainsbury's petrol station in New Cross.
At a post spring statement photo opportunity, the bungling chancellor appeared to try and pay for a can of coke by scanning his debit card on the barcode reader.
The hilarious footage shows the kind-hearted till worker gesture to the soft drink, before Mr Sunak eventually realises he needs to scan the bar code.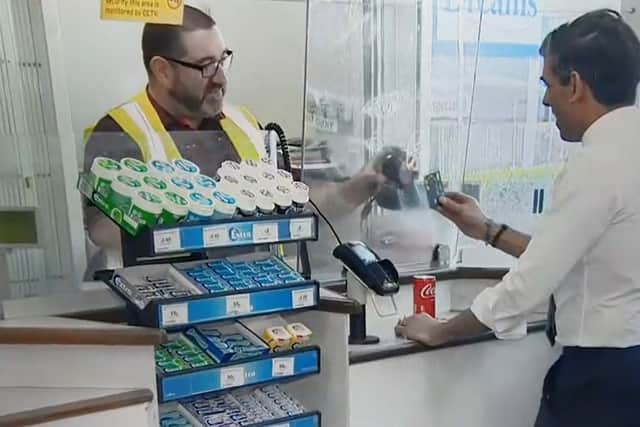 The card machine - which takes contactless payment - can be seen clearly in shot, right in front of the chancellor.
On Twitter, people said it looked like Mr Sunak - who is charge of the government's economic policy - appeared to have no idea how contactless payment works.
The Secret Tory - an anonymous former Conservative MP - posted the footage on social media, saying: "Say what you like about Rishi, he does a cracking impression of a billionaire who has never been in a shop before."
While Lucy wrote: "[The] chancellor of the exchequer doesn't know how to use contactless, my head's gone."
Roger Pyke commented: "Our chancellor of exchequer Rishi Sunak not knowing how contactless works, is not only embarrassing but worrying and also goes to show how the 'elite' are not in touch with reality."
While Jess Barnard said: "I just can't stop thinking about this."
Andy Kelly wrote: "Imagine him at a supermarket self-checkout. I'd pay to see that."
The bizarre interaction was captured by Sky News during a photo opportunity following the chancellor's spring statement yesterday.
He posted a photo of himself filling up a red Kia Rio, with a microphone still attached to his tie, saying: "It's 6pm - the biggest cut to all fuel duty rates ever has just come into effect."
Treasury sources since confirmed that the Kia was not Mr Sunak's car, but is actually owned by a Sainsbury's employee.
Apparently the chancellor paid for the petrol himself.
Mr Sunak is believed to be the richest sitting MP, thanks to his career as a banker with Goldman Sachs and as a hedge fund manager.
The majority of his wealth comes from his marriage to Akshata Murty, the daughter of one of India's most successful entrepreneurs NR Narayana Murthy.
Mr Murty co-founded Indian tech giant Infosys, and Mr Sunak's wife's shares in the company are thought to be worth around £430million.
Her family also has a £900m joint venture with Amazon in India, and Ms Murty owns a UK-based venture capital company and is a director or shareholder in five other UK companies.
Mr Sunak and his wife have a sizeable property portfolio, with a house in California as well as their £1.5m Georgian mansion in his constituency of Richmond, North Yorks.
They also own a five-bedroom Kensington mews house, estimated to be worth £7m.