The government's controversial plan to send asylum seekers to Rwanda is driving a "racist wedge" amongst communities, campaigners have said.
Last month, Priti Patel unveiled a plan to send immigrants who arrive in the UK via boats from France to the east African dictatorship, even if they are refugees or asylum seekers.
The first flight will depart tomorrow, after Court of Appeal judges rejected an attempt to stop the flight on human rights grounds.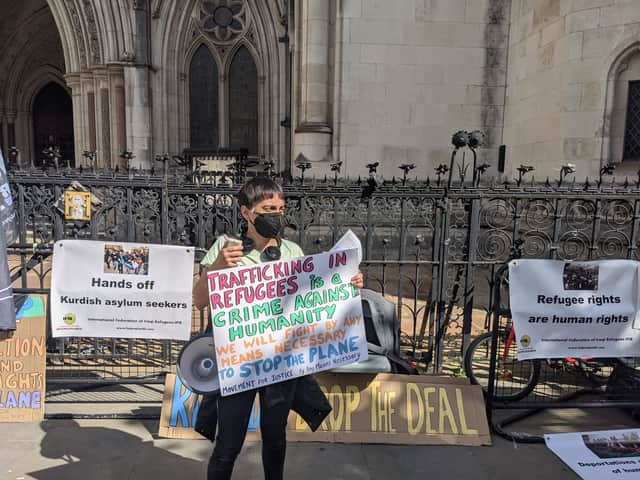 Campaigners and migrants last week failed to win an injunction against the government policy in the High Court.
The court earlier heard 11 people were expected to be on Tuesday's flight.
However, charity Care4Calais, which was among those appealing against the High Court decision, said only eight people were now due to fly.
Activists from campaign group Movement for Justice have been protesting outside the Royal Courts of Justice all day.
Antonia Bright, an organiser for the group, described the Rwanda policy as a way for the government to "ditch" asylum seekers somewhere else.
"The flights are a destruction of fundamental human rights and the right to refuge," she told LondonWorld.
"This is a political attack by the government and is a way to divide our communities by attacking refugees and asylum seekers is always a way to drive a racist wedge between communities.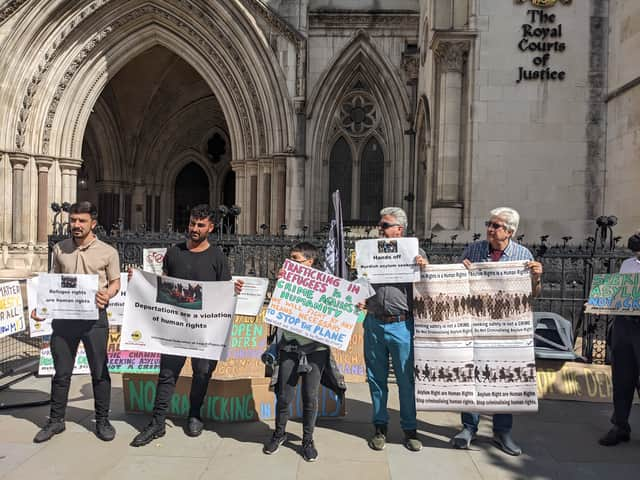 "It can only increase racism in society more generally and put a question mark over anyone who's not white.
The government has said sending some asylum seekers who arrive illegally in the UK to Rwanda will deter arrivals, and therefore undermine smuggling gangs.
The policy will see people given accommodation and support in Rwanda while their asylum application is being considered by the Rwandan government.
If they are successful, they can stay there with up to five years' access to education and support.
Those who fail in their asylum bids in Rwanda will be offered the chance to apply for other immigration routes, but could still face deportation.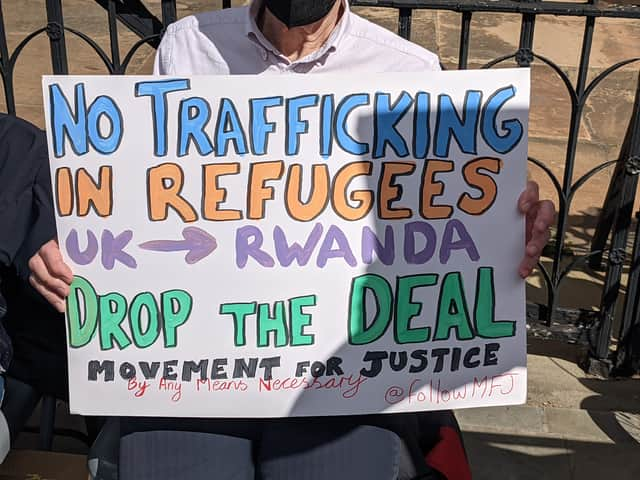 But Movement for Justice organiser Karen Doyle describes the policy as "inhuman" and "racist."
"This new policy is inhuman, it's racist, everything about what this government has done to immigrants shows it to be one of the most draconian and racist governments in British history," she told LondonWorld.
"From the Borders Bill to this, this is an abdication of Britain's responsibilities for refugees, sending them thousands of miles away to a country that has a history of human rights abuses.
"We can't allow that to happen, we absolutely can't for the future of this country and for the future of every country, we need people standing up against this trafficking in refugees."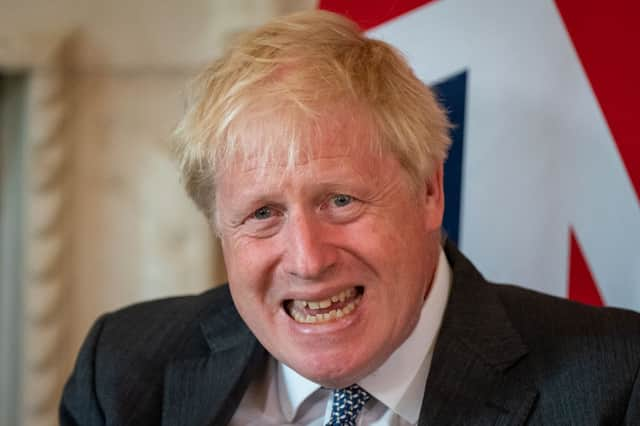 Prime minister Boris Johnson said the government had anticipated "very active lawyers" would try to challenge the policy in the courts.
Speaking to LBC, he said activists "want to have a completely open-doors approach to immigration" and it was important that the government "stop criminal gangs" trafficking people across the Channel in dangerous boats.
"They are selling people false hope, they are luring them into something extremely risky and criminal," Mr Johnson added.
The court of appeal will rule on whether all flights should be grounded until a judicial review on the Rwanda asylum policy is heard next month.
Home secretary, Priti Patel said: "I welcome the court's decision in our favour, and will now continue to deliver on progressing our world-leading Migration Partnership.
"People will continue to try and prevent their relocation through legal challenges and last-minute claims, but we will not be deterred in breaking the deadly people smuggling trade and ultimately saving lives.
"Rwanda is a safe country and has previously been recognised for providing a safe haven for refugees – we will continue preparations for the first flight to Rwanda, alongside the range of other measures intended to reduce small boat crossings."