Sam Smith has sparked debate across the world following their satanic themed performance at the 65th Grammy Award ceremony. The singer, 30, from Hampstead - who goes by gender neutral pronouns - sang the number one hit Unholy alongside German transgender singer Kim Petras.
The singer-songwriters won Best Pop Duo for their single Unholy and made history with Kim being the first transgender woman to win the award. But the award was overshadowed by their so-called 'demonic' performance.
The duo wore matching red latex outfits with Sam wearing a top hat with devil horns, while singing in front of Kim in a cage as backing dancers performed a racy dance with whips. One viewer dubbed the routine as a 'tribute to Satan', while it also upset conservatives in the US.
Sam is set to perform at this year's Brit Awards at the O2 Arena on Saturday 11 February. The singer is one of the first people to call for the ceremony to be more reflective, resulting in the Brit Awards removing gender specific awards - Best Male and Best Female - categories.
The category is now named 'Best Artist' and with only male nominees making the shortlist including Harry Styles, Stormzy, George Ezra, Central Cee and Fred Again.
Sam is nominated for two Brit Awards - Best Song for Unholy and Best Pop/ RnB Act.
Sam Smith is an English singer-songwriter born in London to parents Frederick and Kate. Sam attended Thomas More primary school and St Mary's Bishop Catholic School. At the age of 12 they had liposuction after being bullied at high school for having breasts.
Speaking to TV personality Jameela Jamil in the I Weigh Podcast Sam revealed that 'since I can remember' they have always struggled with their body image.
"I had liposuction, I was 12 years old, At the time I think I was very happy about it. It didn't really change anything. I think I put the weight back on in two weeks because I hadn't figured out my relationship with food, so it didn't really change anything. But being 12 years old and having liposuction on your chest is quite a big deal."
At musical theatre Sam studied singing and songwriting and performed in jazz bands whilst doing the London circuit performing.
What songs has Sam released?
The singer has released four studio albums, one independent album, three live albums, one remix album and one soundtrack. Along with 68 awards including Grammy, Brit, Billboard, British LGBT, Critics Choice and a Golden Globe.
Sam's first big hit was a collaboration with Disclosure where they sang the lyrics for the song Latch. It was in 2013 that Sam released their debut single Lay Me Down which formed part of the 'Money on my Mind' album.
Sam's album 'In the Lonely Hour', was awarded four Grammys including Song and Record of the Year.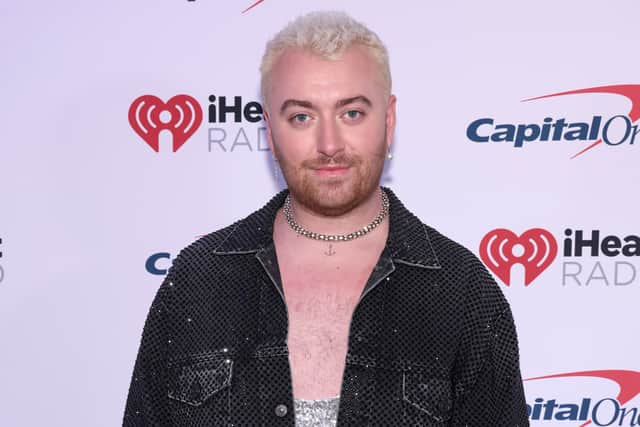 They have eight number one singles including 'Writing's on the Wall' which became the first song for a James Bond film to reach number one in the UK Singles Chart. Sam won an Academy Award for Best Original Song.
Sam's single featuring Kim Petras Unholy from their new album Gloria has over 129 million views on their Youtube channel and 20,000 downloads worldwide.
Sam dated actor Jonathan Zeizel after meeting on the set for the video of Sam's single Like I Can.
In 2017 Sam revealed on the Ellen DenGenres show that he was in a relationship with actor Brandon Flynn. The pair dated for nine months and posted images online at public events and holidaying together before calling it quits.
Sam hasn't had any public relationships since the split and in September 2019, Sam came out as non-binary and sked fans to use the pronouns 'they/them', not 'he/him'.