Sam Smith and Kim Petras performed their number one hit single Unholy during last night's (Sunday 5 February) 65th Grammy Award ceremony in Los Angeles.
Singer-songwriters Sam - who uses gender neutral pronouns - and transgender Kim, both 30 have been slammed for their performance, which one viewer dubbed "a tribute to Satan".
The singing duo delivered a very racy version of their song with fire and backing dancers with whips.
Sam wore a head to toe red outfit that consisted of a top hat with devil horns, unbuttoned sheer shirt, latex leggings, matching gloves and boots whilst holding a glittery cane. Kim wore a matching red latex dress and glove outfit as she danced in a cage.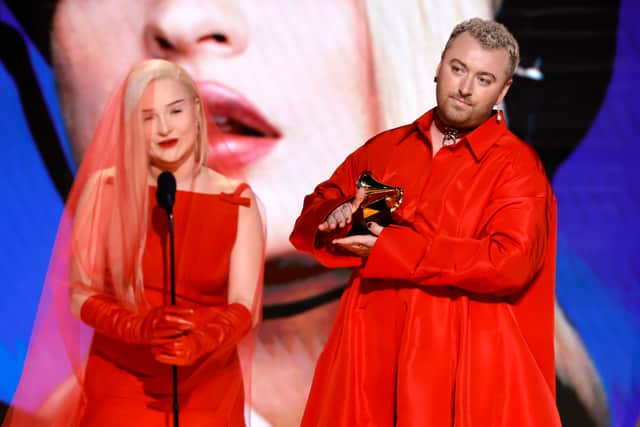 Viewers took to social media after watching the performance in horror, one person wrote on Twitter: " I know we on the right probably use the word satanic too often but this performance from Sam Smith is literally a tribute to Satan."
Another commented: "You don't have to be super religious to be disturbed by that Sam Smith devil-worshipping performance."
A third added: "That Sam Smith performance was weird I had to look away like why artists so obsessed with the devil????"
A fourth wrote: "That devil worshipping performance was trash. And it's been done so many times. I'm disappointed af."
Earlier in the evening the pair won Best Pop Group for the single Unholy, Kim accepted the award and said: "Sam graciously wanted me to accept this award because… I am the first transgender woman to win this award."
Singer Kim from Germany made history at the Grammys as the first transgender woman to win the award.
This is Sam's fifth Grammy award, having previously won Best New Artist, Best Pop Album, Record of the year and Song of the year in 2015.