Newlyweds Stacey Solomon and Joe Swash have left fans speculating that they are expecting a baby boy after accidentally referring to their unborn baby as "he" in a social media post.
Stacey,33 and Joe, 40, from Essex, revealed they are expecting their third child together last week. The couple got into a heated debate over whose lips the unborn baby has after going for an ultrasound.
Speaking to the camera in an Instagram story, the Loose Women presenter said: "Me and Joe are sitting here having a full blown discussion about whose lips the baby has got.
"Yesterday we got to go and see the baby for the scan and the sonographer lady was so incredible that she managed to get the most amazing picture of its mouth and nose. And Joe thinks it's got his mouth and I think he's got my mouth. He's got my lips."
"I'm going to show you the picture in a second, but whose mouth do you think he's got?"
In the next post, she shared the ultrasound showing her followers the beautiful picture for them to make their decision over whose lips the baby has.
After referring to the baby as a "he" in the video the TV presenter may have accidentally let slip that the gender is a boy.
The new baby will be Stacey's fifth child as she is a mum to sons Zachary and Leighton, from previous relationships, and shares Rex and Rose with Joe, who also has a son Harry.
Stacey shared a cute video of the couple finding out about their pregnancy on Instagram with her five million followers. The video received over one million likes and 30,000 comments from celebrities and fans congratulating them.
In her next Instagram post, Stacey shocked fans even more by revealing that she is eight months pregnant and expecting the new arrival in February.
The image shows she and Joe with an almost fully grown bump, with the caption: "We really wanted it to ourselves for the beginning bit, but we missed the beginning bit if that makes sense. We didn't have to keep it a secret for 8 months because we didn't know for 8 months."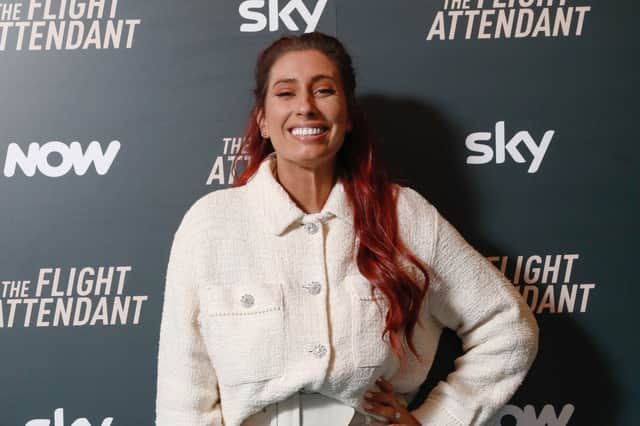 The TV presenter then explained to her very confused fans that they didn't find out for eight months.
She said: "Just to clarify. We didn't just find out at 8 months. We found out, then waited that first few months you usually would have it to ourselves and now we are here."
The happy couple have been together since 2016 and got married in July at their home Pickle Cottage.