A Newham renter whose mouldy ceiling collapsed is among those calling for the council to up its game tackling unsafe housing in the borough.
Tomas, who did not want to give his surname, said the incident happened after almost two weeks of complaining to his landlord and agency about a growing damp patch.
"I had left the kitchen a few seconds before, only to hear a terrifying crashing noise behind me," he said. "The man who came to repair it said we could still use the kitchen and just put some tarp over the hole, leaving us waiting for it to dry. We had no idea whether it was safe.
"When the repair people got around to fixing the ceiling, they didn't treat the black and mouldy wood, just covered it with plaster. We've been mucked about for more than a month—it shows the contempt so many landlords have for their tenants."
Tomas, who is a London Renters Union (LRU) member, is among those calling on Newham Council to improve housing conditions in the borough. They are pushing the council to expand its enforcement team, and to take more proactive measures against landlords running unsafe properties.
Newham LRU members are planning to demonstrate outside Newham's town hall at 6pm tonight (May 22), presenting their case to the local authority.
Another member, Sinthia Arefin, has been battling ongoing problems with her spine, arms and legs after the incident a couple of years ago, when she was living in temporary accommodation organised by Newham Council. Ms Arefin recalled being wakened by a fire alarm and finding water leaking from the room upstairs.
She said that, despite telling her agency about the issue, little was done to resolve it.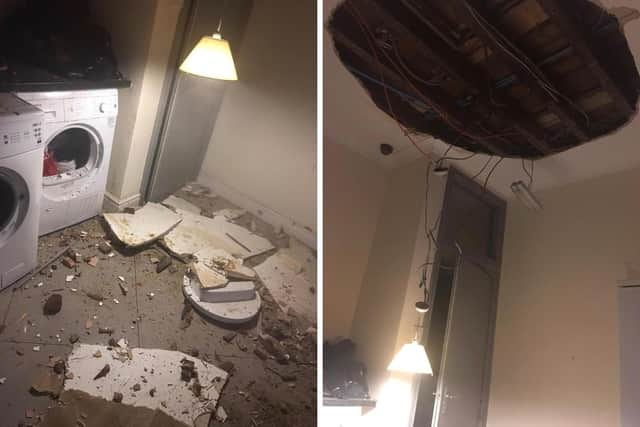 On a later occasion, she said she heard a crack, and the next thing she knew she had been hit on the head as her ceiling fell in, leaving her in hospital.
Ms Arefin said: "I was left with life-altering injuries after a damp roof collapsed on top of me when I was living in temporary accommodation. The landlord got away with it, seeing no consequences. We just want a safe home where we can live without fear. How can it be fair for landlords to still make money off housing that is hurting us?"
Jonathan Inkley, a spokesperson for the LRU, said: "Nobody should get sick or become injured because their landlord is failing to undertake basic repairs. At a time when rents are skyrocketing to record highs, it is outrageous that any renter should be forced to forfeit half their income for dangerous housing. There is a huge power imbalance between renters and landlords as the threat of 'no-fault' eviction still hangs over the heads of anybody challenging mistreatment. We are calling on Newham council to side with renters and take a proactive approach to tackling dangerous housing to ensure no one faces another winter of damp and mould."
Responding to the LRU's demands, a spokesperson for Newham Council said: "Newham's Private Rented Sector team (PRS) has monthly meetings with the Newham branch of the London Renters Union to discuss our approach to inspections and enforcement, and respond to any individual queries from union members. Post-Covid the PRS team has been expanded by 20 members, and we are still recruiting for a further five enforcement posts. Currently the team is proactively inspecting between 800-1,000 properties per month and non-compliance is referred onto the enforcement team. PRS Licensing is absolutely crucial in Newham because over half of residents rent in the private sector.
"Property licensing is the only proactive legal tool for councils to visit and check that privately rented properties are well managed. It helps improve housing repair standards, fire precautions, tackle anti-social behavior and keeps residents safe. It ensures that responsible landlords receive support and creates a level playing field so that responsible landlords are not undercut by unscrupulous or rogue landlords.
"Newham Council has called on the government to increase funding to local authorities to enable more inspection and enforcement, and has also asked for greater funding to increase the number of trained environmental health officers and housing enforcement staff."