Met Police and Tower Hamlets Council failed to spot 'degrading' child sex abuse, inquiry finds
Local authorities and law enforcement failed to identify the sexual exploitation of children by organised networks, the Independent Inquiry into Child Sexual Abuse (IICSA) has found.
Watch more of our videos on Shots! 
and live on Freeview channel 276
Visit Shots! now
"Degrading and destructive" child sexual abuse was missed by the Met Police and Tower Hamlets council, a landmark report has found.
Local authorities and law enforcement failed to identify the sexual exploitation of children by organised networks, due to "extensive failings", the Independent Inquiry into Child Sexual Abuse (IICSA) has found.
Officials wrongly believed rates of abuse were falling, while the issue became "more of a hidden problem" and "increasingly underreported" across England and Wales, it found.
And authorities are struggling to keep pace with the sexual abuse of children by grooming gangs.
The borough of Tower Hamlets, in east London, was one of the six areas looked at in the report into child sexual exploitation by organised networks, which was the inquiry's 18th report on its work looking at the issue.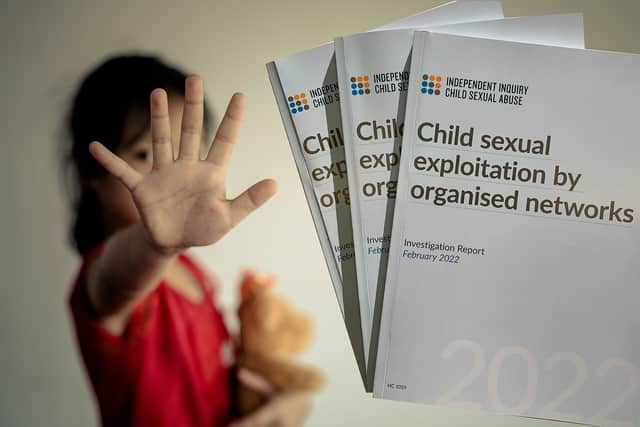 It said that Scotland Yard told the inquiry that there were no cases or issues with child sexual exploitation by organised networks in Tower Hamlets.
The inquiry said: "In Tower Hamlets, as at November 2019, there was "no identified evidence of organised networks being investigated within this policing area currently", albeit the Metropolitan Police Service considered that a gang model was more prevalent in other parts of London.
"The police told us that there were no cases or issues with child sexual exploitation by networks in Tower Hamlets, using the inquiry's definition.
"Given the breadth of the inquiry's definition of a network this cannot be right."
One child in care in Tower Hamlets went missing 107 times in two years and was found to be a victim of modern slavery.
A girl was placed out of the area for a year and then brought back to borough, before being "sexually exploited upon her return home".
Training around "exploitation, children who go missing and learning disabilities was said to be poorly attended".
And children's social care services in the borough were rated failing by inspectors in 201, while there were delays to risk assessment reports, which were "ineffective".
Inspectors specifically said there were "serious weaknesses" in the child sexual exploitation services, and "significant failures" in police work on child protection.
The council's service was then rated good overall in 201 - but there remained "major concerns" in the police force, which showed "little sign of improvement".
While both police and social workers used "victim-blaming language", including describing a 13-year-old girl as "placing herself at risk", which the inquiry said "seriously undermined the severity of the sexual abuse the child had experienced".
The police sexual exploitation team closed the case of a 13-year-old girl who went missing and was seen on Snapchat at house parties with older young people, despite being "of the utmost concern".
A child made allegations of assault and rape which did not lead to arrests or prosecutions, despite named perpetrators being added to a crime report.
The Met Police in Tower Hamlets, at the time of the inquiry hearings, had done "no specific planning" on how to make child abuse services accessible to ethnic minorites.
In October 2018, the police inspectorate found Met "officers and staff do not always speak to children" and their "views and disclosures of abuse or neglect are not always appropriately pursued".
They also said the force provided a "poor response" to children who regularly went missing and lacked understanding of the link to sexual abuse.
While a 13-year-old boy attended parties with people older than him at a hotel, which Met officers said was not a case of child sexual exploitation, despite "concerns about his sexual activity, county lines, gangs and possible emotional and psychological harm".
And a 15-year-old girl told how she was plied with drugs and alcohol at parties with adult men and expected to perform sex acts - but police implied there was "no threat" to her.
The borough reported a "marked fluctuation" in risk assessments in which child sexual abuse was a factor in the three years prior to the publication of the report (2019-2021).
"Tower Hamlets reported 374 episodes of concerns of child sexual exploitation that resulted in a child protection strategy meeting in 2018-19," the report found.
"In the same period the Metropolitan Police Service recorded 102 reports of child sexual exploitation in Tower Hamlets."
And in 2018-19, there were 69 episodes in which children in care in Tower Hamlets were considered to be at risk of sexual exploitation, resulting in a child protection strategy meeting being convened.
In March 2019, there were 329 children in care, meaning close to 21%, or over a fifth, of all looked-after children had been at risk of sexual exploitation.
Ethnicity was not recorded for 86% of offenders involved in 147 reports of child sexual exploitation in Tower Hamlets in 2019, while 14% of victims in the east area did not have this data noted.
John O'Brien, secretary to the IICSA, said the inquiry's main finding was problems with the way local councils and police forces were recording data on child exploitation.
In the six areas the investigation looked at - Durham, Swansea, Warwickshire, St Helen's, Bristol and Tower Hamlets - exploitation was recorded in a way that meant "it's impossible to say how many were sexually exploited," he said.
"If you can't understand the scale and the nature, you're not going to be effective at tackling it. Data collection might seem a pretty small thing but it's fundamental."
Mr O'Brien said that in 2015 child sexual exploitation by organised networks was made a strategic policing priority, putting it on the same footing as terrorism and organised crime.
"Child sexual exploitation is beginning to be recognised worldwide as a hugely important issue," he added.
And of his work on the inquiry, he added: "On one level it's clearly very distressing.
"But you don't tackle and solve something like this if you don't get to the heart of what's happening.
"I don't think anybody here would swap their place here - we are all genuinely committed to what we're doing."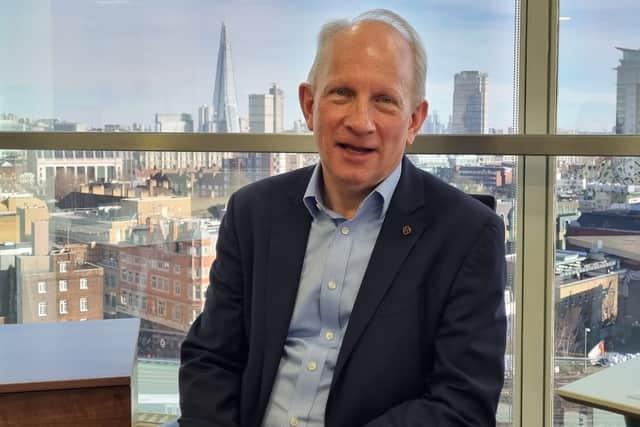 Professor Alexis Jay OBE, chairman of the IICSA, said: "The sexual exploitation of children by networks is not a rare problem confined to a small number of areas with high-profile criminal cases.
"It is a crime which involves the sexual abuse of children in the most degrading and destructive ways, by multiple perpetrators.
"We found extensive failures by local authorities and police forces in the ways in which they tackled this sexual abuse."
The inquiry was first founded in 2014 after "public revulsion" over the Jimmy Saville case.
It is examining the extent to which institutions and organisations failed to protect children in England and Wales from sexual abuse.
A spokesperson for Tower Hamlets Council, said: "We welcome the report from the IICSA which has highlighted areas for improvement, consistent with our desire to achieve the best outcomes for children.
"We are pleased the report recognises that 'the Borough has undertaken substantial work to address Ofsted's 2017 finding that its children's social care department was "inadequate".'
"Our "Good" Ofsted rating in 2019 highlighted 'significant improvements' made since 2017, including a 'relentless focus to improve practice', 'skilled and committed staff' and 'strong partnerships to protect children from harm'.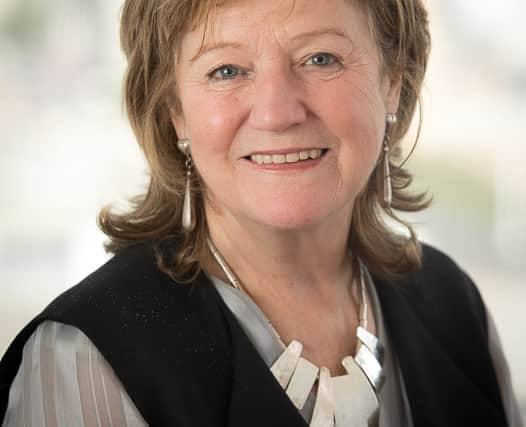 "We remain committed to continuous learning and improvement alongside nurturing strong, productive and positive relationships with our partners to uncover, manage and prevent the sexual exploitation of children everywhere, including in Tower Hamlets."
Met Police commander Sue Williams, who gave evidence to the IICSA, welcomed the report, and said: "Our job is to protect children at risk of exploitation and prevent them from coming to harm.
"We applied to be a core participant of the inquiry as we are committed to improving our efforts to prevent children becoming victims and conduct thorough investigations into those responsible.
"The inquiry heard evidence and focused on how we approached the protection of children in Tower Hamlets over a three year period, 2016 to 2019.
"Whilst we agree there are improvements to be made, the response we provide today has evolved, and we will continue to learn to ensure that victims and survivors remain at the heart of our approach.
"In 2021, we launched a pan-London Child Exploitation Protocol that aims to help us, along with those agencies that share responsibility for protecting London's young people. It works to identify children vulnerable to exploitation and take appropriate action in response, so that opportunities to protect them are not missed.
"Other steps we have taken include: a refreshed CSE protocol which emphasizes children should always be treated as victims of abuse, not offenders; implementing two dedicated partnership officers who are working within children's and social care for Tower Hamlets and Hackney; establishing Online Child Sexual Abuse and Exploitation (OCSAE) teams within each Basic Command Unit; relaunching our Operation Makesafe initiative and having a good working relationship with hotels who have been trained in how to spot the signs of child exploitation and raise concerns to police; and releasing guidance to schools and colleges on safeguarding children to support them on steps to take.
"These efforts span beyond Tower Hamlets and are taking place across the rest of the Met."