M25 traffic chaos as snow brings motorway to a standstill at Potters Bar - all four lanes closed
There is traffic chaos on the M25 this morning as motorists are left stranded on the motorway due to snow closing all four lanes at Potters Bar.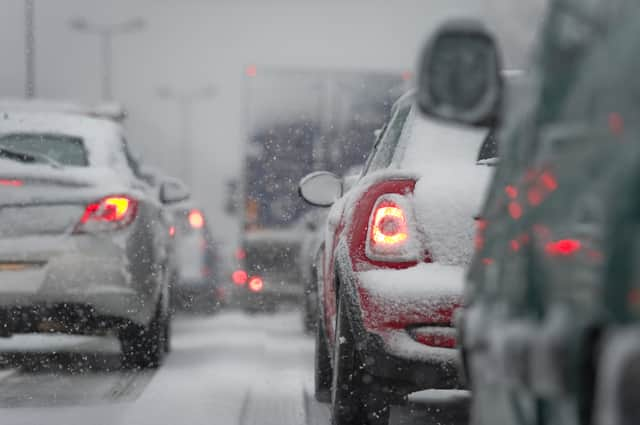 Snow has closed the M25 - causing traffic chaos for drivers. The motorway is closed in the clockwise direction between junctions 23 and 25 due to heavy snowfall.
National Highways said the carriageway will be 'cleared and treated as soon as possible', but the closure has left some drivers stranded for hours. Traffic is being diverted, with signage in place, via junction 23 and the A10. In an anti-clockwise direction, drivers should follow the same route, in reverse order, with signs in place.
Currently, motorists are being advised of a 90-minute delay on the M25 anti-clockwise from junction 27 to 25, and delays of 45 minutes on the M25 clockwise between junctions 22 and 23.
Drivers stuck in the traffic have taken to social media to voice their frustrations. One motorist @MichaelaCronin said: "Please can someone update us as to how long we will be stuck? I am low petrol now and can't heat the car and I have a child. This is really scary. Never seen anything like this and I've not seen any emergency services."
Another cakling themselves @theedgeofwhere said: "Stuck on the #M25 in the snow. Barely moved in almost six hours. And this was meant to be a 45-minute journey!"
The snow has led to widespread disruption across the country, with airports struggling to clear runways and some schools closing due to the freezing conditions. Anyone travelling is urged to check before they travel.
For more information, visit the Traffic England website. National Highways also has a 24-hour Customer Contact Centre, on 0300 1235 000.