Lying-in-state: See the four-mile long queue for the Queen's coffin in Westminster Hall
A steady stream of people continues to join the queue, which is moving at around 0.5 miles an hour, along London's South Bank.
Watch more of our videos on Shots! 
and live on Freeview channel 276
Visit Shots! now
The queue to see the Queen's coffin lying-in-state is now more than four miles long, with people expected to wait around nine hours to reach Westminster Hall.
Mourners are lining the Southbank in central London from Bermondsey to Westminster where Queen Elizabeth II's body is lying-in-state after her death at the age of 96 last week.
Live updates on the government's YouTube tracker warn that the queue is now 4.2 miles long, with an estimated queuing time of "around nine hours".
A steady stream of people continues to join the queue, which is moving at around 0.5 miles an hour, along London's South Bank.
Under Waterloo Bridge, the British Film Institute (BFI) has set up a big screen showing clips from documentaries about the Queen's life to those waiting in the queue.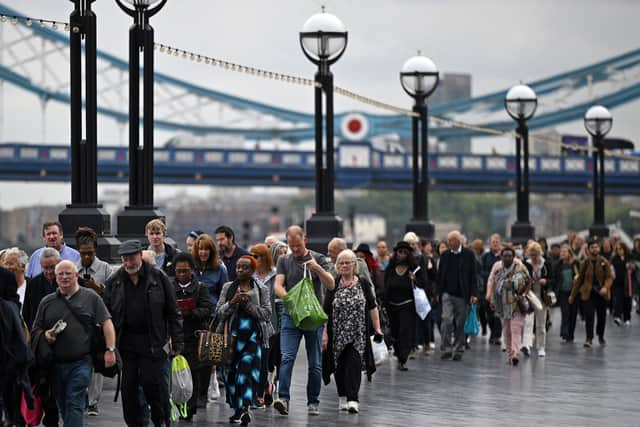 Paula Johnson, 57, a waitress, and Graham Johnson, 58, a retired engineer, walked for an hour to get to the end of the queue to see the Queen lying in state.
The married couple from Leeds travelled on Thursday to say a final goodbye.
Mrs Johnson said: "I was quite moved that she'd gone because she's always been there and suddenly she's not.
"I think it will be very serene and very calm. It will be the right atmosphere to be in to see her.
"I think it will be a lovely final gesture, the fact that she's calm and at peace."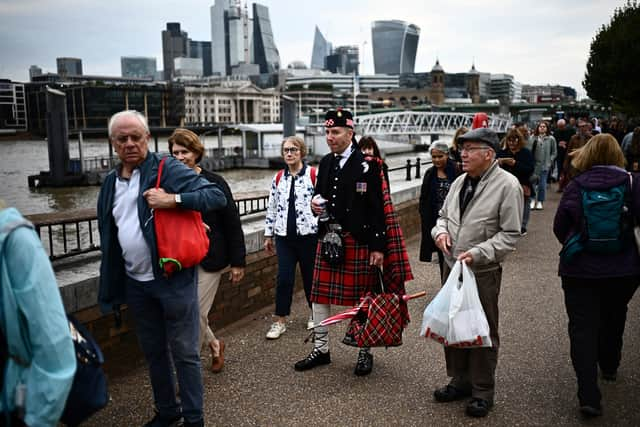 And Mr Johnson said: "She had it thrust upon her totally unexpectedly and she's absolutely dedicated her life to it, and done it wonderfully.
"We'll never see anybody like her ever again. Never ever again.
"I don't think we've seen anybody like her previously. A wonderful woman."
The couple say they are prepared to stay however long it takes to see the Queen, even if it means cancelling their train booked at 8pm on Friday and booking another one.
Monica Thorpe, who did not want to give her age, from Hurstpierpoint, West Sussex, travelled to see the Queen lying in state in Westminster Hall.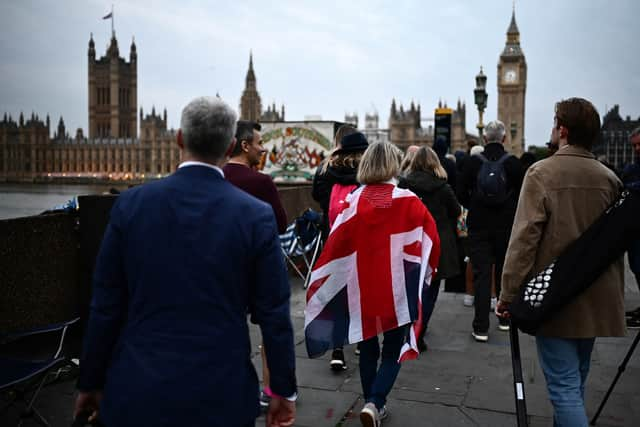 She said: "I don't think anybody can follow in her footsteps. I think she set an example to the whole world."
Ms Thorpe said she walked for two hours from Westminster to reach the end of the line on Bermondsey Wall West.
She said: "People were just walking and walking and the policemen were like 'keep going, keep going'.
"It was like the yellow brick road."
While Fiona Holloran, 34, who queued since 6.30am with her baby strapped to her, wept as she left Westminster Hall after paying her respects.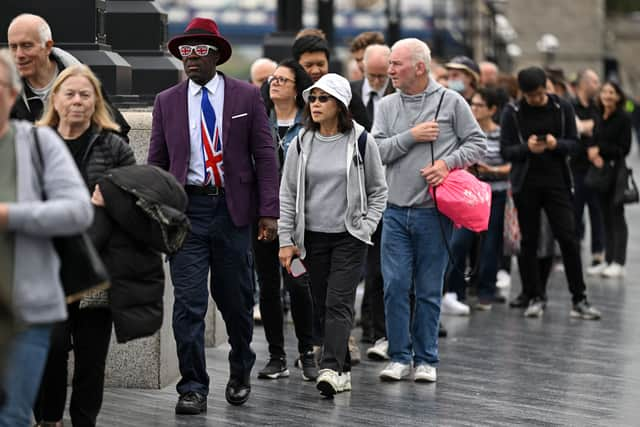 Ms Holloran, a PhD student from London, said: "It was very moving to see the vigil around her. It's lovely that everyone had a moment to themselves – no one was pushing."
And Jamal Uddin, 59, said the Queen was his "role model" and he would wait as long as it took to pay his respects.
Mr Uddin, who runs an Indian restaurant in Tower Hamlets, said: "I've been in this country since 1981 and I have followed the royal family very closely.
"The Queen is my role model because I do work for the community and she did such work, helping people all the time."
Mr Uddin added: "I will wait as many hours as necessary… whatever it takes."
The Archbishop of Canterbury has described the Queen's "remarkable wisdom" and said he was not at all surprised by the scale of the turnout for her lying in state.
Walking to meet mourners in the queue, Justin Welby said he was "hopeful" for the future.
The Archbishop told the PA news agency: "She was someone you could trust totally, completely and absolutely, whose wisdom was remarkable, whose experience – I was the seventh Archbishop of Canterbury who she would have known – who really understood things and who prayed."
Prime minister Liz Truss spokesperson said: "The people of the United Kingdom are demonstrating not only respect for each other in queuing in such a responsible way and showing sort of a great response to this situation."
And he confirmed Ms Truss has no plans to visit Westminster Hall again, after attending a service there on Wednesday, and does not plan to speak to people in the queue.