'Lorry driving isn't a man's job – I do it in acrylics': Female trucker wants more women to consider industry
Jodi Smith, famous throughout the London haulage community for her bright pink cab, says safety needs to be improved in lorry parks to encourage female HGV drivers.
Watch more of our videos on Shots! 
and live on Freeview channel 276
Visit Shots! now
A female truck driver - who rides around in a bright pink cab with acrylic nails - wants to encourage more women to join the traditionally male-dominated industry.
Jodi Smith, a London-based haulier since, 2016, is a big advocate for female drivers, and wants them to help solve Britain's current HGV crisis.
Yet she says too often truck parks are "often dimly lit and not very secure", which makes female hauliers anxious about staying overnight.
"Lorry driving isn't a man's job – I can do this job with a full set of acrylics," she said.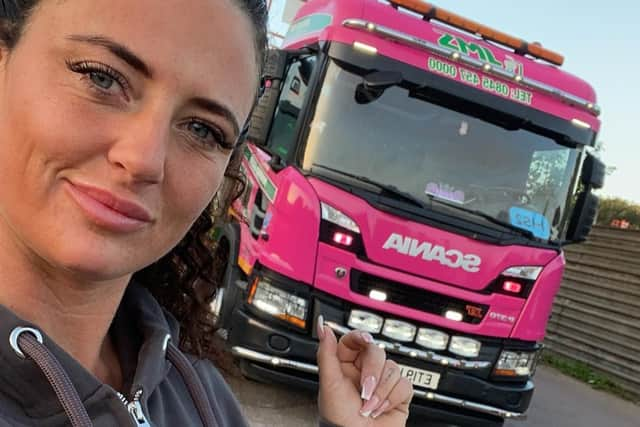 "It's quite physical but it's not hard. I just love my job.
"It is good money and a great community and I want more girls to consider it.
"We need to do more to put haulage into the public eye – more people need to consider it as a profession.
"Although the driver shortage is unfortunate, it has let us as advocates for the industry get the message out there – we want to tell people that it is a good job.
"The industry needs more young people, it needs more women, and we need to do more to make people consider it as an opportunity.
"It's not roses all the time.
"The perception is that it's a 'strong man's job' and not for women.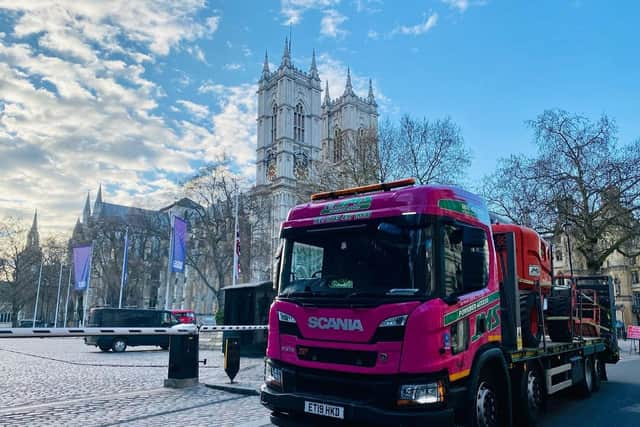 "Lorry driving is definitely for girls."
"If I were to feel unsafe anywhere it would be nights out in a truck park," she explained.
"They're often dimly lit, and not very secure.
"I know the other female drivers have felt insecure staying overnight in their cabs at certain truck parks - they try not to draw attention to themselves.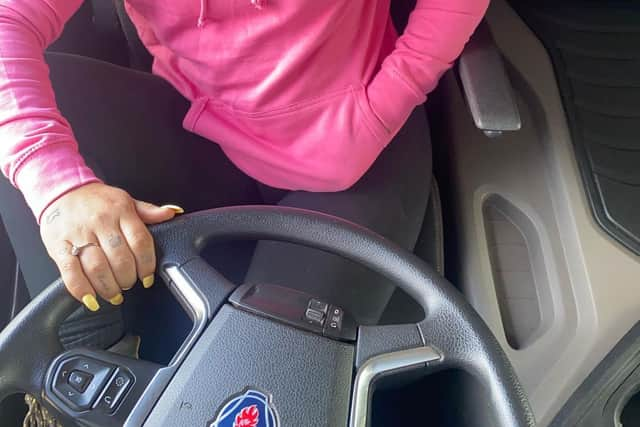 "My cab is pink – so it's hard for me not to draw attention.
"Truck parks need to adapt to make drivers want to stay there and feel secure while doing so.
"All drivers want to feel more secure - both personally and also feel secure about whatever they are transporting, and I feel this would help attract more women to the industry. "
In order to address the shortage, the Government has introduced temporary visas for 5,000 lorry drivers and free intensive "boot camps" are being introduced to train a further 5,000 new drivers.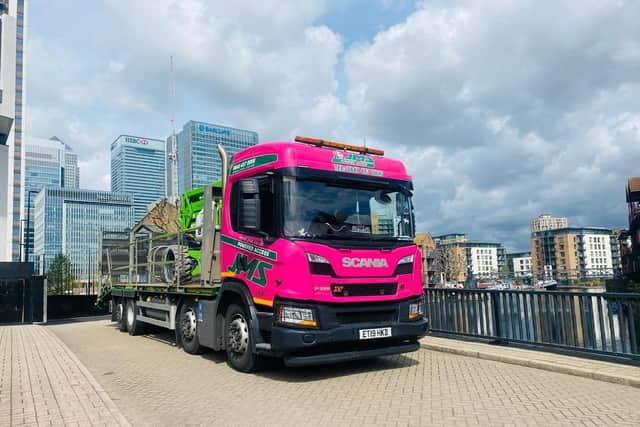 Another 1,000 will be trained through courses funded by the adult education budget.
Transport Secretary Grant Shapps said:  "We're listening to industry leaders who have told us about the issues HGV drivers face with CPC arrangements.
"Now we've taken back control of our own laws and regulations, I'm delighted to say we're launching a review into these training rules.
"We understand it's vital for drivers to remain fully qualified – but we're looking to ensure they can do so in the most efficient way possible whilst maintaining road safety standards.
"No driver should be out of pocket or out of work through no fault of their own.
"This is the latest in a raft of thirty measures we've taken to support this vital sector and encourage drivers to return to the job or kick start a new career in the industry.
"These measures are working – there is no backlog of HGV licence applications and we're seeing over a thousand more people than normal apply for a licence each week."