The London boroughs that have seen the greatest increase in house prices over the last decade have been analysed by Money.co.uk.
They found that Waltham Forest in north east London had seen the greatest growth in asking price, with the average sale increasing from £236,018 to £524,277 (122%).
The area where prices are growing at the second fastest rate was also in east London, with Barking and Dagenham displaying 113% growth from £166,180 to £354,052 in the last 10 years.
Rounding off the top three in terms of house price growth was Hackney, also in north east London, where property prices have gone from £333,002 to £669,429 – an increase of just over 100%.
The first borough south of the river to rank on the analysis was Bexley, which placed fourth with a house price growth of 97% from £205,197 to £404,141.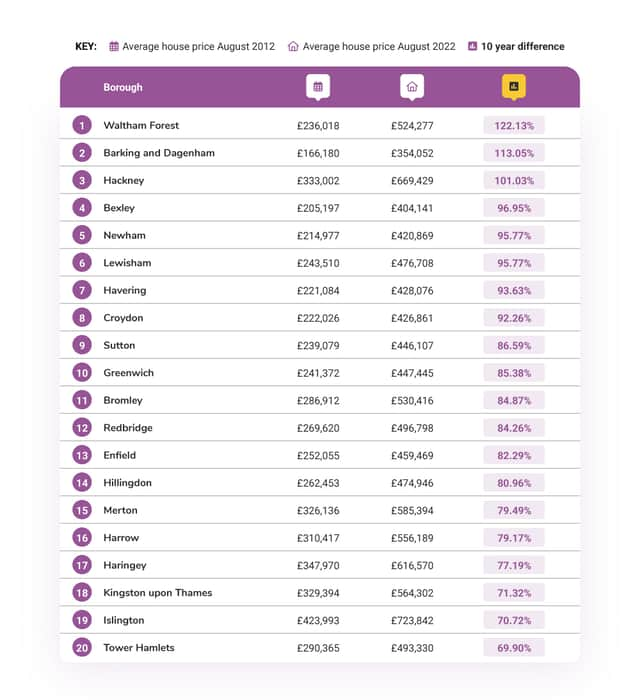 Newham placed fifth on the analysis created by Money.co.uk, with the asking price of houses increasing from £214,977 to £420,869 over 10 years (96%).
The other areas that made up the top 10 were Lewisham (96%), Havering (94%), Croydon (92%), Sutton (87%) and Greenwich (86%).
Money.co.uk also looked at the areas that were best investments for potential landlords, and found that Blackpool offered the best value for money.
House prices in the city were around £140,108 and prospective landlords could expect to get a return of £550 per month, making 0.393% back on their initial outlay.
The second best area for investing was Barrow-in-Furness, where property prices were an average of £141,360 and rent also £550 per month, offering 0.389% return on investment each calendar month.
The third most potentially profitable area was Burnley, where new landlords could expect to pay £121,409 for a home and monthly rent is £450, offering 0.371% back on initial investment.