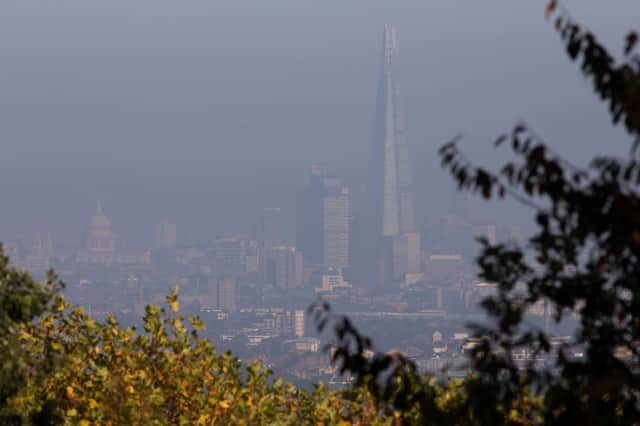 London contains the 20 areas in England where residents are most likely to die from air pollution.
The shocking statistics found that more than one in 16 deaths in London are caused by dirty air - compared to one in 20 across the nation.
People in the inner London borough are three times more likely to die of pollution compared to those living in Allerdale, which is in the northern corner of Cumbria.
Across the city as a whole, 6.4% of deaths are caused by pollution, according to the latest figures in 2019.
Newham has the highest rate of deaths caused by air pollution, at 7%.
The City of London, Waltham Forest, Westminster and Barking and Dagenham round up the top five worst spots in England for dirty air.
In fact, Sutton and Bromley, in south London, are the only boroughs outside the top 40 worst local authorities in the country for air pollution deaths.
The lowest proportion of pollution-attributable deaths in the city was in Bromley at 5.7%, which was still higher than in the worst-affected areas of four out of the other eight English regions.
The data measures deaths associated with long-term exposure to particulate matter, or PM2.5, which are tiny liquid or solid particles with a diameter about 3% of the width of a human hair.
It does not include other types of air pollution such as nitrogen oxide.
It is worth noting that since the figures show the proportion of total deaths that were attributable to pollution, rather than a rate of pollution-caused deaths per head of the population, so it may not be the best way to compare areas.
That is because if some areas are worse hit by other causes of death, such as those caused by obesity, the proportion attributable to pollution could be reduced even though the overall number remains high.
Regions in the north of England tend to have lower life expectancies overall than those in the south, and people living there suffer higher rates of ill health.
What causes air pollution?
According to the Department for Environment, Food and Rural Affairs (Defra), the main threat to clean air is traffic emissions.
PM2.5 pollution is also caused by burning fuels for industry or for domestic heating, such as wood burning stoves.
DEFRA says levels of most industrial and domestic pollution is steady or improving, but traffic pollution is worsening world-wide.
How does dirty air kill people?
Public Health England says poor air quality is the largest environmental risk to public health in the UK.
Long-term exposure can cause chronic conditions such as cardiovascular and respiratory diseases as well as lung cancer.
In December a coroner made history by declaring that the death of nine-year-old Ella Kissi-Debrah, from Lewisham in South East London, was caused by air pollution.
The school girl died of acute respiratory failure, severe asthma and exposure to air pollution in excess of World Health Organisation guidelines caused by traffic emissions.
In 2013, the Committee on the Medical Effects of Air Pollutants estimated that air pollution in the UK caused between 28,000 and 36,000 deaths, amounting to between 328,000 and 416,000 years of life lost.