The London Fire Brigade had its busiest day since the Second World War as blazes erupted across the capital in the sweltering weather.
Sixteen brave firefighters were left injured after the carnage, with two taken to hospital, and 41 properties were destroyed.
And that extreme heat saw a swathe of grass and building fires break out across the city.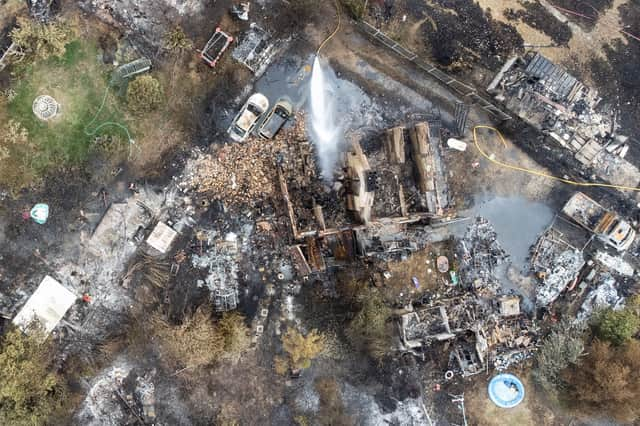 Shocking drone photos show the scale of the damage, with buildings, cars and grass left blackened and destroyed.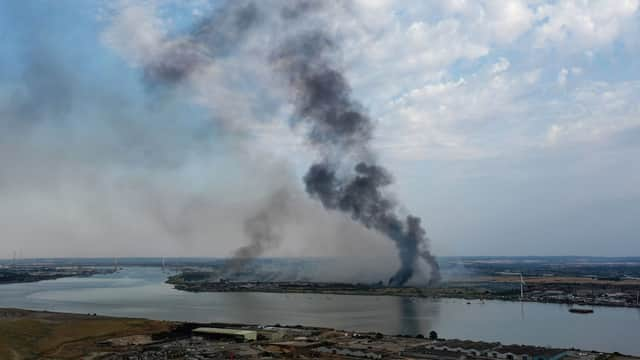 Pictures show brave firefighters looking tired and disconsolate after a day or carnage.
Police officers patrolled the streets ensuring Londoners didn't light barbecues or carelessly cast away cigarettes such was the fire risk.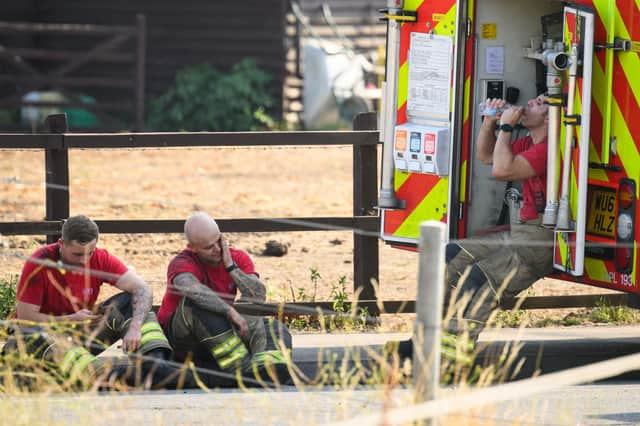 He said: "On a normal day the fire service receives 350 calls, on a busy day 500 calls.
"Yesterday, they received more than 2,600 calls.
"[There were] more than a dozen simultaneous calls requiring 30 engines, couple requiring 15, some requiring 12 and 10.
"That's why the fire service declared a major incident.
"I'm afraid the bad news is that 41 properties were destroyed in London , 16 firefighters were injured to some extent with two taken to hospital because of heat stress.
"It really important for us to recognise that one of the consequences of climate change are these sorts of temperatures, which lead to these fires."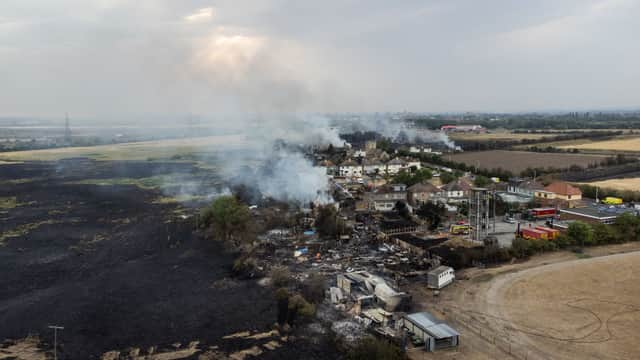 And the mayor explained why the capital was so badly hit by fires on the hottest day on record.
"The challenge in London is we've got a lot of grass, a lot of green spaces, but that impinges on properties," he said.
"We've not had rain for a long period.
"Grass is incredibly dry which means fires can start very quickly and spread even faster because of wind that leads to properties being destroyed."
Mr Khan said it was taking 20 minutes for crews to reach fires yesterday, due to the pressure on the brigade.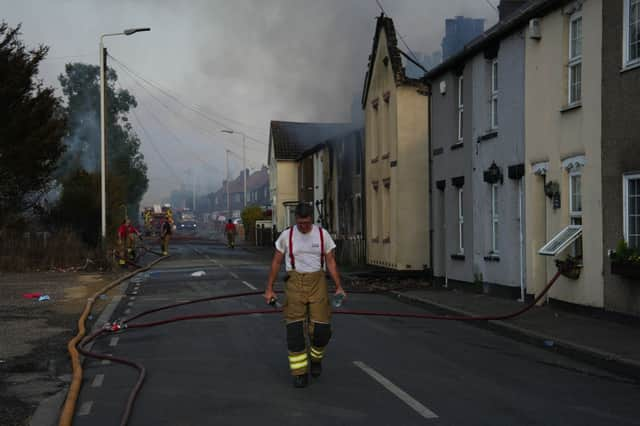 Assistant Commissioner Patrick Goulbourne said: "The Brigade remains ready to respond to incidents, however we want to ensure our resources are available for people who really need our help.
"If you see a fire smouldering, please don't hesitate to call us.
"The sooner we know about a fire, the sooner we can bring it under control and prevent it from spreading further, reducing the need for us to mobilise additional resources.
"We are also strongly urging people not to have barbecues or bonfires, as the ground is incredibly dry, which means even the smallest sparks could cause a fire.
"Please take care during the heatwave as all emergency services are facing unprecedented challenges."
London Fire Brigade advice
Don't drop cigarettes or anything that is burning on dry ground.
Don't drop cigarettes out of car windows, they may land on dry grass by the roadside.
Don't have barbecues in parks and public spaces.
Do not barbecue on balconies, the wind may carry smouldering ash towards nearby grassland.
Don't dive into open water as it's colder than it looks. There is the risk of cold water shock, which can cause your body to go into shock no matter how fit you are. It causes panic, anxiety, disorientation and loss of muscular control, which cause you to gasp for air and as a result, inhale water. Rather than struggling, follow the RNLI advice and 'float to live'.
In this extreme heat, please keep an eye out for vulnerable neighbours and family members and make sure to keep hydrated.