A beloved south London butchers has raised hundreds of pounds for a relief fund for Ukraine by donating the proceeds from sales of its popular chicken Kievs.
Flock & Herd Butchery is donating £2 from the sale of each prepared chicken dish to the Unicef Child Protection Fund in Ukraine, as part of the fundraising movement Kievs for Kyiv.
Butcher Webster Endeacott said the shop had raised more than £300 through the initiative just this week, and were giving 80-90% of the profits of the £3.99 products to the charity.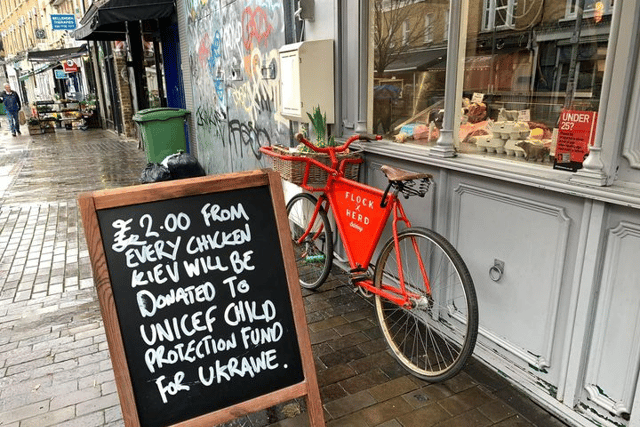 "I don't think I've sold anything else today," he told LondonWorld.
"They're popular anyway but customers are coming in for two, three or four at a time at the moment."
He added: "It just seemed obvious - we all want to do something to help if we can.
"If there's anything in the meat world that's Ukrainian related, it's the chicken Kiev."
The idea came after butchers at Flock & Herd, which has branches in Peckham and Beckenham, saw the account @kievs4kyiv on Instagram and decided to join their efforts.
Mr Endeacott, 20, who works in the Peckham store on Bellenden Road, said: "It was a collective idea - we're doing the donations in both shops too.
"We've sold more than 100 in the last day or so and 150 to 200 in the last week.
"Whenever something is going on in the world, people want to do something to help."
And he added: "We have a lot of customers who are Eastern European - there's a large Polish community around here.
"It is so close to home for a lot of people."
The butcher said the company decided to go with Unicef to ensure the funds raised went to an established charity.
"It's about trying to protect families and children rather than military things, as important as that is," he explained.
"I think it's just pretty shocking for everyone. This shop is in quite a liberal, left-leaning area.
"Everyone is on the same page and wants to help however they can."
Flock & Herd is also donating all the meat for a fundraising dinner in support of Red Cross Ukraine, at Tila in Deptford, hosted by chef Dan Doherty.
A message from the editor: