The police motorcyclist was hurt following a collision involving two lorries at a rolling roadblock in Essex.
Two people have been arrested on suspicion of causing a public nuisance.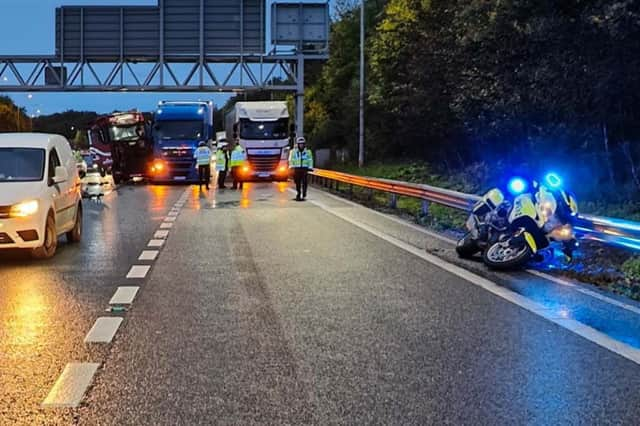 From 6.30am on Wednesday morning, around 10 Just Stop Oil supporters climbed onto the overhead gantries in multiple locations.
They were joined by supporters of Animal Rebellion, who are campaigning for "a plant-based food system".
Parts of the motorway in Kent, Surrey, Essex and Hertfordshire have been closed due to the protests.
As of 10am, Junctions 12 to 14 are blocked anti-clockwise, Junctions 25 to 27 have been closed clockwise and Junctions 29 to 31 have been closed both ways.
Motorists have been urged to avoid the area and seek alternative routes while several police forces deal with the demonstrations.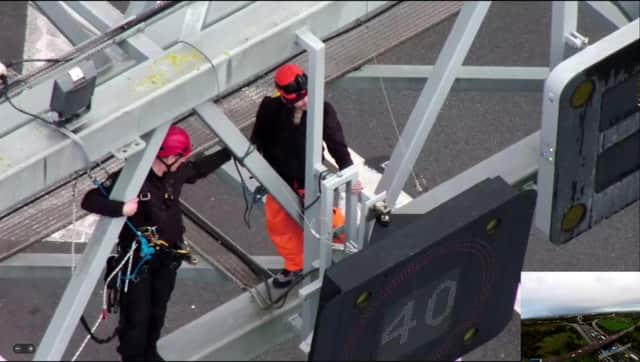 Surrey Police have arrested two protestors after being taken off a gantry near to junction 13 anti-clockwise and another near junction eight.
Kent Police said officers have been responding to a report of protesters close to Junction 4.
The Metropolitan Police said on Twitter: "We're ready to respond to any protest activity on the M25 with partner forces again today.
"We know this disruption is incredibly frustrating for the public."
Ch Sup Simon Anslow from the Essex Police said: "Officers have again responded quickly to minimise disruption and two people have already been arrested.
"One of our officers has been injured as they worked to help resolve this situation.
"Our roads policing officers are dedicated, specialist officers who come to work to serve the public and keep you safe on our roads.
"They do this tirelessly, day-in day-out.
"Sadly, this morning one of these fantastic officers has been injured while carrying out this work."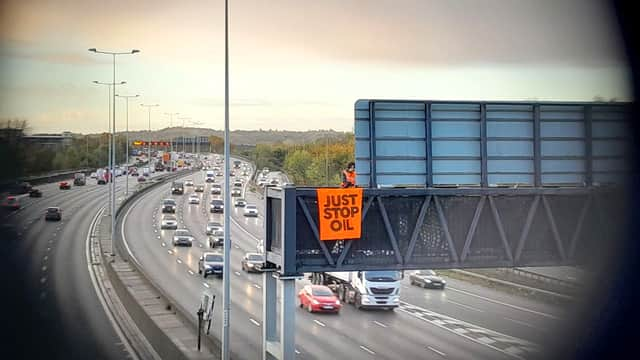 Just Stop Oil said in a statement: "This is not a one day event, expect us every day and anywhere.
"This is an act of resistance against a criminal government and their genocidal death project.
"Our supporters will be returning – today, tomorrow and the next day – and the next day after that – and every day until our demand is met: no new oil and gas in the UK."
Since the campaign began on April 1, Just Stop Oil supporters have been arrested over 2,000 times, with 15 supporters currently in prison.