Jeremy Corbyn joins St Mungo's homeless charity workers as month-long strike action begins
Unite said the strike action was organised after St Mungo's staff were offered a "pitiful" 2.25% pay rise.
Watch more of our videos on Shots! 
and live on Freeview channel 276
Visit Shots! now
Striking St Mungo's workers were joined by former Labour leader Jeremy Corbyn earlier today (May 30), as staff at the homeless charity began a month of action following a pay offer their union has decried as "pitiful".
Mr Corbyn spoke at the picket outside St Mungo's London office in Tower Hill, with strikes due to continue at sites across the country, including Brighton and Bristol, until June 26.
According to the union Unite, the dispute started back in 2021, as the cost-of-living crisis and falling pay began to really bite.
Unite says that in the last 10 years, the pay of senior management at St Mungo's has increased by 350% and chief executives by 77%, compared to a 25% cut for the charity's front-line workers.
The strike action has been organised after workers were offered a "pitiful" 2.25% pay rise, the union added, with members balloted across southern England.
Unite's regional officer, Steve O'Donnell, said: "The workers at St Mungo's are ready for this strike. Although they recognise taking action has an impact on their clients the fault of the strike lies firmly with the management.
"Our members will not accept the crumbs from the table. Especially while the number of senior managers increases and the CEO earns a huge salary.
"All their divisive and spiteful tricks of changing payroll deadlines to impoverish strikers and cancelling shifts before the strike will backfire because our members are ready to take action for improved pay."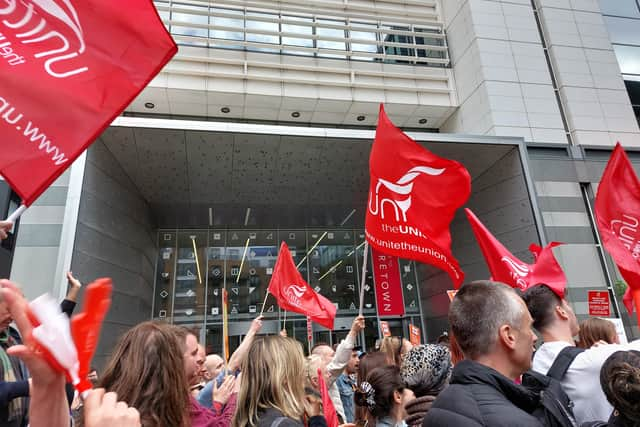 Mr Corbyn, who attended to show his support for the strike, opened his speech by thanking staff for "looking after the people in the St Mungo's facilities, often very vulnerable people who've had severe complications in their lives, terrible disruption, ignored and shunned by many".
The former Labour leader continued to recall an anecdote in which he recently cycled past rows of multi-million pound homes on the River Lea, before asking those in attendance: "What have we come to in our society that we tolerate the idea that a small percentage of us can live in the most desperate poverty and that we give tax breaks to the very richest, that they may spend even more on yet another billionaire's row apartment overlooking our river?
"We need equality and justice in our society. We cannot go on like this."
He added there appears in England to be a "moral imperative", by which those working in industries such as care or support services are "doing it out of the goodness of your heart, and the price of bread has no effect on you whatsoever".
"You're doing it because you believe in it, but you've still got to eat, you've still got to pay the rent, you've still got to get the bus in or a train," he continued.
Mr Corbyn ended by saying he gives his "full support for your wage demand", and that he will write to St Mungo's showing his solidarity with the workers' demands.
On the decision by members to strike, Emma Haddad, chief executive of St Mungo's, said: "Our latest offer, combined with the annual pay rise proposed by the National Joint Council, would have meant a pay rise of at least 10% for those colleagues on the lowest salaries. This is what Unite has been asking for but voted against it.
"After all our efforts to find a solution to this dispute, a  four-week strike is unprecedented and disproportionate. It will impact vulnerable people at risk of or recovering from homelessness.
"My door remains open to Unite, every day during the strike."