Major London universities blasted for keeping lectures online
The National Union for Students said the 'campus experience should be enhanced, not replaced by online provision'.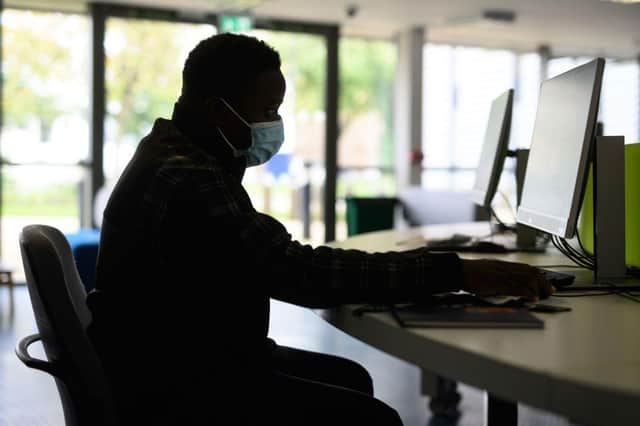 London universities are keeping lectures online despite the end of social distancing. (Getty Images)
Furious students - forking out £9,000-a-year in fees - are raging that London universities are keeping lectures online despite the end of social distancing.
Most of the capital's major universities - including University College London, King's College London and Goldsmiths - have revealed that lectures will continue to be carried out virtually next term.
This is in direct contrast to the latest Government guidance, which states that "there is no requirement for social distancing or other measures within in person teaching".
It added: "Providers are therefore able to shape their courses without restrictions to face-to-face provision."
The London universities' move has infuriated students, who have blasted the policy saying that "student satisfaction is the lowest priority".
The Covid-19 pandemic has completely changed the university experience, with many students having spent the majority of their degrees learning online.
However now social distancing restrictions have ended, many are desperate to get back on campus and meet their peers.
And students have been left confused as to why they can attend crowded college bars, but not go to in-person lectures.
Education Secretary Gavin Williamson said that universities which do not return to face-to-face teaching this year should not charge the full £9,000 fees.
What are the universities saying?
University College London, which has its main campus near Euston, Camden, says that in the upcoming academic year "most modules will blend online and on-campus teaching".
The guidance states that most lectures will stay online, while seminars will be in person.
The university said: "Most small group teaching - including seminars, workshops, laboratory and studio practicals - will be in person and most of your lecture-based large group teaching will be online."
While it added that "a small number [of modules] will be mostly or completely online if all learning outcomes can be met this way".
Imperial College London, based in South Kensington, said that "lectures may be hosted online when this method is deemed to be educationally beneficial to students".
The science-specialist university, in Kensington and Chelsea, confirmed that classroom tutorials and laboratory activies would be hosted on campus.
However Imperial students have indicated they have been informed that lectures will continue online.
While at Goldsmiths, in New Cross, Lewisham, university guidance for the academic year states that lectures will be online.
It claimed that "feedback from students has told us many people prefer this type of delivery for this kind of teaching".
King's College London, based in central and south London, has reportedly stated that lectures will be delivered "entirely online".
Students received an email stating that while in-person tutorials will return, lectures will stay online, according to student newspaper Roar News.
The London School of Economics, based off the Strand, Westminster, said that during the upcoming term "lectures, which are non-compulsory, will be delivered online - either synchronously or asynchronously".
A spokesperson added: "All LSE students will be in London and studying on campus, with the majority of learning experiences being held in person, supplemented by some online elements."
SOAS, based in Bloomsbury, Camden, said that as a "general principle" lecturers would remain online.
A statement to students said: "In common with others in the sector, we are going to focus on our large-group teaching to remain online for 2021/22, and to prioritize small-group teaching for in-person teaching on campus.
"Therefore, as a general principle, students can expect to have in-person seminars and tutorials, and online lectures."
The decision to continue with online-only lectures, despite the end of government restrictions, has led to frustration from some unions, students, and parents.
Suhail Mall, a physics undergraduate at Imperial College, said: "I'm so disappointed that Imperial College has decided to continue most lectures online next year.
"Confirms that the university is just a business at the end of the day and student satisfaction is the lowest priority for them.
"Would recommend prospective students to look elsewhere."
While parent Jo commented "My daughter had her email yesterday from UCL re next year.
"Lectures online yet campus will be fully open.
"So, she can sit in a UCL bar with an indeterminate number of people but not in a lecture hall. Make this make sense?"
And student Jose wrote: "I'm so annoyed, my lectures are all gonna be online.
"SOAS will remain to be online next year - with tutorials in person as an option.
"I really wanted the opportunity to do lectures in person, we really don't pay £9,000 a year for this.
"Lectures in person are much more effective."
A number of students from UCL have signed a petition calling for a "referendum on online learning", putting pressure on their student union to change their stance on online lectures.
"Whilst the union seemingly argues that pre-recorded online lectures promote inclusivity, it is our opinion that they ignore those students who struggle to learn online," the petition said.
"Moreover, we find that pre-recorded lectures do not align to the cost of our education."
Hillary Gyebi Ababio, vice-president of higher education at the National Union of Students. Credit: NUS
Hillary Gyebi Ababio, from the National Union of Students, told LondonWorld: "Nothing can replace face-to-face teaching or being able to socialise in person with your peers, and the campus experience benefits students; and should be enhanced – not replaced by online provision."
However she said there is a balance to be struck going forward.
The union rep explained: "Disabled students have been calling for years to be able to access lectures online – and suddenly, overnight it was made possible.
"I am asking the sector to not look back on access, but to move forward and build an experience which retains both the accessibility benefits of online learning, and the best elements of the face-to-face experience."