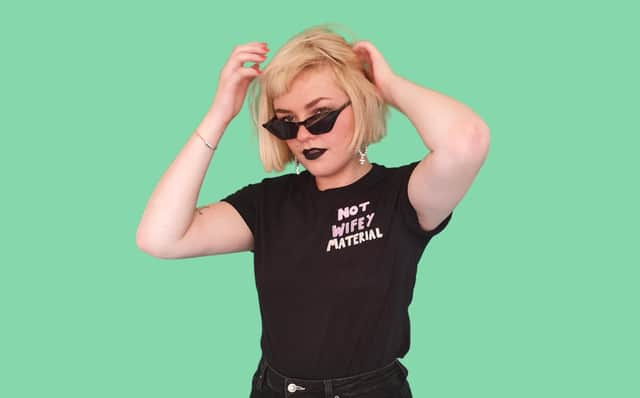 A cartoonist from south London went undercover into online incel groups after she was trolled and abused by members of the internet subculture.
Lily O'Farrell is now trying to teach people about the movement's language and culture to stop young men being pulled into it.
Incel - which comes from involuntarily celibate - is an online subculture of men who define themselves by being unable to get a romantic or sexual partner.
This is often channelled into hatred, abuse, and sometimes even acts of violence against women.
The weird internet cult has been thrust into the spotlight after the shooting rampage by Jake Davison in Plymouth.
The 22-year-old, who killed five people last month before turning the gun on himself, was an adherent to the misogynistic culture.
However Lily, 26, had been abused and trolled by incels three years earlier due to her feminist cartoons.
Under the moniker Vulga Drawings, she posts her illustrations on Instagram to her 248,000 followers on everything from city living, to dating and to sexual violence.
"I always describe it as like rolling a poo in glitter," Lily, of Clapham, said of her artistic style.
"When you take something that's a bit dark, complex, or uncomfortable to approach, and then you put it in a format that's really easy to understand. It makes it digestible.
"It's a really great way for people to talk to each other about it, to share it with their friends and to tag people in it."
Lily's profile was shared to an incel Reddit group focused on men's rights and she received a torrent of abuse.
"I engaged with them because I noticed that a lot of them were teenage boys and and it worried me that they were being so aggressive and violent," she said.
Lily decided to go undercover in a number of online groups associated with this movement in order to find out more.
"I would just observe and I learned so much about it," she explained.
"I just realised that so many of them were being groomed.
"So many of them were NEETs [Not in Education, Employment, or Training] and they were just kind of lost boys who didn't really have responsible adults around, or the system had failed them."
Following the mass shooting by Jake Davison, a member of the subculture, O'Farrell worked for four days straight to unpack what she had learned into digestible information.
This created her most recent work is titled 'Everything I've Learned About Incels' and breaks down the language and terminology of the incel movement.
The cartoons offers easy-to-understand descriptions of the subculture, including terms such as 'red pilled' and 'lookism' – in order to help readers spot the signs in young people within their care.
"I hope that it gives people confidence to approach their younger brother, or their student at school, or someone they're mentoring and to not think 'I'm too old to understand what that meme means'," Lily said.
She explained the cartoons proved to be extremely popular with more than 300 requests for digital pamphlets and print editions which she is now sending out.
"'I've had an incredible response," Lily said.
"Lots of teachers, organisations, charities, people who work with young and vulnerable people, youth workers, and foster carers.
"People want them for the coffee table in the staff room, which I think is such a great idea if you just pick it up on your break.
"I'm going into two schools next month to talk about online radicalization and about feminism.
"I'm trying to get young men to feel comfortable talking about feminism or reading about feminism."
While there have been many positive responses, attempting to decode these online communities for others has also resulted in backlash from those identifying as incels.
"I get an influx of trolls, they appear out of the woodwork depending on what I've posted," Lily revealed.
"So when I post stuff about gender, specifically about sex, or sexual violence, that's when I put my phone away.
"I've had awful stuff, like threats of being doxed and there's always the normal threats about sexual violence."
But Lily remains confident that despite the threats, her work is reaching people.
"To have messages from young men who are saying 'this hits the nail on the head, and I know someone who this could help' is great," she added.
"It blows all the trolls out of the water."