Hackney: Stoke Newington artists face eviction - 'Gentrification means everyone is looking to develop'
After 20 years, a group of artists are being evicted from their studios above Stoke Newington Library by Hackney Council due to refurbishment work.
Watch more of our videos on Shots!
and live on Freeview channel 276
Visit Shots! now
Upstairs in an unassuming space above Stoke Newington library resides a group of artists bringing culture and vibrancy to the Hackney community.
Stokey Studios has been home to a group of nine weavers, printmakers, painters and other creatives who all work harmoniously in the same space – some for the last 20 years.
But due to the upcoming £4.4m refurbishment of the library, they have been handed an eviction notice and must vacate the studios by November.
Andy D'Cruz, an artist who has worked out of the studio for the last 20 years, said they knew this day would come but that he had expected to have been invited into discussions with the council.
"As artists we've been operating on the margins for years," the 55-year-old told LondonWorld. "We knew the day might come that changes would be made, but we thought we might be invited in to communicate or there would be some way of rehousing us or including us."
D'Cruz has been creating community artwork in Stoke Newington for the last 30 years and more recently the group has been working closely with local schools and community groups. Last winter artists from the studios delivered the Constellations project, where hundreds of children and local businesses created stars, to be shown off at a parade event on Church Street.
They have created large scale artworks for Hackney Carnival and have made a number of light artworks displayed throughout the area.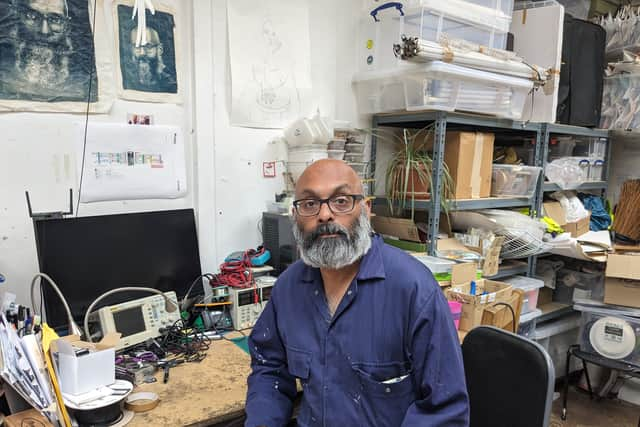 Hackney 'borough of culture'
"What we feel frustrated by, with us going, is the cultural offers we've been providing unofficially for Hackney Council, and our desire to do it with them officially is another lost opportunity," D'Cruz said.
"Hackney is currently looking to become the [London] Borough of Culture and, ironically, their resident artists are being asked to leave."
The group, who have been renting their studios through Space studios, are being offered alternative "affordable" spaces but they are at least twice the price they are currently paying.
"If we were purely gallery based and commercial, we might be able to afford it but we're not," said D'Cruz. "We're community based. We make even less money than artists that are trying to battle their way through the art world."
The group is hoping to secure a long-term affordable space, such as a disused civic building or closed school, so the artists can continue their work in the area.
"If they give us a shell we'll be happy as long as it's truly affordable," said D'Cruz.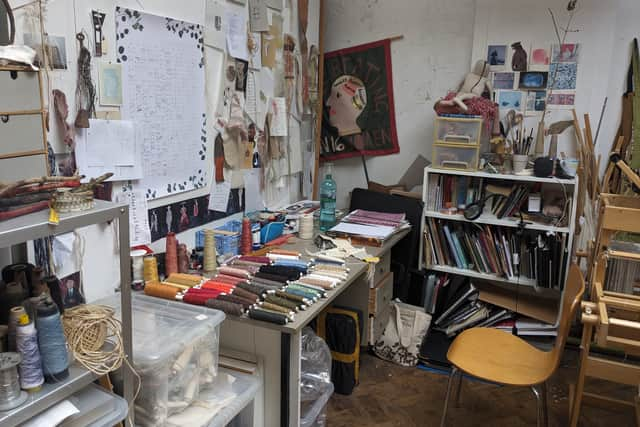 Gentrification of Hackney
Their fear is that if they are unable to secure an affordable space they will be forced to split up as a group or move out of the borough.
"Because of gentrification everyone is looking to develop every little corner," said Sal Jones, a painter who has resided in the studio for 10 years. "A few decades ago Hackney was looking to give spaces away because it wasn't a popular place to be.
"You either get forced out of the area or out of your specialism. The interesting culture and art brings people into an area, it gets trendy, everything gets refurbished, the arts get pushed out somewhere else and the life and soul is gone from the area people moved in."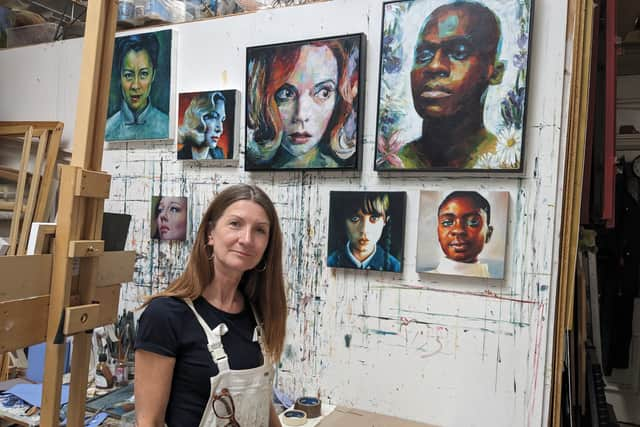 What Hackney Council says
The renovation work on Stoke Newington library will see repairs made to the interior and exterior of the Grade 2 listed building. It is hoped the work will be completed by 2025.
The mayor of Hackney, Philip Glanville, said: "Stokey Studios is a fantastic local organisation that does great work in the borough. Cllr Chris Kennedy (cabinet member for health, adult social care, voluntary sector and culture) met with them last week to discuss their situation and we agreed to let them know immediately if any suitable council-owned space becomes available.
"Stoke Newington Library desperately needs refurbishment and the plans will see significant improvements for the thousands of local residents who use it. We value what both Stokey Studios and Space Studios bring to the borough, but that doesn't mean we can delay this vital work.
"The council does own a number of properties that it rents at discounted rates to the voluntary and community sector. There are not currently any suitable spaces available, but we have made Stokey Studios aware of how they can register their requirements with us, and also provided a link to our approved workspace provider list, which includes a number of providers offering a range of affordable and flexible spaces.
"We are aware that businesses and community organisations in Hackney are facing increasing costs and we have policies and initiatives in place to provide affordable space - from maintaining a number of properties specifically for the voluntary and community sector, to ensuring landlords provide spaces below market rents in new developments."
Mayor of London Sadiq Khan
A spokesperson for the mayor of London, Sadiq Khan, said: "Culture is the beating heart of London, but the spiralling cost of living and soaring rents have left some of the capital's creative workforce unable to find long-term affordable spaces.
"The mayor is doing all he can to provide more creative spaces and protect existing spaces through his Culture and Community Spaces at Risk Programme. City Hall is in contact with SPACE studios to offer support as they find suitable spaces for the artists."