Guy Fawkes Night: Where to watch London bonfire night displays – and which have been cancelled?
Check out London's best firework displays on Bonfire Night and which have been cancelled
Watch more of our videos on Shots!
and live on Freeview channel 276
Visit Shots! now
Remember, remember the fifth of November. From musical firework displays to quieter family friendly shows, find out the location of your nearest London bonfire night events.
Guy Fawkes Night is always a special time in the city when people take to streets and parks around London to view fireworks and enjoy a glass of mulled wine or two.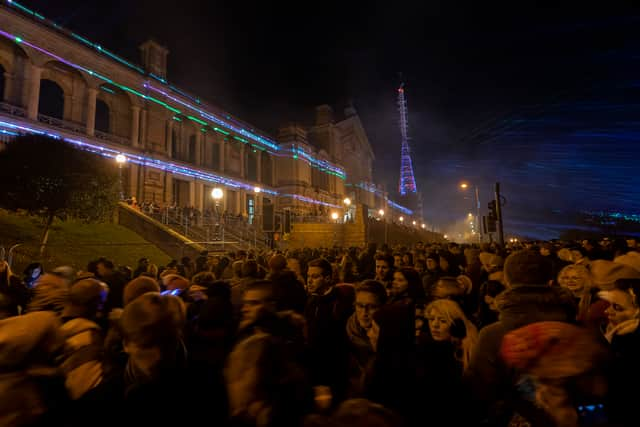 The last two years have seen many events cancelled due to the pandemic, and this year the cost of living crisis is forcing some local authorities to think twice about whether to host a bonfire night and whether it is worth the money.
However, several events are still going ahead with some offering multiple nights of fireworks and entertainment.
Which events are going ahead?
Ally Pally fireworks festival
The place is synonymous with Bonfire Night in London and this year isn't likely to be any different with a bierhall and movies screened to go with your regular display on November 5. With incredible panoramic views over London as it is there are few better places in the capital to watch a fireworks display.
Tickets are on final release so act now if you want to attend, with adult passes costing £16.50 and children paying £11.50.
Musical fireworks at Wimbledon Park
If you're after a firework display with a difference then the 'musical fireworks' served up in Wimbledon Park are sure to fit the bill. There's a family friendly early show taking place at 5.15pm on Friday and Saturday in the first weekend of November, with a later 'Kings and Queens' themed display at 7.15pm on the same days.
Tickets are £10.70 for over 16s and £8.02 for children over 5 with those younger able to attend for free. There are also family packs available here.
Wandsworth Council promise that their display in Battersea Park is the biggest in south London, with two days of bonfires and fireworks to immerse yourself in this year. The first Saturday in November promises to be your usual night of Guy Fawkes activities, with the Sunday returning as the family friendly event after a successful launch last year.
Tickets are free for children under 11 with everyone else having to pay £12.65 for entry.
Running since 1946, if you want a Bonfire Night display with some heritage then look no further than Beckhenham's fireworks in the park. There will be a quieter children friendly event at 6pm on Saturday, November 5, with the main display taking place at 7.45pm on the same evening.
Tickets purchased online for children under 11 are free, with adults paying £13.50, concessions and children between 11-17 cost £7.50. Please be aware tickets bought at the door will be more expensive.
Which Bonfire Night events have been cancelled?
Hackney fireworks display at Clissold Park
Hackney council has decided to cancel their Bonfire Night display in Clissold Park for the third year running, citing the cost of living crisis as well as environmental concerns. The last display cost the council around £125,000 to stage, with only £72,000 being recouped through the sale of tickets and catering concessions.
Councillor Caroline Woodley said: "While we're sorry not to be hosting a fireworks display in Clissold Park this year, we have to weigh up our priorities as our finances continue to come under pressure from rising inflation and costs.
She added: "We must also consider the wider environmental and air quality implications of the fireworks."
Blackheath fireworks 2022
Lewisham council has decided not to stage a Bonfire Night display this year, citing funding cuts from central government. A statement on their site said: "After more than a decade of continued funding cuts from central government, we need to focus our limited financial resources on maintaining essential local services and supporting our most vulnerable residents.
It continued: "We will continue exploring possible options for future displays and remain open to offers of sponsorship and external funding."
Are firework displays bad for the environment?
The short answer is 'yes'. Many fireworks contain perchlorates which are necessary to produce enough oxygen for them to explode but they can dissolve in water damaging natural supplies and leading to contamination.
The smoke produced by firework shows can also lead to increased levels of PM2.5 in the atmosphere, which is associated with various respiratory illnesses. However, there have been some 'cleaner' fireworks created recently that use safer alternatives to perchlorates and produce less smoke.
Large firework events also cause significant noise pollution, which can be distressing to pets and wildlife. The RSPCA recommends walking your dogs during the day during the peak days around Bonfire Night and keeping windows closed and blinds shut so as to muffle the sounds of the bangs as much as possible.