Several areas in south east London have been left without water this morning due to a burst water man.
Emergency services rushed to Eltham Road in Greenwich in the early hours of this morning (Friday December 5) after the entire street became flooded.
Residents living in SE3, SE7, SE9, SE10, SE12, SE13 and SE15 have been left with no or low water.
London Fire Brigade (LFB) said that six properties have been flooded and the fire station has also been affected by flood water.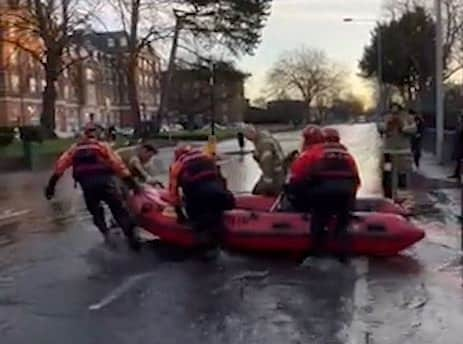 Crews are working to divert flood water after a water main ruptured, flooding an area of around 600m x 200m.
There are currently no reports of any injuries.
The latest update from Thames Water says: "We're really sorry if you have low pressure or no water following a large burst pipe early this morning on the A20 Eltham Road, in SE12.
"We're on site and working to shut off flow from the burst. Once we've done this, supplies should start to return to the affected area.
"We'd also like to apologise to drivers affected by the closure of the A20."