COP27: What do experts think London's climate could be like in 2050?
We spoke to experts to find out what to expect from climate change in the capital over the next decades.
Watch more of our videos on Shots!
and live on Freeview channel 276
Visit Shots! now
Landmarks underwater and streets swallowed by the Thames are among images shared online, while politicians warn we could sizzle in heatwaves and scorch in violent wildfires.
With key climate conference COP27 beginning today (Monday, November 7) in Sharm El Sheikh, Egypt, greenhouse gases and fossil fuels will be hot topics for the next fortnight.
Despite Britain's King Charles and Swedish activist Greta Thunberg's non-attendance, UK and global leaders such as Rishi Sunak, Joe Biden and Alok Sharma will be at the table.
It comes amid weeks of protests with activists from Extinction Rebellion and Just Stop Oil stopping traffic, smearing artwork with paint and mashed potato and stoking up debate.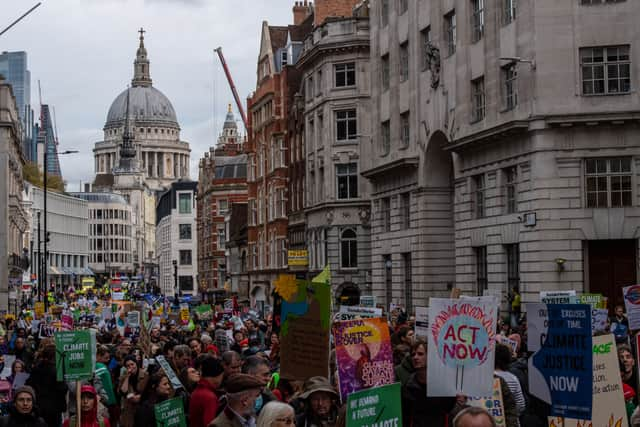 LondonWorld has spoken to environmental experts from some of the city's top universities - to find out what we can expect from climate change in the capital over the next decades.
Heatwaves
The first - and most obvious - impact is likely to be heat. Already home to the famously sweaty Central line, London is on course to get a whole lot hotter.
Dr Neil Jennings, Imperial College climate scientists, told LondonWorld the globe is warming by around a quarter of a degree each decade, with the planet set to reach a 2C rise by 2050.
He said: "London is on course to have a climate similar to Barcelona by the mid century - on our current trajectory. At the moment we've hit around a 1.2C rise in global temperatures.
"That has brought an increased risk of periods of extreme heat like in July and August this year and brings challenges as our housing stock is not adapted to a Mediterranean climate."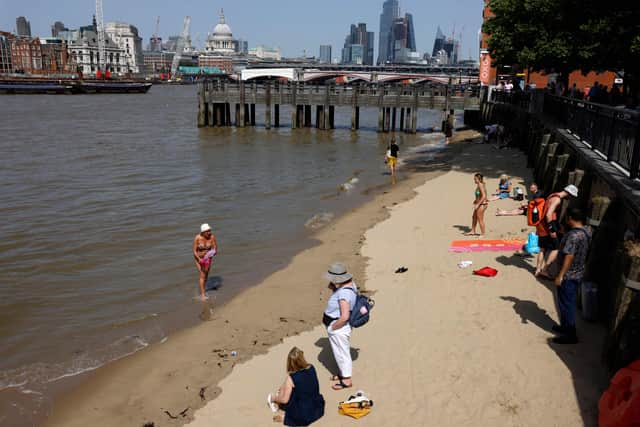 And the hotter it gets, the higher the cost of adapting the city to cope with its new weather.
While Professor Ilan Kelman, disasters and health expert at University College London, warned the heat would have increasingly fatal impacts on London's population.
"The problem with heat is that it kills you," he said.
"If you don't have artificial cooling like air conditioning or you're an outdoor construction or agriculture worker, or you have to be on the Tube on one of the seven non-air conditioned lines… when it gets above 40C it really starts to harm the human body. If we don't hydrate, we don't drink water or we don't sweat, we're going to die."
Flooding
The second major impact of a warming world - conversely - is increased rainfall. With hotter, drier summers on the way, our winters are expected to become both warmer and wetter.
Dr Jennings explained: "Those two things marry up quite badly as heavy rainfall on very dry ground can lead to flooding.
"If you take a body of air, and increase the temperature by 1C, that air can hold 7% more water. So in a warmer climate you're going to have much more heavy rainfall.
"We will see more extreme weather - but increased flooding will depend on how we adapt."
Planting trees and creating green spaces in the capital is essential to combat flash flooding, he said, as more unpaved soil means the water can be absorbed into the earth more easily. But Prof Kelman warns while "we can stop flooding if we want to" London's drainage systems have suffered "generations of under investmentment".
While the Blackfriars sewage works are expected to help, historical narrowing of the Thames' banks mean when the river's levels are higher, there's nowhere for the water to go.
"We've built central London on the assumption there will be no flooding," he said. "Building the Thames Barrier, which opened in 1981-82, stopped significant flooding and made people feel protected enough to build on the flood plains. The whole of Canary Wharf - with names like Mudchute - has been built post-Thames Barrier.
"All these wonderful new flats for £750,000 are right in the middle of this area that used to be a wetland."
Hope
However, what the experts can agree on is there is hope for averting these crisis scenarios.
"The bottom line is what London looks like in the future will be determined by the choices we make in the next few decades," Dr Jennings said.
"In terms of emissions of greenhouse gases here and around the world, the future's not been written yet.
"There are things that can and need to be done but the vast majority of UK councils have declared climate emergencies and set really ambitious targets to drive down emissions."
For anyone disheartened, he added: "Any social change - whether the suffragettes or the civil rights movement - came about from people coming together. Individual actions are small but collectively they can be very big."
And while Prof Kelman insisted in terms of climate action "we are definitely not on track", he said he was still optimistic about humanity's progress.
"We've come on an amazing journey," he said. "Understandably the science is confusing and the key for me is evidence based policy. The goals we hear are artificial and political - but are helpful for public communication.
"[But] I'm very hopeful because we can act and we know what to do. Our number one concern should be living sustainably in the long term."
What is the mayor of London doing?
London mayor Sadiq Khan has made tackling the climate crisis a key plank of his mayoralty. In his environmental plan for the city, published in 2018, Khan warned: "Climate change will only get worse and London is now seeing more frequent and more intense weather events.
"Projections show London will experience hotter, drier summers and warmer, wetter, winters.
Mayor Khan said more than 200,000 residential and commercial properties were at risk of flooding from heavy rainfall events in London.
And in March 2021, City Hall launched a climate risk map for London, identifying areas of London most exposed to climate impacts with high concentrations of vulnerable residents.
Now the maps are being used to steer policy, including the mayor's Green New Deal, Future Neighbourhoods and the London Environment Strategy.