East Londoner trapped in flat with Grenfell cladding and forced to sell car to make ends meet
Lisa Petty cannot sell her flat or remortgage it, and faces high costs ahead to deal with dangerous aluminium composite material (ACM) cladding.
Watch more of our videos on Shots! 
and live on Freeview channel 276
Visit Shots! now
An east London leaseholder caught in the cladding crisis has been hit by an increase to her monthly mortgage payments of £538 - all while she remains trapped in a home she cannot sell or remortgage.
Lisa Petty, 42, bought her flat in Baneberry Lodge on the Kings Park estate, Harold Wood, in 2016 with her sister. Purchased off the plan, she said she had zero complaints about her home until the pair decided to sell the property in late 2019.
A buyer had been lined up by the end of the year, though when the pandemic hit early 2020, everything was put on hold.
It was around this time that the government issued a consolidated advice note which stated an External Wall System fire Review certificate (ESW1) form was required to inidicate fire safety for multi-dwelling buildings of all heights. This was on the back of a series of actions taken following the Grenfell Tower tragdy in 2017, in which 72 people died due to a fire which tore up the side of the building via flammable cladding.
While not legally necessary, EWS1 forms were subsequently typically requested by banks before they would lend to someone looking to take out a mortgage.
In Ms Petty's case, the person wanting to buy her home was told by their mortgage provider that an EWS1 would be required if the purchase was to go through. Ms Petty said she approached the block's managing agent, Wildheart, enquiring whether Baneberry Lodge had an EWS1 form. She was told it did not, and so the sale collapsed.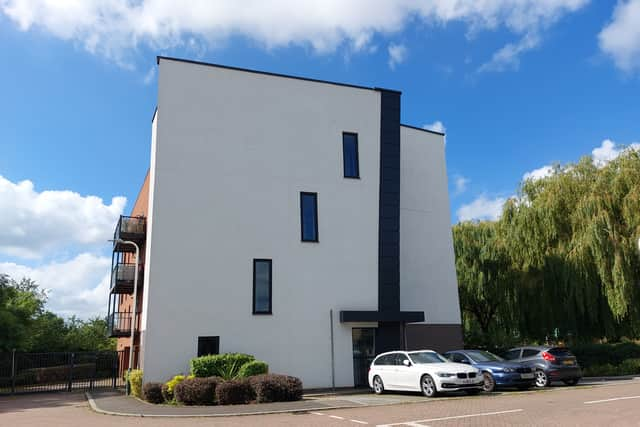 'What does this mean then?'
Following the withdrawal of the sale due to the lack of an EWS1, Ms Petty said Wildheart commissioned an assessment in October 2020 by fire consultants TriFire and FRC, for the princely sum of around £10,000.
The result was a B2 rating, indicating remedial work is necessary due to the standard of fire safety being inadequate. On Baneberry Lodge, the cladding, which runs along areas including the balconies, was found to be aluminium composite material (ACM) - the same type present on Grenfell Tower.
Ms Petty said she was suspicious regarding the quality of the inspection, telling LondonWorld it consisted of little more than taking a few photos and leaving.
"When we got the result back, I challenged it with the managing agent, and I wanted to know how they had determined this was ACM cladding," she said.
What she was chasing was a list of what materials were used by the developer, Countryside, in building the blocks on the estate. While she was unable to get her hands on these documents, Ms Petty said Countryside did pay for a proper fire test to be done in June 2021.
Unfortunately for her and the other residents in Baneberry Lodge, it found the cladding had zero fire retardant properties, in essence meaning it was purely decorational. A further assessment in September that year only upheld that finding.
"We were like, great, what does this mean then?"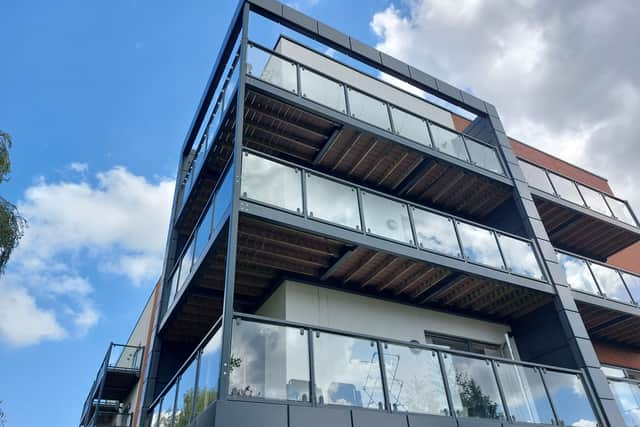 The government intervenes
DLUHC subsequently told the companies which had carried out the inspections that the reports were neither "reasonable or proportionate", and asked them to revisit the ratings.
A spokesperson for Ashton Fire did not confirm this, telling LondonWorld the review is "ongoing".
For Ms Petty, and other residents in Baneberry Lodge, this position is emblematic of the situation in which many caught in the cladding crisis find themselves.
While there is government funding available for developers to remediate buildings covered in flammable cladding, it only applies to buildings over 11 metres tall.
The government says this is because those under this height are unlikely to require expensive remediation or pose a threat to life, despite many residents, such as Ms Petty, being caught in increasingly expensive homes they are unable to sell or remortgage.
This means that if remediation is to take place, the leaseholders will likely be the ones who have to fork out for it. Ms Petty said she would be expected to pay around £22,000 for work to be done on her block, and that it would only begin once all of the money from each flat is collected, potentially leading to long delays.
Adding to this, Ms Petty said she knows flammable cladding is present around her home, so while the government can continue requesting Ashton Fire to review its report, the material will need removing and replacing at some point.
"As much as I want this to be resolved and it would make life easier if Ashton Fire turned around and said, 'well fine, here's your B1 EWS1 form', then I could go put this on the market and somebody else could buy it, that isn't the right thing to happen, because it's so dangerous the cladding that's on this building, and it should be removed and it should be replaced with something safe, but I shouldn't have to pay for that."
"I don't see how this situation can improve for just so many people in the same situation as me without legislation," she added.
A spokesperson for the Department for Levelling Up, Housing and Communities told LondonWorld it understands Baneberry Lodge is not covered with ACM, but that it has an amount of ACM Ashton Fire concluded created an "intolerable risk".
They said: "The independent audit of the appraisal submitted by Ashton Fire was clear - the reports did not justify the proposed remedial works.
"We have spoken to the managing agent for the property and they have informed us that Ashton Fire will review the report in detail and make substantial updates. We're expecting their response by the end of the month."
A lack of options?
Ms Petty said when she has asked the government what comes next, she has been told they could begin looking at legal routes to find anoter body to pay for the works other than the residents.
She has serious doubts about the plausibility of success if this option was pursued, largely because of the potential fees involved when dealing with organisations such as freeholder RMB102 Limited. Ms Petty said she and the other Baneberry Lodge residents would be unable to engage in litigation with an organisation of this size, and so the legal route is "not a solution".
Behind all of this are serious ongoing implications for Ms Petty's finances and health. As well as having to sell her car, she said she is stuck on a variable mortgage rate with her current provider. Since last September, her monthly payments have increased by £538.
"The stress and the anxiety that goes with all of this is, like I said, I can't think about it most of the time because I don't think I would be able to function," Ms Petty said.
"I don't feel I can make any plans for the future because I don't know if I'm going to have to pay this enormous bill."
A push for new legislation
Suzy Spilling, a co-founder of the Non-Qualifying Leaseholders Campaign Group, said leaseholders living in buildings under 11m "need and deserve a proper solution".
"On March 14, Michael Gove said in parliament that buildings under 11m would 'sometimes' have 'life critical' defects, but we are still waiting for crystal clear guidance on what cases the department believes would meet that standard and what solution they have for making those homes safe quickly.
"We also remain concerned that the government continues to refuse to ensure the developers make safe buildings of all heights that they developed, and that the owners of buildings under 11 metres have been excluded from the duty to pursue alternative routes before automatically passing remediation costs to leaseholders.
"We urgently need to know that the government's approach to under 11m buildings will be accepted by insurers and mortgage lenders, and that when remediation of fire safety defects in those buildings is deemed necessary, they have recourse to the same funding support as those in excess of 11m so that all innocent leaseholders can move on with their lives and confidence is restored in the market for low-rise buildings."
When approached for comment on Ms Petty's situation, a spokesperson for Wildheart directed LondonWorld to previous comments made on the issue, the most recent being: "It is our utmost priority to ensure the safety of residents. We are grateful to the department for their feedback and audit paper which we have passed to the original authors of the FRAEWs and are awaiting their comments pending further review. The freeholder is focussed on finding a solution at the minimum cost to leaseholders, consistent always with the overriding importance of safety."
Countryside was also approached for comment.