A activist who fought to make upskirting illegal has hit out at the Met Police for failing to investigate death threats against her, despite evidence from more than 600 women.
Gina Martin, a women's rights activist, reported a death threat made to her to the Met Police.
She shared evidence, including the alleged perpetrator's full name and contact details, from an online group which included 600 other victims, with the force.
However, the Met informed her it was "unlikely that it will be possible to identify those responsible" and opted to close the case.
Now Ms Martin has described the force's actions as "entitled", "patronising" and "incompetence" and confirmed she will be making a formal complaint.
It comes as the Met is embroiled in a series of scandals relating to women's safety, from the rape and murder of Sarah Everard at the hands of serving armed cop Wayne Couzens, to the misogynistic culture at Charing Cross station exposed by shocking WhatsApp messages.
Commissioner Dame Cressida Dick left her role after mayor Sadiq Khan lost faith in her leadership, and several reviews into the force's culture and practices have been launched.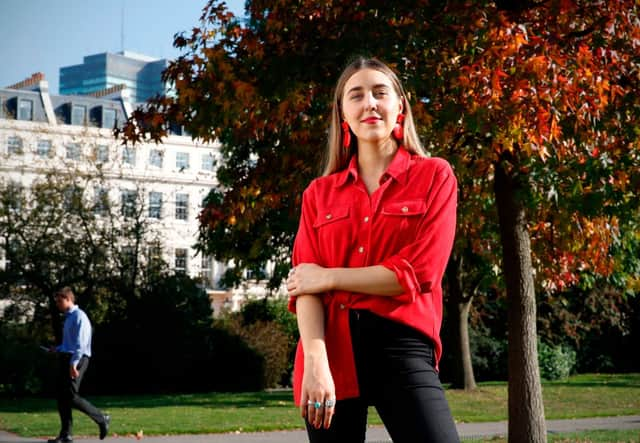 Last month the Met published its action plan for tackling violence against women and girls, which states: "Tackling violence remains our top operational priority, including crimes that disproportionately affect women and girls, such as domestic abuse and sexual violence."
On Sunday, May 8, Ms Martin told how an officer visited her north London home the previous day (Saturday, May 7) after she reported "a misogynist man who sent me a death threat".
Speaking on Twitter, Ms Martin said: "In 2017, the police closed my online stalking case after two years of nothing. In 2019, they ignored my upskirting case.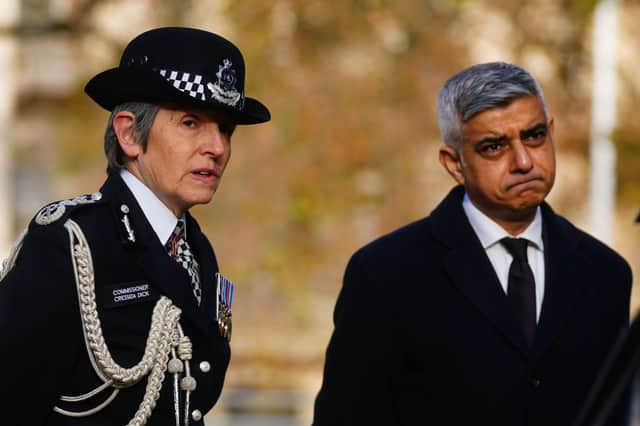 "Yesterday, a Met Police officer – who came to my home after I reported a misogynist man who sent me a death threat – couldn't have been more entitled or cared less.
"After trolling me, a man had messaged: "Let's kill you and see how you like it". I was subsequently added to a group made by victims of his with 600 members.
"It has been open for two plus years. It was buzzing with activity and had a wealth of screenshot evidence."
She said the group contained the alleged perpetrator's "full name, his phone numbers, details of other police cases against him" as well as evidence of him "breaking orders, approaching victims in real life multiple times" and sharing "women's images to Pornhub".
Ms Martin continued: "I sat and showed this to the officer who responded with 'that's hearsay evidence'.
"This officer had banged on my door, walked past me into my house like he owned it, not said hello or asked one question until he said 'so you made some posts and got some nasty comments?'
"He was patronising and couldn't have cared less.
"Today I got an email saying the case was closed because of 'insufficient evidence'.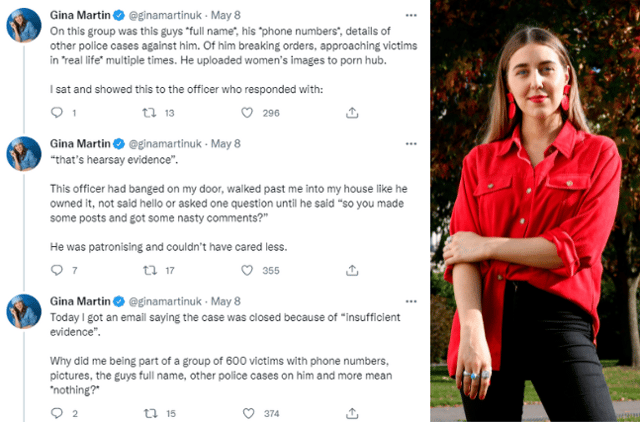 "Why did me being part of a group of 600 victims with phone numbers, pictures, the guy's full name, other police cases on him and more mean nothing?
"I have 600 victims, pictures of him, phone numbers, [his] full name, and other officers to corroborate.
"Did this investigator know this? Or did the apathetic officer sent to me not tell them?
"I am exhausted by the incompetence of the Met Police and will be writing a formal complaint."
Ms Martin campaigned for two years to change the law around upskirting - the practice of nonconsensually photographing a person from below, and a form of sexual violation.
She has previously spoken out about being a victim of a years-long harassment campaign, after her stalker Matthew Hardy , who also terrorised dozens of other women was jailed for nine years for five counts of stalking in January 2022.
After being contacted by LondonWorld, the Met said it was reopening the case.
A spokesperson said: "On Friday, May 6, police received an allegation of malicious communication from a woman aged in her 30s.
"The allegation relates to a message received on a social media platform.
"Following an initial assessment of the information available, a decision was taken to close the case.
"After concerns were raised about this decision, an officer made contact with the woman and confirmed police will look again at the information provided."