Just Stop Oil: Protesters could 'interfere' with King Charles' coronation, City Hall told
Demonstrators from Just Stop Oil may take action during King Charles' coronation, City Hall has been told.
Watch more of our videos on Shots!
and live on Freeview channel 276
Visit Shots! now
A meeting was told the environmental group has plans to take action on Saturday, May 6 - the day of the ceremony at Westminster Abbey which will see the King officially crowned.
In recent months disruptive protests have been held in central London, on the M25 motorway and around the country.
Demonstrations - including people gluing themselves onto and blocking roads - have sparked by calls for the government to stop issuing new oil and gas licences in light of the climate crisis.
Speaking at the London Assembly policing and crime committee today (Wednesday, January 25), chairman Susan Hall asked Met Police commissioner Sir Mark Rowley about the issue.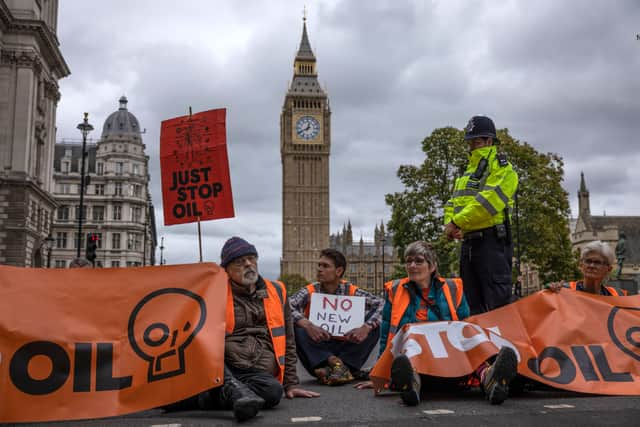 She said: "I've been told by Henry Riley of LBC that he's been having discussions with Just Stop Oil and that they're going to try and interfere with the coronation itself.
"Have you heard anything around that?"
The commissioner told the assembly: "I haven't seen that intelligence yet myself.
"I know they have a week of protest planned the week before the coronation. Whether they intend to extend that into that I don't know. That may or may not be true."
Sir Mark continued: "We will do everything we can to make the coronation the special moment it ought to be, just as we did with her late Majesty's funeral."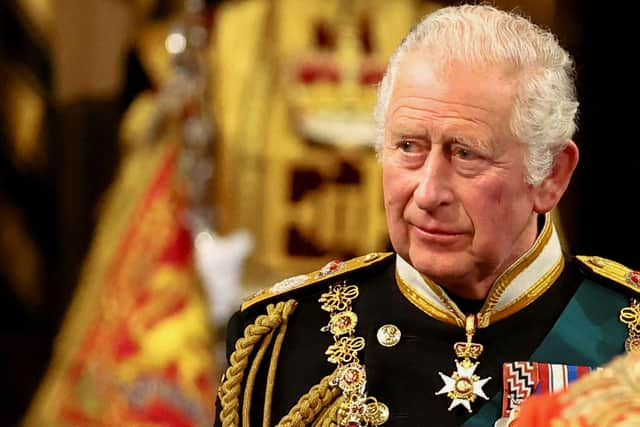 Commenting on the government's protest laws currently passing through Parliament, he added: "I just want to put it on the record, I'm very grateful to the government for listening to my concerns about the lack of specificity in the public order legislation.
"There are proposals they are trying to take through Parliament at the moment which should massively help our ability to deal with protests.
"I have no view and it's not appropriate for me to have a view on where the line should be between protests and the disruption of other people's lives. That's a political decision on where to draw the line in law.
"I have a very strong view, however, that the current legal framework is so fuzzy and grey that it's very hard policing-wise.
"If the government is able to sharpen the definition in law then it'd be much easier for police to exercise Parliament's will in terms of where that line is drawn in any protests, as we lead up to the coronation - if that law is in place in time."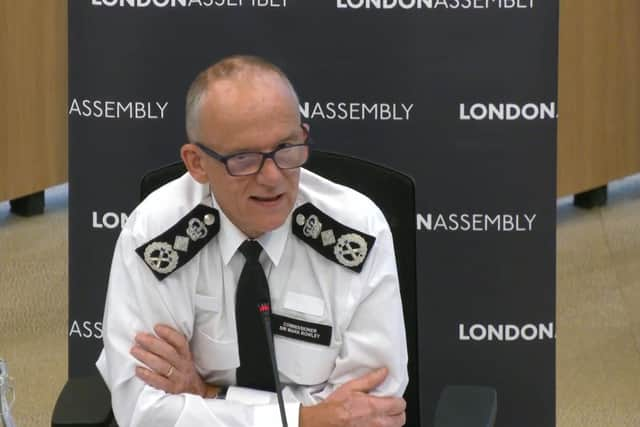 Ms Hall replied: "I'm sure you'll be pushing at an open door with Suella Braverman [as home secretary] and let's hope so, we certainly don't want anything disrupting that."
No specific timings have been released yet for the coronation, which will take place ahead of a bank holiday on Monday, May 8.
The King and Camilla, Queen Consort, will travel from Buckingham Palace to Westminster Abbey in what is known as "the King's procession", likely in the gold state coach.
Around 2,000 guests are expected to attend the ceremony, which will also be broadcast live on television. Up to a million people travelled to London for the Queen's coronation in 1953.
King Charles' ceremony is set to be shorter than his mothers - one hour instead of three - and peers will wear formal attire as opposed to ceremonial robes.
A Buckingham Palace spokesperson said: "The coronation will reflect the monarch's role today and look towards the future, while being rooted in longstanding traditions and pageantry."
Street parties and volunteering are encouraged to mark the occasion, and the King, Queen Consort and members of the Royal Family will wave from the Buckingham Palace balcony.
It's not yet known whether Prince Harry and Meghan Markle, the Duke and Duchess of Sussex, will attend, following the recent publication of the Prince's tell-all book, Spare.