The group, which is demanding no new licences or consents for any fossil fuel projects in the UK, says the protesters were arrested had not intention of crossing barriers, only of revealing 'Just Stop Oil' T-shirts.
Without specifying which campaign groups or protests the incidents related to, the Met Police tweeted on Saturday morning: "A significant police operation is under way in central London. We have made a number of arrests in the area of Carlton House Terrace. The individuals have been held on suspicion of breaching the peace.
"Earlier today we arrested four people in the area of St Martin's Lane. They were held on suspicion of conspiracy to cause public nuisance. We seized lock-on devices.
"A further three people were arrested in the area of Wellington Arch. They were held on suspicion of possessing articles to cause criminal damage. There will be further updates later today."
New laws introduced by the Conservative government give police powers to stop and search anyone suspected of causingf disruption.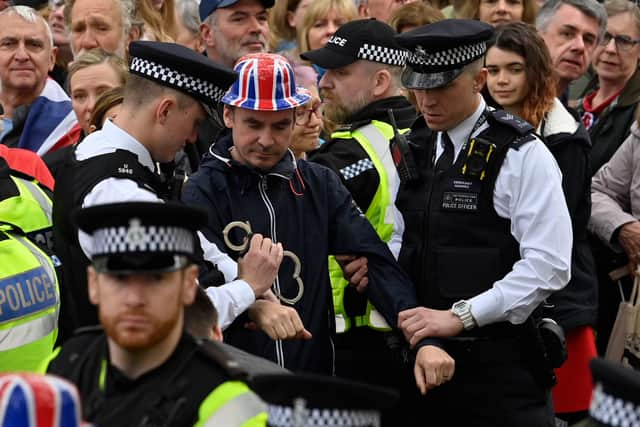 A Just Stop Oil spokesperson said: "What a dystopian nightmare this country has become. While we gather to celebrate putting a billionaire in a sparkly hat; this week the government enacted draconian legislation effectively banning legitimate dissent in this country. As this morning's events demonstrate, we are living in an authoritarian police state. As the world looks on in horror, the government brings in laws that would make a dictator blush. The British people's fundamental democratic right to march and make our voices heard, has been stripped from us. This affects every one of us, regardless of our political persuasion.
"Our government is signing the death warrants of hundreds of millions. Our democracy has been stolen by a corrupt, criminal cabal and if the local election results are anything to go by, the people of this country have had enough. Our government has been bought by the fossil fuel lobby and now they're busy funnelling taxpayers' money into companies that are making record profits and jailing anyone with the temerity to complain about it."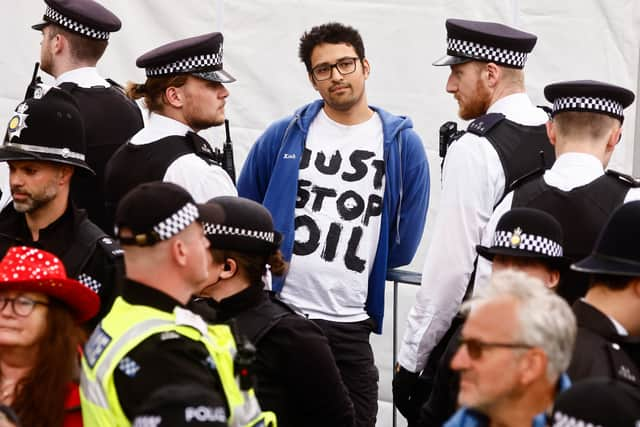 One of those arrested is, according to Just Stop Oil, Kush Naker, 33, a doctor of infectious diseases, from London.
"As a doctor I cannot stand by and watch as the government is taking action that is harming the health of my patients," he said.
"We know new oil and gas is a death sentence to millions of people around the world, including here in the UK, and that is why I am demanding that they stop it."
He added: "The government is bringing in new laws cracking down on our rights to peaceful protest. They say this is to protect the British public, but we know that is a lie. If they cared about the British public they would end all new oil and gas. I never thought in my life that I would be terrified that the police might arrest me for protesting peacefully in the UK. But that is now the state we are in."