Republican protesters have reportedy been arrested ahead of the Coronation of King Charles III on Saturday morning (May 6).
Demonstators wearing 'Not My King' T-shirts have been stopped by police according to pictures and video footage posted on Twitter.
Graham Smith, chief executive of the anti-monarchy group Republic is seen apparently being apprehended in St Martin's Lane.
In one video, an officer says: "I'm not going to get into a conversation about that – they are under arrest, end of."
Without specifying which campaign groups or protests the incidents related to, the Met Police tweeted: "A significant police operation is under way in central London. We have made a number of arrests in the area of Carlton House Terrace. The individuals have been held on suspicion of breaching the peace.
"Earlier today we arrested four people in the area of St Martin's Lane. They were held on suspicion of conspiracy to cause public nuisance. We seized lock-on devices.
"A further three people were arrested in the area of Wellington Arch. They were held on suspicion of possessing articles to cause criminal damage. There will be further updates later today."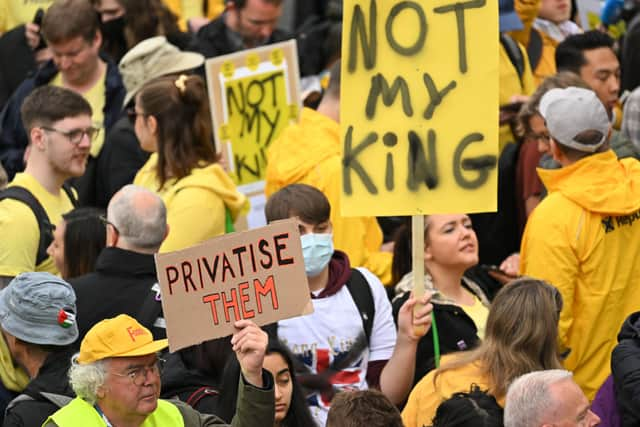 After the apparent arrests, Republic activist Luke Whiting, 26, told the PA news agency: "Six Republic members have been arrested including the CEO as the demonstration was starting at the edge of Trafalgar Square.
"It is unclear why, potentially it is because one of them was carrying a megaphone. It is unclear exactly whether the police are using these new powers and whether they are misusing them to stop protest happening."
Policing operation Golden Orb will see 11,500 police officers on duty on Saturday.