Video footage of a man armed with a machete has been released by police investigating a robbery in Islington.
A grocery shop in Canonbury was robbed at around 11pm on October 10 last year.
A man entered the shop in Grosvenor Avenue, and threatened the shopkeeper with a machete.
He took money and cigarettes, running along Grosvenor Avenue towards Highbury New Park.
Detective Constable Hickson, of the Met's Central North BCU, said: "The police investigation led to the recovery of the machete, which was left under communal bins outside Hillfield House off Grosvenor Avenue.
"However the suspect remains outstanding.
"I appreciate the CCTV is not especially clear and does not show his full face, but I am hopeful that the man's clothing and the moving images of him will enable somebody to recognise him.
"He is described as a white male, between 25 and 30 years old, approximately 6ft and of a skinny build."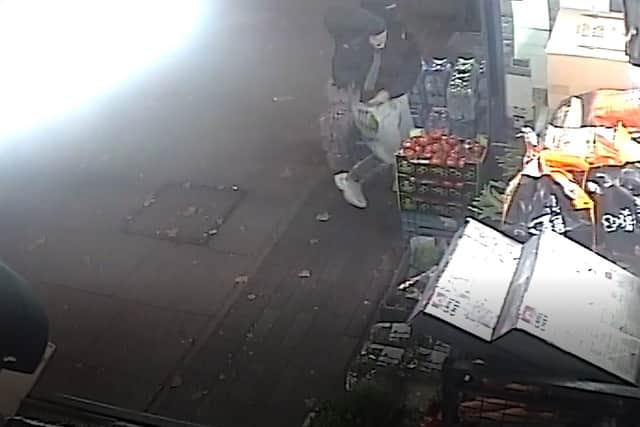 "Clearly he is a callous individual who is quite willing to brandish a terrifying weapon for relatively little reward," he added.
"He does not deserve to be protected.
"If you know who he is, please tell police or, to remain anonymous, contact Crimestoppers."
Contact police via 101 or by tweeting @MetCC quoting reference 8048/10OCT22.
You can call the independent charity Crimestoppers via 101 or contact them online.
They will not trace your IP address.