Ridley Road, Hackney: Mass police raid 'traumatising' say traders, as police say 'cannabis and knives' seized
Traders at the east London village said their money, phones and laptops were confiscated during the police raid, and are yet to be returned.
Ridley Road Shopping Village traders have accused the police of "disrespectful and traumatising" behaviour after a raid involving a "minimum" of 50 officers shook up the east London community last week.
At around 4pm on Friday (July 21), Met Police officers carried out a search of several of the units at the shopping space, opposite Dalston Kingsland station.
According to the police, the warrants were executed following concerns raised by members of the public regarding "ongoing criminality".
A police spokesperson said a "large amount" of cannabis was recovered, along with "several knives". Six men were arrested on suspicion of possession of Class B drugs with intent to supply and possession of an offensive weapon. After being held overnight, they were bailed pending further enquiries.
The size of the raid and manner in which it was carried out has led to concern from the local community. According to the campaign group Save Ridley Road, all traders and customers inside the units were handcuffed and searched for four hours, between 4pm and 8pm, before the six men later bailed were taken to Stoke Newington Police Station.
The group said traders have reported their money, some of which was to be used for rent for their space, was confiscated by the police, along with items such as phones and laptops, all of which have yet to be returned.
LondonWorld asked the Met whether traders and customers were handcuffed during the raid and items were confiscated as alleged, but did not receive a response to these questions.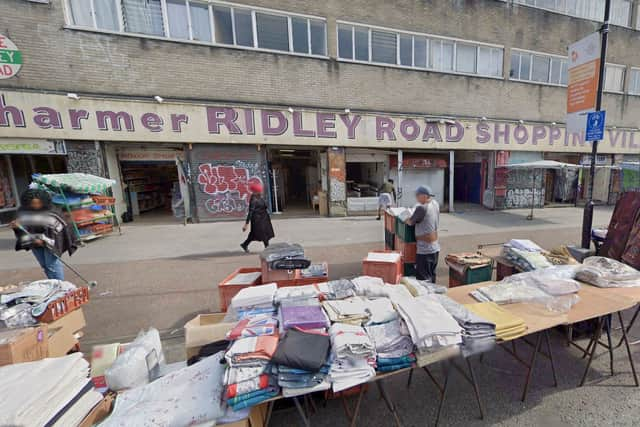 Following the incident last Friday, some traders allege they were told by officers that the local authority has been pushing for the raid "since March".
Asked whether the council had any involvement in the raid, a spokesperson denied the allegations, stating "drug operations would be purely a police matter".
Save Ridley Road member Danny Hayward said: "The suggestion that the council has been pushing for a major police intervention in the Shopping Village is alarming.
"This needs to be seen in the context of its attempt to get traders to accept new leases, give up their existing rights and accept licences with no security of tenure and 250 regulations controlling the conduct of their businesses  and less security. At best it is bad timing; at worst it is a form of harassment.
"The council need to clarify their role in the raid, and Hackney police need to disclose the terms of their application for a search warrant and provide traders with receipts for all money and goods that have been confiscated."
The group said one of the traders it spoke to, who was arrested, described their treatment as "intimidating, disrespectful and traumatising".
Diane Abbott, the Labour MP for Hackney North and Stoke Newington, described the incident as "very concerning", adding she has written to the borough commander for answers "and will be following this closely".
Local Green councillor Zoë Garbett, who is also running to be London mayor, wrote on Twitter: "This is devastating. Traders are valued members of the community. How is this building trust & confidence? Overpoliced, underprotected. I'll be asking questions about reasons for the raid (inc. proportionality) & about police conduct."
PC Youngson, dedicated ward officer for Dalston, said: "Drugs are often a catalyst for violent crime and anti-social behaviour. The execution of these warrants has acted on concerns raised to us by community members to prevent ongoing criminality.
"Officers in Dalston and across the Met are committed to removing dangerous offenders from the streets."