Former boxing world champion Amir Khan told a court he stared down the barrel of a gun and thought of his wife and kids as he was robbed of his £72,000 diamond-encrusted watch on a night out in London.
The 36-year-old admitted he had been scared as he stared directly into the barrel of a gun held just inches away from his face as his wife 'screamed' as she watched on.
After realising the robbers wanted his watch, Khan handed the custom made rose-gold Franck Muller Vanguard Chronograph timepiece over to his attackers, saying he was afraid the man might 'pull the trigger'.
Dad of three Khan, from Bolton in Greater Manchester, said he thought of his wife and children as the masked man demanded his watch.
Some of the robbers said to have targeted Khan and his customised watch were also in the Sahara Grill restaurant in Leyton, East London, on the night of the robbery, before leaving and waiting for Khan, who was with his wife and another friend.
The former boxer who retired from the sport last year following a crushing defeat in a grudge match against fellow British boxer Kell Brook, also 36, appeared at Snaresbrook Crown Court today dressed in a grey-striped suit to give evidence.
The ex-light-welterweight world champion is alleged to have been robbed in the incident planned by Ahmed Bana, Nurul Amin and Ismail Mohammed - all 25 and from north London - after leaving the restaurant with his wife, 31-year-old model Faryal Makhdoom, and a friend.
Khan, who won an Olympic silver medal before turning professional in 2005, told the court that though he had been in 'tough' situations throughout his sporting career, being robbed by armed men was something entirely different.
He said: "I was walking towards the door [of the car] and had my hand on the door handle.
"I see a guy run to me… it happened quite fast.
"He pushed me towards the car. I fell back on the car, and the next thing I see is a gun being put in my face.
"You don't want to look at the gun. I literally saw in the barrel… I looked away.
"I was really scared. I have got three kids and my wife was next to me as well.
"I am a sportsman, a fighter, and I have been in tough situations, but this seemed like a different one.
"When he put the gun to my face I couldn't recognise him because he had a mask on.
"I looked away because I didn't want him to pull the trigger.
"I didn't know what he wanted until he said, 'Take off your watch'.
"I took it off straight away and handed it to him.
"It was a few seconds… about five to ten seconds when he pushed me to the car and asked me to take it off.
"When someone puts a gun to your head you think, 'Maybe he's going to shoot me'.
"After the watch was given to them I saw the two men going off."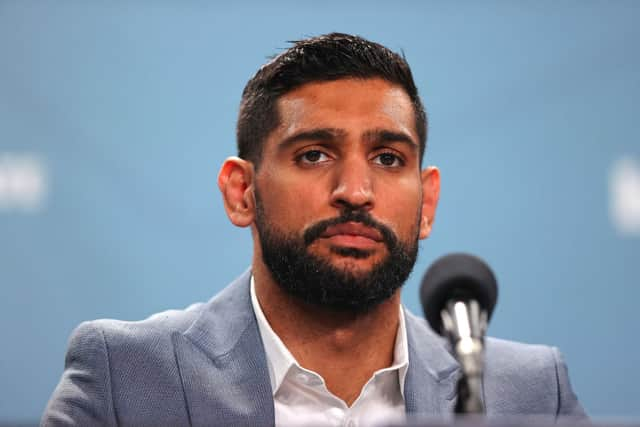 After taking Khan's watch, Campbell is said to have fled in a silver Mercedes allegedly driven by Bana.
Bana, Amin and Mohammed all deny charges of conspiracy to commit robbery.
Bana also denies possessing an imitation firearm.
Dante Campbell, the 21-year-old man who waved a gun in Khan's face during the robbery, earlier pleaded guilty to possession of a firearm and conspiracy to commit robbery.
One other suspect, Hamza Kulane, is still on the run and is yet to have been tracked down by police.
Khan's watch, which was specially made for him and given to him after he won a fight, is yet to be recovered.
Khan, who told the court he now lives in Dubai, explained he had gone to the Sahara Grill restaurant after meeting the owner's son in a sports shop he managed in Knightsbridge earlier that day.
Khan said he had been to the Sahara Grill in Whitechapel "a few times" before, but went to the Leyton restaurant after the shop owner's son messaged him to say his father "really wants to see you".
So Khan obliged and went to break his fast with his wife and friend during the holy month of Ramadan.
The court was earlier told the group had meticulously planned the robbery of Mr Khan and his expensive Franck Muller Vanguard Chronograph watch.
Khan said the watch, which he estimated to cost up to £70,000, had been "given to me after a fight I won".
Prosecutor Philip Knight, KC, said Amin and Mohammed had sat at a nearby table at the restaurant with Kulane and acted as "spotters" earlier in the evening.
When Mr Khan, his wife and their friend, Omar Khalid, left the restaurant shortly after 9pm, Campbell "sprinted" towards them "waving a gun" in Khan's face accompanied by another unidentified male.
Mr Knight told the court the robbery was "over in seconds" before Campbell fled in a silver Mercedes Benz, which had parked on a pedestrian crossing to ensure a quick getaway.
Mr Knight said: "Campbell was armed with a gun... they sprinted immediately towards their target - Amir Khan.
"They knew exactly what they were after in that robbery. We can tell that by the speed... it was over in seconds."
Mr Knight also told the court that translated calls made by Bana from prison to one of his cousins revealed the group's initial plans to return the stolen watch to Mr Khan following their arrest.
They cancelled their plan to return the watch to Mr Khan after learning that returning the watch would not end or inhibit the police's investigation into their crime.
In one of the calls to his cousin, Bana says: "I was chatting to coach... He said even if you give the person his watch, the police will still proceed with the case because the man had a gun pointed at him."
Khan made his boxing debut in July 2005 and won 34 of his 40 bouts - 21 by knockout or technical knockout.
Bana, of Tottenham, Amin, of Finsbury Park, and Mohammed, of Edmonton, all deny conspiracy to commit robbery.
Bana also denies having an imitation firearm.
Campbell, of Hornsey in north London earlier admitted possessing an imitation firearm.