An environmental installation at King's Cross this week seeks to get Londoners thinking about their consumerism and the effect it has on the planet.
The five geodesic pollution pods, set up in Granary Square, each houses a different environment and visitors will get the chance to feel, taste and smell the environments of five different cities across the globe.
Visitors will be able to walk through the interconnected domes, starting with the ultra-clean air of Tautra in Norway, continuing through London and then onto the astonishing smog and pollution of New Delhi, Beijing and Sao Paulo.
Created by British artist Michael Pinsky, the installation aims to provide a thought-provoking comment on how interconnected our world really is, and how potent climate change is for the planet.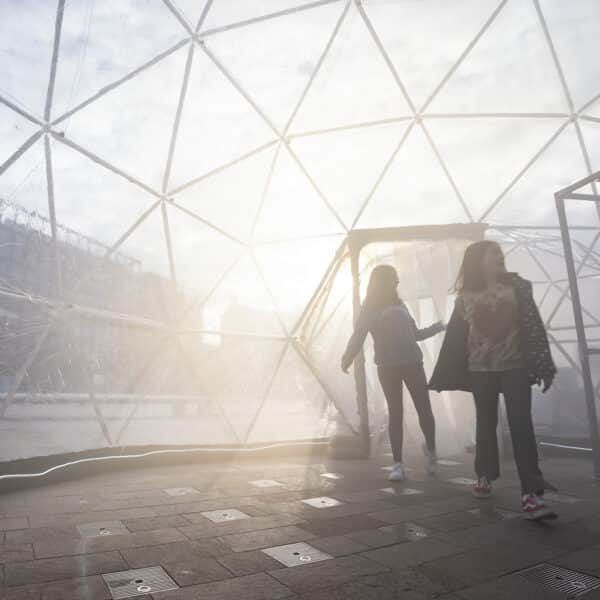 "In the Pollution Pods, I have tried to distil the whole bodily sense of being in each place," explained Pinsky
"For instance, being in São Paulo seems like a sanctuary compared to New Delhi, until your eyes start to water from the sensation of ethanol, whilst Tautra is unlike any air you'll have ever breathed before, it is so pure."
The pods will be exhibited at Granary Square till Sunday October 24 and will then make their way to the COP26 conference in Glasgow, where world leaders will gather next month to agree ambitious targets on reducing CO2 emissions.
The pods will be accompanied by the Ride For Their Lives team, which is made up of staff from six UK children's hospitals, who'll be cycling the 800km from London to Glasgow.
At each stop the pods make, the riders will be on hand to share information about the damaging effects of air pollution on our health and how it impacts climate change.
TfL hopes the zone will encourage Londoners to switch to cleaner vehicles or use public transport instead.
"Our scrappage scheme will continue supporting motorists to ditch their polluting cars and make the switch to greener forms of transport as we drive towards a green recovery," it said.