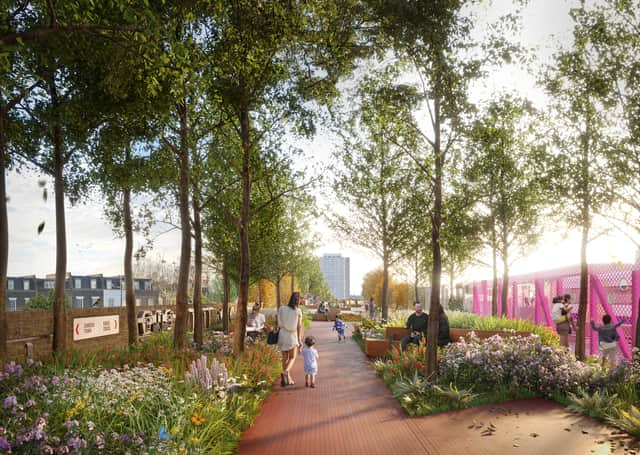 The first phase of an "amazing park in the sky" which could attract millons of visitors and boost biodiversity has been given the green light.
Work can begin on transforming a stretch of disused railway from Camden Gardens, Kentish Town Road, to Royal College Street into the first stage of London's answer to the popular New York High Line.
The Camden Highline is predicted to attract 2.5m visitors a year when all three phases of the 1.2km route from Camden Town to King's Cross are fully open.
Residents living nearby in Ivor Street and surrounding streets told Camden's planning committee on Thursday of their concerns about privacy and noise from up to 10 evening events a year.
Fiona Trier said their streets are an oasis from the hustle and bustle of Camden Town.
"It is more important than ever to us to protect our quiet residential spaces," she said. "We need a safe and secure perimeter when the park is closed, with vigilance when it is open during the daytime to prevent antisocial behaviour. "
She said it is "inappropriate" to direct visitors to a viewing point overlooking homes.
She pointed out that many of the homes are above the Victorian viaduct and the level of thicket planting which is designed to cut noise.
"This is a privacy issue," she said. "We are talking about people photographing the houses and popping it on social media."
The council's planning department said the seating areas will be 26m away from homes.
James Corner who built the New York High Line told the planning committee: "The pathway is pulled away from the wall. The planting forms a visual and sound buffer for residents and visitors. We will be using smaller trees – 4 to 6m high and spaced very closely to create a thicket."
Camden Highline boss Simon Pitkeathley said: "We not only want to create an amazing park in the sky but we want it to remain an amazing park in the sky."
He said there are no plans for music events.
More than 1,300 people have joined guided walks along the route and 2,000 have attended meetings to learn more.
Mr Pitkeathley said: "It is a extraordinary green project that will benefit Camden and London as a whole."
Architect Tatiana von Preussen of vPPR said the blueprint has been altered to take in concerns about the path overlooking homes.
She said "It's going to be something very special and will promote recreation with seating and there will be options for exercise."
She said kiosks in the arches at Camden Gardens will help pay for it and transform an "unloved park".
Camden's planning committee wanted details of toilets to address residents' concerns. Members called for an interim review after the first events.