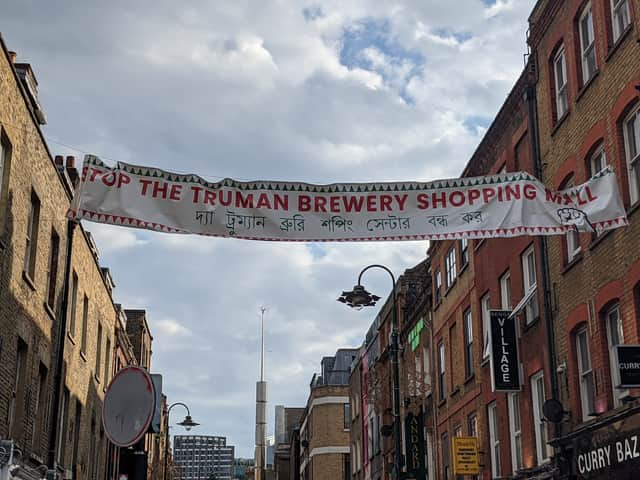 Campaigners have raised concerns that a controversial new development in London's iconic Brick Lane will "drastically alter" the landscape of the local area.
The famous road at the heart of London's East End is filled with independent shops, restaurants and bars.
Plans for the Truman Brewery group to build a five-story complex of offices, shops, restaurants and a gym were approved by Tower Hamlets Council's planning committee last week, despite resistance from locals.
The redevelopment of the vacant site at the junction of Woodseer Street and Brick Lane received more than 7,000 letters of objection, compared to just 82 letters of support.
Dr Fatima Rajina, co-founder of Nijjor Manush, a Bengali and Bangladeshi campaigning group, said that her organisation fiercely opposes the development.
Dr Rajina said she believes that changes in the area never accommodate the local, working class communities which are significantly made up of British Bangladeshis.
"We are concerned that with the proposal going ahead, local residents will gradually be priced out of the area, and that truly independent small businesses around Brick Lane will atrophy out of existence," Dr Rajina told LondonWorld.
"These developments will drastically alter the landscape of the area and do not factor in the local communities needs."
Nijjor Manush is joined by six other groups which include East End Preservation Society, Spitalfields Trust, Spitalfields Life, Bengali East End Heritage Society, East End Trades Guild and Assemble in opposing the "gentrification" of Brick Lane.
The coalition which is primarily made up of local residents, traders and organisers was formed to challenge the development from going ahead.
"For the Bangladeshi community in particular, Brick Lane conjures up a sense of historic pride and importance," Dr Rajina continued.
"It is where our grandparents fought fascists and squatted buildings before they could secure housing.
"It is where many of our fathers worked as garment workers, and where many of us youth remember going to for the food and market.
"The Truman Brewery owners are interested in accumulating profit at the expense of predominantly working class communities and consequently driving them out."
The Truman Brewery Group however believes that the development will create a local asset from the currently unoccupied space and highlights that the proposals do not involve the removal of any existing buildings or infrastructure.
"We believe that the development will enhance Brick Lane's offering as a place in which to live, work and visit," a spokesperson for Truman Brewery told LondonWorld.
"Specifically, it will create more than 700 new jobs, drive economic opportunities for new businesses through additional workspace, shops and restaurants and give priority to local people and businesses for the affordable workspace and independent retail.
"It will also further Brick Lane's destination credentials, attracting more visitors and workers who will spend more time and money locally, helping the local economy."
A spokesperson for Tower Hamlets Council said: "The Development Committee has agreed with the officer assessment that the proposals comply with our local planning rules."
"Permission is subject to ensuring the scheme creates public benefits, including updated proposals for affordable workspace and independent retail."
Dr Rajina added that the gentrification of Brick Lane and the surrounding area did not start with the Truman Brewery proposal.
"During this campaign, many of the locals we spoke to described how much the area has transformed over the past few years and decades and how they have been made to feel alien in the place they have long called home," she said.
"This proposal therefore fits into a wider pattern whereby local working class communities have been neglected by the council and made to live in intolerable conditions, while it caters to big businesses and clientele from the City."