Billy Bragg celebrates punk Camden - memories of Joe Strummer and The Smiths as he joins Music Walk of Fame
Billy Bragg recalled Camden's punk scene of the late 1970s and its influence on his life.
Watch more of our videos on Shots! 
and live on Freeview channel 276
Visit Shots! now
A stone for Billy Bragg was unveiled on Camden Town's Music Walk of Fame on Saturday (September 9).
The activist was joined at the ceremony by singer-songwriter Jamie Webster, and by naturalist Chris Packham, who later appeared on stage with Bragg at the first Camden Music Festival for a rendition of A New England.
Camden
"My mum said if I don't get a proper job...one day you're going to end up on the street," Bragg told the audience before his stone was unveiled on Camden High Street.
He praised Camden as a centre for music, particularly in the 1980s.
"Camden seems in my consciousness to have arrived with punk rock," he said. "The punks always had Camden - it was their streets and I think it still is their streets. The very first time I came here, I had a record out with my little punk band, Riff Raff, on the Chiswick Records label, and their offices were just around the corner, the other side of the Tube station, next to Holts."
Holts is now The British Boot Company, and Bragg said in a time of lots of "boujee" outlets, that is the place to get your Dr Martens.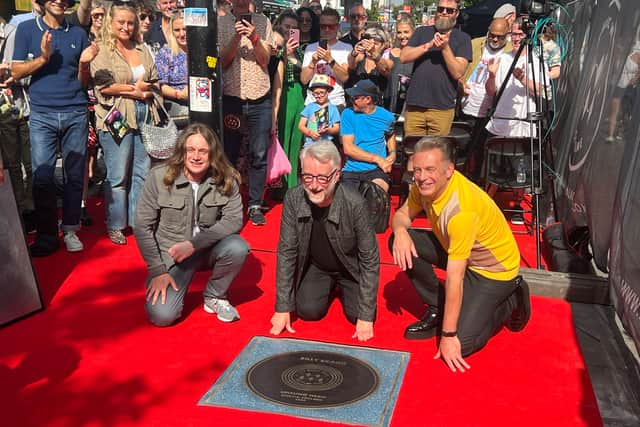 The Clash, The Stranglers and The Smiths
Camden holds lots of other fond memories, he said, recalling: "The first time I ever met Joe Strummer, he was at a bar at a Stranglers gig I went to up at the Roundhouse, up the top of the road there. The first time I ever saw The Smiths was at the Electric Ballroom in 1983. I'd been travelling around doing gigs and people were telling me about this band who were an 'amazing band'. It was at the Electric Ballroom there that I first had the opportunity to see them.
"And so many other gigs, not just on this stretch but in the London Borough of Camden - it's always been a place where young musicians have come with their dreams, and with their ideas."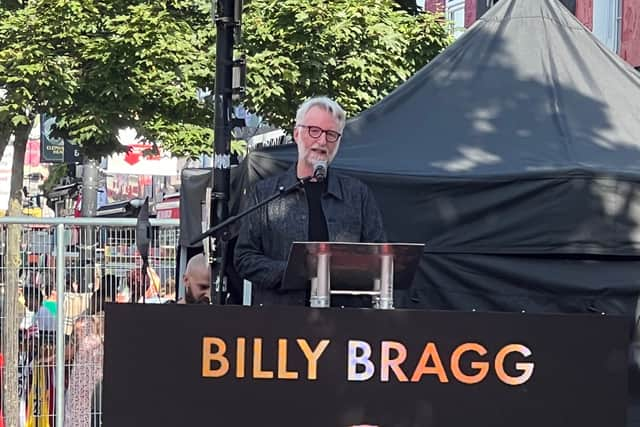 Camden hustle
Bragg said Camden is "where you bring your hustle".
"One of those hustlers in the early days when I used to come here on a Saturday was a guy selling bootleg cassettes of gigs on a stall in the street," he said. "He always looked a bit sheepish when he saw me because he always, invariably, had one of my cassettes - or several of my cassettes - for sale.
"Weirdly enough, someone sent me one last week from New Zealand. A guy said 'I found this and thought you might want it' and it's actually Bill Bragg from January 11 1986, 'Live at the Camden Diorama', which was a great gig down by the gates of Regent's Park.
"[The stall] would have most of these and he would always look really sheepish, and I would be like: 'Mate, it's cool - you just have to give me a copy.'"
He said the Music Walk of Fame stone is almost in the spot where that stall was.
"There's something about Camden, something about this strip, that's really, really important," said Bragg, who grew up in Barking.
"When I said Camden was the punks' market back in the day - what that meant for someone like myself who lived out in the eastern suburbs. Punk didn't really reach out there in 1977. We read about it, we heard about it on the radio but you couldn't really be part of it out there because there were no gigs people were playing.
"But when you came up to Camden on a Saturday, you were part of it, it was here, it was alive. The places you walked by, the people you passed in the street - it was here. It was an incredibly groovy place and that's what you wanted then. That's all you had.
"As a teenager during punk, you just wanted to be in that groovy place where things are happening. And now, thanks to the Music Walk of Fame, I'm going to be in that groovy place forever."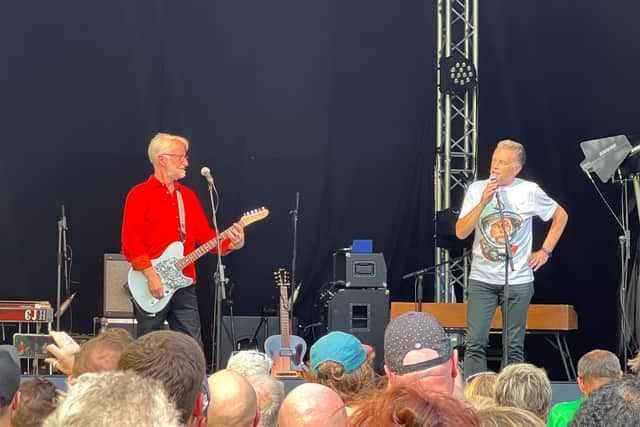 Music Walk of Fame
The induction was part of a week of events unveiling stones for music legends on the famous street, in the scheme founded by Lee Bennett. Ceremonies for Eddy Grant, Janis Joplin, Harvey Goldsmith, Gordon Mac, UB40, Paul 'Trouble' Anderson, The Sugarhill Gang, Buzzcocks, The Kinks, Billy Bragg and Shalamar were hosted by Mojo contributing editor Phil Alexander.
The week culminated on Saturday (September 9) with the free Camden Music Festival featuring performances from acts including The Sugarhill Gang, Buzzcocks, Billy Bragg and Shalamar.