Ambulance strikes: 'It's the whole NHS, we're broken' say staff
"It's not just the ambulance service that is suffering, it's the whole NHS, we're broken."
Watch more of our videos on Shots!
and live on Freeview channel 276
Visit Shots! now
Outside Waterloo ambulance station, striking ambulance workers have warned that it's not just they who are suffering but the entire "broken" NHS.
This comes as paramedics, call-centre staff, drivers and technicians across England and Wales staged their second walkout on Wednesday as part of a dispute over pay.
Around 25,000 GMB and Unison members took part in the nationwide action, with no worker striking for more than 12 hours.
NHS chiefs assured patients that walkouts would not stop ambulance staff from responding to life or death emergencies.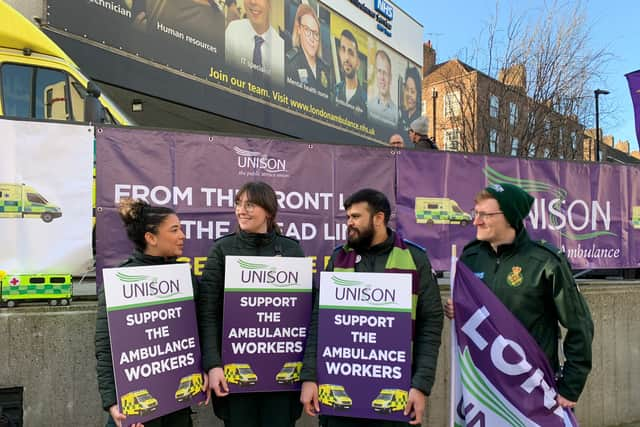 "At the moment we just haven't got the staff to support the community," said Antonia Gosnell, a Unison representative and paramedic with the London ambulance service for 33 years.
"The public have been really good in supporting us by taking themselves to the hospital if they feel they need help, by ringing their GPs.
"But it's not just the ambulance service that is suffering, it's the whole NHS, we're broken.
"We have a lot of elderly, people living on their own who need to come in, they're not getting the social care they need so people are ending up in hospital.
"That's where we're having the problems, people are in A&E, they then take up beds and wards, because we haven't got the facilities from outside, so therefore that backs up onto us.
"We're waiting outside hospitals with patients in the back of our vehicles waiting for beds to become available."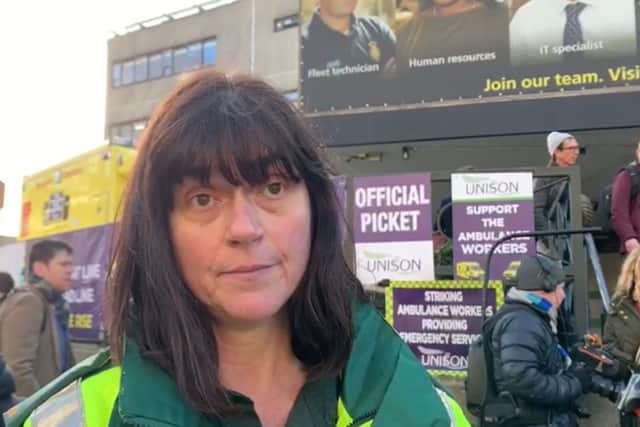 In the last week of 2022, more than 40% of crews in England had waits of more than 30 minutes - it should take 15.
"There's definitely been an increase in the amount of people we're going to," said Scott, an NHS emergency medical technician.
"Quite a lot of the time we're referring people onto other services and it's a mixture."Sometimes people are not accessing the other services appropriately and they're just dialling straight to 999, sometimes again it's concerned people that will ring 999 straight away rather than going through 111.
"There's been a population increase and services, if anything, are declining.
"There's no other facilities for these patients to go to.
"If they can't be discharged into the community they're stuck at hospital and if they're stuck at hospital that means that new patients going in can't be put into a ward or a bed."
It comes after Rishi Sunak and ministers held crunch talks with rail, health and education unions on Monday (January 9) in an attempt to prevent more industrial action, after train services were brought to a halt by a wave of walkouts last week.
More strikes are due to be held by NHS workers, with the health service in the midst of a crisis not seen for years.
Sara Gorton, head of health at Unison said: "The government will only have itself to blame if there are strikes in the NHS.
"Ambulance staff and their health colleagues don't want to inconvenience anyone but ministers are refusing to do the one thing that could prevent disruption – that's start genuine talks about pay.
"Wages are too low to stop health workers quitting the NHS.
"As more and more hand in their notice, there are fewer staff left to care for patients. The public knows that's the reason behind lengthy waits at A&E, growing ambulance delays, postponed operations and cancelled clinics."