The sister of a British Egyptian prisoner has said the Foreign Secretary and Prime Minister are failing families "over and over again".
Alaa Abd el-Fattah, Egypt's most prominent political prisoner, has been detained in Cairo's notorious Tora Maximum Security Two prison for ten years.
His family, who are based between London and Cairo, had hoped that he would be freed during the COP27 climate summit in Sharm El Sheikh in November 2022, following a global campaign for his immediate release.
The 41-year-old blogger and activist had drawn the attention of prominent figures worldwide after staging a six month hunger strike.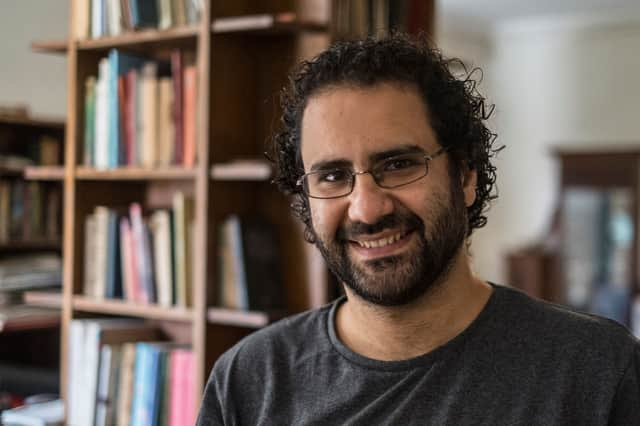 During the climate conference he stopped drinking water, to put pressure on global leaders.
However, to his family's "great disappointment", the conference came to an end and Alaa still remains in prison.
However his sister Mona Seif, says they have had no communication from the government since.
Speaking at a vigil outside the Egyptian embassy on January 25, to mark the 10th anniversary of her brother's imprisonment, Ms Seif spoke of her disappointment in the British government.
"It seems Alaa is no longer in their focus," she told LondonWorld.
"James Cleverly still won't meet the family.
"'I'm not sure what to expect from them as Rishi Sunak was on Egyptian soil shaking hands with the Egyptian president while we didn't even know if Alaa was alive or not.
"He couldn't even manage to grant consular visits for him."
Alaa was an important figure in a pro-democracy uprising that led to the overthrow of President Hosni Mubarak in 2011.
Under the authoritarian rule of President Abdul Fattah al-Sisi, who came to power in 2014, he has spent most of the time in prison or police detention.
His latest five-year sentence was for allegedly "broadcasting false news".
"I am noticing living in London there are so many stories of Brits held abroad in different prisons, with different regimes, whether regimes like Iran which are hostile with the UK or in Alaa's case in Egypt, where Egypt is a strong ally of the UK.
"In all of these cases the Foreign Secretary and Prime Minister are failing the families over and over again and exposing British citizens to more violations and crimes committed against them."
A spokesperson for the Foreign Office previously said: "The government is working hard to secure Alaa Abd El-Fattah's release, and we continue to raise his case at the highest levels of the Egyptian government."