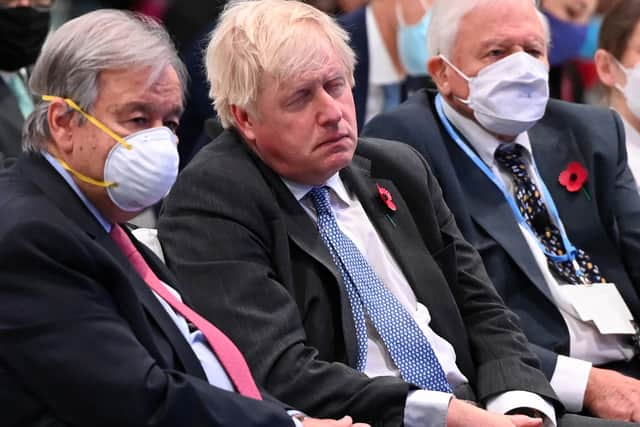 Former PM Boris Johnson elaborated further, saying he was "invited by the Egyptians" to the climate conference at the Red Sea resort in Sharm el Sheikh, which continues until November 18.
Many have expressed surprise at his appearance , although Mr Johnson said he was "very happy to go", explaining in a Sky News interview, "I happen to have a particular interest."
Prime Minister Rishi Sunak initially said he would not be at the climate conference, as he was busy preparing for the UK Budget due on November 17.
His decision not to attend was criticised by the Egyptian government who expressed "disappointment", and Carlos Fuller, Belize's ambassador to the UN, told the Guardian that the UK government was "washing their hands of leadership".
On Tuesday 1 November, former prime minister Boris Johnson said he would attend COP27. The previous tenant of No10 Downing Street said he was attending COP27 in a "purely supportive role".
On Wednesday 2 November, Mr Sunak reversed his decision and announced he would be going to COP27 after all.
During Mr Johnson's speech at COP27, he criticised those who want to "frack the hell out of the British countryside" and called for greater government cooperation with the private sector."
He added: "The reason I'm here is because I am worried that the discussion about Ukraine, about what's happening there, is having all sorts of bad effects," he said.
"It's making people anxious about net zero, it's making people anxious about whether we can really do it."
At the end of his address, Johnson was greeted with a smattering of faint applause.
One Facebook post commented: "What an inspiring speech... he should be rightly proud of all those innovative zero carbon solutions he pioneered when he was PM."
MR Johnson said on Monday 7 November that the UK did not have the financial resources to pay "reparations" to low-income countries affected by climate change.
Speaking at an event organised by the New York Times at COP27 in Egypt, Mr Johnson said
net zero need to be achieved through private sector investments together with the international community – and not from taxpayers in the West. "But what we cannot do I'm afraid is make up for that with some sort of reparations, we simply do not have the financial resources."
According to the World Bank, the UK is the 23rd richest out of 193 countries. Britain's population has a total of £6.01 trillion in private wealth, more than France, Italy and Canada.
The former Mayor of London's record on the environment was scrutinised by Greenpeace. "Johnson has kept up a long tradition of government failure on this issue. His Green Homes Grant was scrapped after just six months, following many warnings from the industry about the scheme's bad design and unrealistic timetables."
Mr Johnson is an unlikely champion on green issues. According to TheyWorkForYou, run by mySociety, a UK charity, Mr Johnson was either absent or has largely voted against measures to prevent climate change.
On May 18, 2022, Mr Johnson was absent for a vote on climate, the cost of living and human rights. On January 10, 2022, he was absent for a vote on the Nuclear Energy (Financing) Bill.
Climate activist Greta Thunberg is not attending COP27, describing the summit as a forum for "greenwashing" by business leaders and countries. The Swedish activist said there was "extremely limited" space for civil society at the forum, making it difficult for climate change protestors to make their voices heard.