With new bakeries appearing all over the city in the last decade or so, you might think you've tried everything - but a new Cypriot bakehouse could prove you wrong. Yanoula's in Shoreditch sells pittas unlike any you've tasted.
In Cyprus, 'pitta' refers to anything that is a 'small bake', rather than to flatbreads, and Yanoula's olive pittas are chunky and flavour filled. They come in a variety of flavours with ingredients including halloumi, spinach, feta and herbs.
The shop opened at 122 Bethnal Green Road on May 1 and is the brainchild of Joanna Kamenou, after whose grandmother it is named.
"She showed her love through cooking," Joanna said. "It's weird how food brings out such nostalgia, because this was always one of my favourite things and doing this has brought back so many good memories. This is a tribute to her and how amazing she was, and hopefully I've got her cooking genes."
At £4 a piece the pittas are generous in size and full of flavour.
The shop came about quite accidentally, Joanna, a former sports journalist, said.
"When everyone went through their covid baking phase, this was mine."
She started making a lot of pittas, using Yanoula's recipe, and all of a sudden family and friends were asking her to make all sorts of different flavours.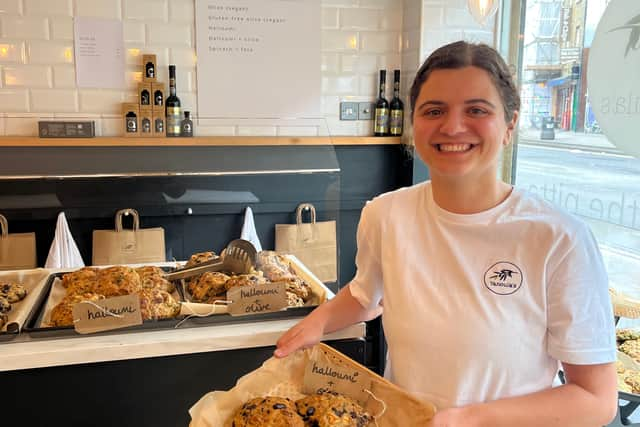 Then one morning, she strolled through the market next to her flat in southeast London and the idea hit.
"I set up that weekend and we sold out, and I thought: 'Oh, it's not just my family and Cypriot people who love this recipe, it's all sorts of people. From there, it just grew and grew."
They sold the pittas in markets, pop-ups and through deliveries - and then the big move into Shoreditch.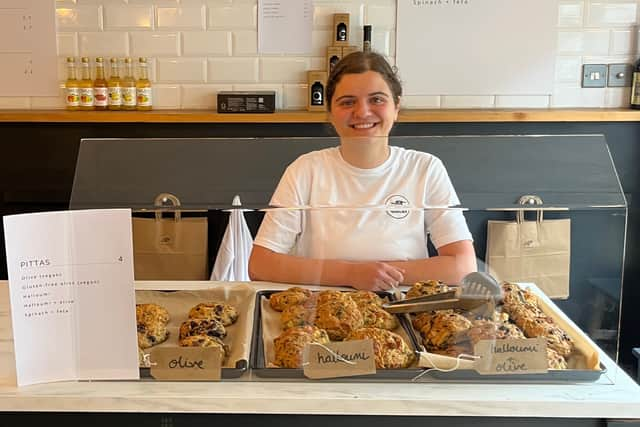 The recipe is a typical village style bake that Cypriots will eat at home a lot. They all have fresh herbs and spices and are freshly baked by Joanna every morning. Among the different flavours, she offers a gluten-free alternative and the original olive flavour is vegan.